No, paper towels are not acidic. Paper towels are made of cellulose fibers which do not contain any acidic compounds.
Paper towels are usually made from recycled paper, which is not acidic
In most cases, paper towels will have a neutral pH level of 7.
Some brands may contain small amounts of chemicals such as chlorine bleach, but these will generally be too low to cause any acidity issues in the product.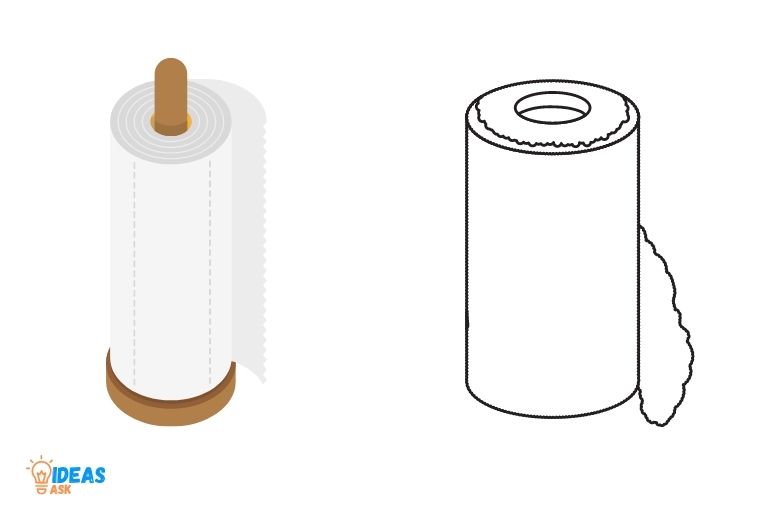 How Do I Know If Paper is Acid Free?
Acid free paper is an archival grade paper, meaning it won't deteriorate over time.
To determine if a paper is acid-free:
Check the packaging for wording such as "archival," "acid-free" or "pH neutral.
Look for the industry standard "Buffered" on the label. Buffering refers to adding calcium carbonate which raises the pH of this type of paper closer to neutral (7).
Test a sheet with litmus test strips and compare the results to a chart online or in a handbook.If it tests at 7 or above then it is likely buffered and acid-free.
Is Paper Acidic Or Basic?
Paper is usually slightly acidic due to the pulping process used to make it.
The acidity of paper can vary depending on what type of paper and which chemicals were used in its production:
Wood pulp paper is typically acidic with a pH between 5 and 7.
Alkaline papers are treated with alkalizing agents such as calcium carbonate, giving them a pH between 8 and 10.5
Neutral papers have a pH close to 7, making them neither acidic nor basic.
Overall, most types of paper tend to be slightly acidic; however, there are some exceptions that can be quite basic or neutral.
Watch Video on: Are Paper Towels Acidic?
What Chemical is in Paper Towels?
Paper towels are made of a material called cellulose. Cellulose is a natural polymer, derived from plants such as trees, cotton and grasses. Cellulose is the most abundant organic compound on Earth and makes up about 33% of all plant matter.

It is also used in many everyday products such as paper towels and toilet paper.
The chemical composition of paper towels is:
• Cellulose – 85-95%

• Lignin – 2-5 %
• Hemicellulose – 1-3%
• Moisture – 6-12%.

Paper towels are an excellent choice when it comes to cleaning up messes because they absorb liquids quickly due to their high cellulose content.
They can also be recycled or composted, making them an environmentally friendly alternative to other disposable items like napkins or wipes.
What is Paper Towel Made Of?
Paper towels are made from various materials, each with its own advantages.
These include:
* Wood pulp – This is the most common material used in paper towel production. It comes from softwood trees and is highly absorbent, strong and durable.
* Recycled materials – Post-consumer waste such as office paper can be recycled into paper towels, often resulting in a softer texture than that of wood pulp or virgin fibre products.
* Virgin fibres – Fibres such as bamboo or cotton may be used to create more luxurious types of paper towel.

They are generally less absorbent but feel nicer to the touch than other materials. No matter which type you choose, all paper towels serve the same purpose – providing a convenient way to clean up messes quickly!
Is It Safe to Wrap Food in Paper Towels?
When it comes to wrapping food in paper towels, the answer is generally yes. Paper towels are made from non-toxic materials and can be safely used for food preparation and storage.
However, you should avoid using them with fatty foods like bacon as they may cause grease to seep through the paper towel, creating a potential fire hazard.

Additionally, you should avoid microwaving food wrapped in paper towels as this could lead to sparks or fires due to the material's flammability.
Bounty Paper Towel Ingredients?
Bounty paper towels are made from a variety of materials including wood pulp, polyester fibers, and recycled paper. The wood pulp is sourced from responsibly-managed forests and the polyester fibers used to create the sheets have been independently tested to ensure they're safe for your family.
Additionally, Bounty has eliminated chlorine bleach from their production process in order to reduce environmental impact.
Unbleached Paper Towels
Unbleached paper towels are a great alternative to bleached options, as they have not been processed with harsh chemicals and dyes.
Not only do these towels provide the same absorbency and strength of traditional paper towels, but they are also better for the environment; as unbleached paper uses fewer resources in its production process.
Additionally, unbleached paper is made from recycled materials, helping to reduce waste while still providing an effective cleaning solution.
FAQ
Are Paper Towels Acidic?
No, paper towels are not acidic.
What is the Ph Level of a Paper Towel?
Paper towels do not have a pH level.
How Can I Tell If a Paper Towel is Acidic Or Not?
To determine if a paper towel is acidic or not, one can test it with litmus paper. If the litmus turns red, then it indicates that the paper towel contains an acid; if it turns blue, then the substance is alkaline.
Is It Safe to Use an Acidic Paper Towel on My Skin?
No, it is not safe to use an acidic paper towel on your skin. Acidic substances can irritate and damage the skin, so it is best to avoid using them.
Conclusion
In conclusion, it is clear that paper towels are not acidic. Although they may contain some traces of acid, the amount is so small that it does not affect their pH or cause any harm to people. Therefore, paper towels remain a safe and effective cleaning tool for use around the home.