Are Tissues And Paper Towels Recyclable?
No, tissues and paper towels are not recyclable. These items are made from a combination of wood fiber and chemicals that cannot be separated for recycling. Additionally, the fibers in these products are too small to be recycled successfully.
Tissues and Paper Towels are not recyclable in most curbside recycling programs.
They should be placed in the garbage as they can contain contaminants such as mucus, which could contaminate other recyclables.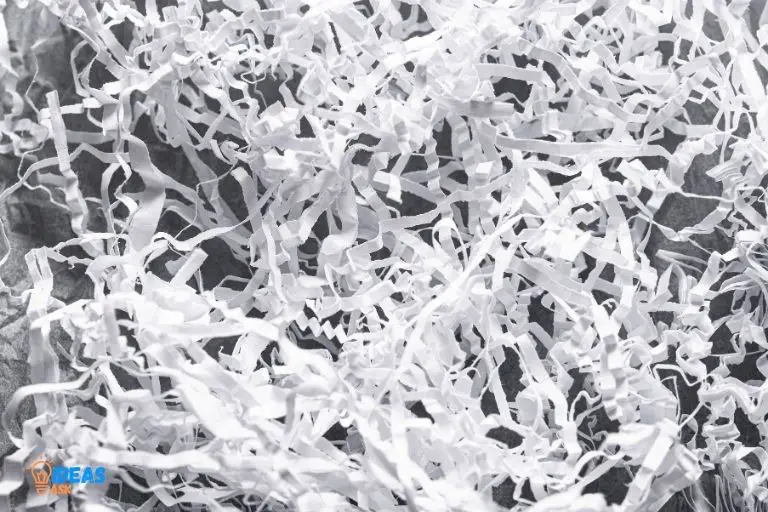 Can I Throw the Tissues in the Recycling Bin?
No, you cannot throw tissues into the recycling bin. It is important to remember that only certain materials can be recycled and tissues are not one of them. Here is a list of materials that can be thrown in the recycling bin:
Plastic containers and bottles
These items should be free from any food residue or contamination before being placed in the bin.
Are Paper Towels Recyclable?
Paper towels are not recyclable. Here is a list of reasons why:
Paper towels contain contaminants, such as food, dirt and bacteria which can't be removed during the recycling process.
The material used to make paper towels isn't high enough quality for it to be recycled into new products.
Paper towel fibers break down easily in water, further reducing its reusability.
The best way to reduce waste from paper towels is to use reusable cloths or rags instead, as these can be washed and reused multiple times over.
Watch Video on: Are Tissues Paper Recyclable?
Can You Put Kleenex in the Recycle Bin?
No, Kleenex should not be put in the recycling bin. Recyclable items must meet certain criteria to be eligible for recycling. This includes:
being made of a specific material such as paper, plastic or metal.
being free from contaminants like food waste or hazardous chemicals.
Kleenex does not usually meet these requirements and therefore cannot be recycled in most instances. To reduce your environmental footprint, opt for reusable tissue options instead of disposable ones.
Are Kleenex And Toilet Paper Recyclable?
Kleenex and toilet paper are generally not recyclable. Toilet paper is made of a type of paper that breaks down easily when exposed to water, while Kleenex is made from virgin wood pulp which makes it difficult to recycle. The following items can be recycled:
Cardboard rolls from toilet paper and kitchen towels
Tissue boxes with plastic windows removed
By recycling these products, we can make sure they don't end up in landfills or oceans. Taking the time to separate these items for recycling will benefit our environment.
Why Can't you Recycle Paper Towels?
Paper towels are not recyclable because they typically contain contaminants such as food particles, grease, and chemicals that can contaminate the recycling stream.
Furthermore, paper towels are usually made of mixed materials like wood pulp and plastic fibers which makes them too difficult to recycle.
Therefore it is best to avoid using paper towels altogether or find an alternative product that is compostable or recyclable in order to reduce waste.
Are Paper Towels Compostable?
Yes, paper towels are generally compostable. Most paper towels are made from recycled post-consumer materials such as old newspapers and cardboard boxes, which makes them an ideal choice for composting.
However, some brands may contain additional chemicals or dyes that can affect the quality of your compost so it's important to check the product label before adding any paper towel to your compost pile.
Are Paper Plates Recyclable?
Yes, paper plates are recyclable! As long as the plates have not been heavily soiled with grease, food waste or liquids, they can be placed in your recycling bin.
However, it's important to note that paper plates may not be accepted by all recycling centers due to their thin material and difficulty to process.

If you're uncertain whether your local facility accepts them for recycling, check with them directly before tossing into the bin!
FAQ
Are Paper Towels And Tissues Recyclable?
No, paper towels and tissues are not recyclable.
What is the Best Way to Recycle Paper Towels And Tissues?
The best way to recycle paper towels and tissues is to place them in the recycling bin along with other mixed paper.
Can Used Tissue Or Paper Towel Be Composted Instead of Being Recycled?
Yes, used tissue or paper towel can be composted instead of being recycled. Composting breaks down organic material such as paper towels into a nutrient-rich soil amendment that is beneficial for plants.
Is There Any Special Recycling Process for Disposing of Paper Towels And Tissues?
Yes, there is a special recycling process for disposing of paper towels and tissues. This process involves shredding the paper products into small pieces and composting them. The shredded material can then be used in garden soil or as an animal bedding material.
Conclusion
In conclusion, it is important to remember that while tissues and paper towels are not usually accepted in curbside recycling programs, there are still ways to recycle them. One way to do this is by looking into companies or organizations that specialize in tissue and paper towel recycling.
It is also a good idea to look for other sustainable options such as reusable cloth napkins or handkerchiefs when possible. By taking the time to research different recycling solutions, individuals can help reduce waste and promote environmentally-friendly practices.