Are Turkish Bath Towels Better? Yes!
Yes, Turkish bath towels, also known as Peshtemal, Hammam or Fouta towels, are considered better due to their high absorbency, quick drying properties, lightweight nature, ease of transport, and stylish design.
Turkish bath towels are made from premium quality Turkish cotton, which has longer fibers compared to regular cotton.
This results in thinner, more absorbent threads, making these towels highly absorbent and quick drying.
Apart from their functional benefits, Turkish bath towels are also designed with vibrant colors and beautiful patterns, adding a chic and stylish touch to your bathroom or beach ensemble.
The superior quality of the Turkish cotton used in these towels, along with their high absorbency, quick drying properties, and stylish design, make Turkish bath towels a great addition to any household.
Plus, their lightweight and compact nature makes them ideal for those on the go, whether you're heading to the gym, beach, or on a camping trip.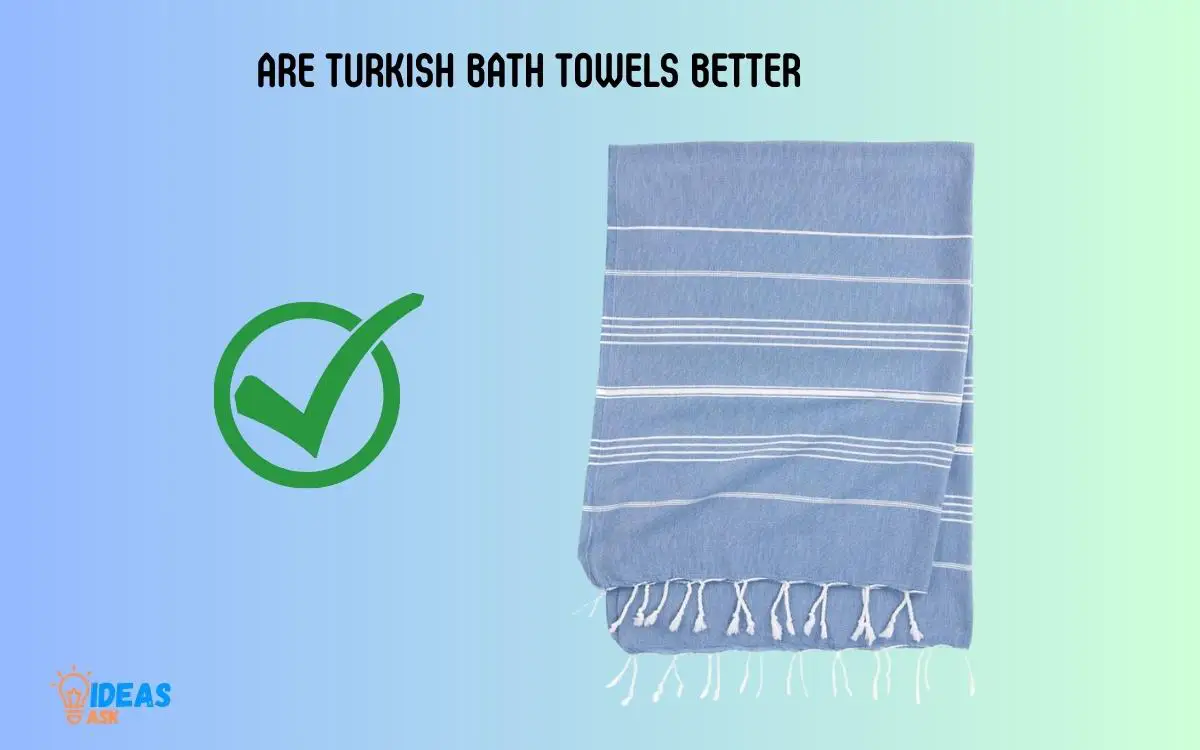 Key Takeaway
Turkish bath towels, also known as peshtemal, fouta, or hamam towels, are renowned for their superior quality.
They are known for being exceptionally absorbent due to the unique weaving process and the high quality of cotton used in their production.
Turkish towels are highly versatile, serving not only as bath towels, but also as beach towels, workout towels, or even fashion accessories.
These towels are durable and long-lasting, making them a more sustainable and cost-effective choice compared to regular towels.
Understanding Turkish Bath Towels
Turkish bath towels stand out due to their exceptional quality and absorbency. Crafted with Turkish cotton, these towels are known for their softness and durability, making them a better choice for a luxurious bath experience.
Turkish bath towels, also known as peshtemal or hammam towels, possess several unique qualities that set them apart from regular towels.
Understanding the history, craftsmanship, and materials used in making these towels is essential in appreciating their distinctiveness.
History And Tradition Of Turkish Bath Towels
Turkish bath towels have a rich history dating back several centuries.
Originating from the ancient Ottoman Empire, these towels were traditionally used in Turkish baths, or hammams, for purification rituals and relaxation.
The art of crafting Turkish towels has been passed down through generations of skilled artisans, preserving their cultural significance and traditional techniques.
The Craftsmanship Behind Turkish Bath Towels
Turkish bath towels are handwoven by skilled artisans, ensuring excellent attention to detail and quality craftsmanship.
Each towel is made using time-honored techniques, such as loom weaving, which results in a durable and authentic product.
The intricate designs and patterns found in Turkish towels showcase the craftsmanship and artistry of the weavers.
Materials used in Turkish bath towels:
Turkish bath towels, also known as Turkish towels or peshtemals, are typically made from natural fibers, such as cotton.
Here are some common materials used in Turkish bath towels:
Cotton: Turkish towels are often made from high-quality Turkish cotton, known for its softness and absorbency.
Bamboo: Some Turkish towels may contain bamboo fibers, which are eco-friendly and have moisture-wicking properties.
Linen: Linen Turkish towels are lightweight and breathable, making them suitable for warm climates.
Microfiber: Microfiber Turkish towels are ultra-absorbent and quick-drying, making them a popular choice for travel.
Silk: Silk-blend Turkish towels offer a luxurious feel and are known for their softness.
Organic Materials: Some Turkish towels are made from organic cotton or other eco-friendly materials, appealing to those with sustainability concerns.
Bamboo-Cotton Blends: Blending bamboo with cotton can enhance the towels' softness and absorbency.
Modal: Modal is a type of rayon made from beech tree pulp, and it can be used in Turkish towels for a silky, smooth texture.
Tencel: Tencel, a type of lyocell, is another eco-friendly option used in Turkish towels for its softness and moisture-wicking properties.
Chenille: Chenille Turkish towels have a plush, velvety texture, making them cozy and warm.
Factors To Consider When Choosing Bath Towels
When choosing bath towels, there are various factors to consider. Turkish bath towels are often preferred due to their superior quality, absorbency, and softness, making them a better option for a luxurious bathing experience.
When it comes to selecting bath towels, there are several factors to consider. The right towel can enhance your bathing experience and provide comfort and functionality.
From everyday use to travel and outdoor activities, spa and luxury experiences, and personal preferences, each factor plays a crucial role in determining the best bath towel for your needs.
Let's explore these factors in more detail.
Purpose And Usage
Everyday Use
Everyday bath towels should be soft, absorbent, and durable. They should be able to withstand frequent washing without losing their quality.
Consider towels made from high-quality materials such as Turkish cotton or bamboo, as they are known for their softness and absorbency.
Travel and Outdoor Activities
For travel or outdoor activities, lightweight and quick-drying towels are ideal. Look for towels made from microfiber or lightweight cotton blends.
These towels are compact, easy to carry, and dry faster than traditional towels, making them perfect for on-the-go lifestyles.
Spa and Luxury Experiences
When it comes to indulging in spa-like experiences or adding a touch of luxury to your everyday routine, opt for plush, velvety towels.
Egyptian cotton towels are renowned for their exceptional softness and luxurious feel. Consider towels with a higher GSM (grams per square meter) for a more luxurious experience.
Personal Preferences
Texture and Feel
Consider the texture and feel of the towel. Some people prefer a soft and fluffy towel, while others may prefer a lightweight and smooth texture. Touch and feel the towels before making a decision to ensure they meet your personal preferences.
Colors and Patterns
Choose towels that complement your bathroom décor and personal style. Whether you prefer solid colors or vibrant patterns, selecting towels that aesthetically please you will enhance your overall experience.
Size and Dimensions
Consider the size and dimensions of the towel based on your needs. Standard bath towels typically measure around 27×52 inches, but you can also find smaller or larger options.
Determine whether you prefer a larger towel for more coverage or a smaller towel for convenience and storage.
Remember to consider these factors when choosing bath towels to ensure you make a well-informed decision that aligns with your needs, preferences, and activities.
Whether you prioritize functionality, luxury, or personal style, finding the perfect bath towel will enhance your bathing experience and provide the comfort you deserve.
Comparison between Turkish Bath Towels & Regular Bath Towels
| Aspect | Turkish Bath Towels | Regular Bath Towels |
| --- | --- | --- |
| Material | Typically made from high-quality cotton; can also include bamboo, linen, silk, or other blends | Usually made from cotton, but can include synthetic materials like polyester |
| Weave | Flat-woven for a thinner and lightweight feel | Terry cloth with loops for better absorbency |
| Absorbency | Quick-drying and highly absorbent, thanks to the natural fibers | Good absorbency but may take longer to dry |
| Thickness | Thinner and more lightweight, making them easier to carry and pack | Thicker and heavier, providing a plush feel |
| Durability | Durable and long-lasting, with proper care | Less durable than Turkish towels due to the thicker loops |
| Size | Typically larger and wider, providing more coverage | Standard sizes, but variations exist |
| Versatility | Versatile; can be used as beach towels, scarves, and wraps in addition to bath towels | Mainly designed for bath and shower use |
| Maintenance | Easy to wash, dries quickly, and becomes softer with each wash | May require more time to dry, and care instructions can vary |
| Style and Design | Known for their elegant and aesthetic designs, with various patterns and colors | Often available in plain and simple designs |
| Price | Can be more expensive due to the quality of materials and craftsmanship | Generally more affordable |
| Ideal Use | Ideal for travel, hot climates, and as a stylish accessory | Great for daily bath or shower use, particularly in colder climates |
"Comparing Turkish Bath Towels and Regular Bath Towels: Material, Absorbency, Versatility, and more."
The choice between Turkish bath towels and regular bath towels largely depends on personal preferences and specific use cases.
Turkish towels are prized for their style, versatility, and quick-drying properties, while regular bath towels are known for their plushness and comfort.
The choice of material can affect the feel, absorbency, and durability of the Turkish bath towel, so it's essential to select the one that best suits your needs and preferences.
Upgrade your bathing experience with these timeless treasures from the Turkish culture.
Various Aspects that Make Turkish Bath Towels Stand Out
Turkish bath towels boast superior quality, absorbency, and durability. Indulge in the luxurious comfort they offer for a truly satisfying bathing experience.
Turkish bath towels, also known as peshtemals, offer many advantages and considerations that make them a great choice for your bathroom.
Let's explore the various aspects that make Turkish bath towels stand out from the rest.
Overall Advantages And Considerations:
Absorbency: Turkish bath towels are made from high-quality cotton, which makes them highly absorbent and perfect for drying your body after a bath or shower.
Quick-drying: Unlike traditional towels that take a while to dry, Turkish bath towels are designed to dry quickly, preventing odor and mildew from building up.
Softness: Turkish towels are known for their luxurious feel. They become even softer with each wash, ensuring a gentle touch on your skin.
Lightweight and compact: These towels are lightweight and take up minimal space, making them ideal for traveling or as a beach towel.
Durability: Turkish bath towels are woven to last, ensuring that they remain in excellent condition even after frequent use and washing.
Stylish designs: With a wide range of colors, patterns, and designs, Turkish bath towels add a touch of elegance and sophistication to your bathroom decor.
Value For Money:
Turkish bath towels are a worthwhile investment due to their durability and longevity. They are built to withstand regular use and maintain their quality over time.
Their multi-purpose use as a bath towel, beach towel, sarong, or even a stylish throw adds to their value for money.
Eco-Friendly Production:
Made from 100% natural fibres, Turkish towels are an eco-friendly choice, as they are free from synthetic materials and harmful chemicals.
The production process of Turkish towels is water-efficient, resulting in reduced water consumption and environmental impact.
Versatility And Multi-Purpose Use:
Turkish bath towels are not just limited to drying your body. They can also be used as a beach or picnic blanket, shawl, scarf, or even as a tablecloth.
Their lightweight and compact design make them easy to carry and store.
Expert Recommendations And Testimonials:
Renowned for their superior quality and craftsmanship, Turkish bath towels have received positive feedback and recommendations from experts in the industry.
Many satisfied customers have shared their positive experiences with Turkish towels, praising their absorbency, softness, and stylish appearance.
Where To Buy High-Quality Turkish Bath Towels:
Online retailers such as Amazon, Bed Bath & Beyond, and The Turkish Towel Company offer a wide selection of Turkish bath towels in various colors and designs.
Specialty stores that specialize in Turkish textiles and products are also great places to find high-quality Turkish towels.
Caring For Turkish Bath Towels
Turkish bath towels have gained popularity because of their superior quality and absorbency. To care for them, wash in cold water, avoid using bleach, and tumble dry on low heat.
Turkish bath towels, also known as peshtemals or hammam towels, are a luxurious addition to any bathroom.
These towels are not only known for their exceptional absorbency, but also for their durability. To ensure that your Turkish bath towels stay in pristine condition, it is important to follow proper care guidelines.
Here are some essential tips on how to care for your Turkish bath towels:
Washing And Drying Instructions:
Machine wash your Turkish bath towels in warm water with a gentle detergent.
Avoid using bleach or fabric softener, as these could damage the fibers of the towel.
For best results, wash your towels separately from other heavily-soiled items.
To maintain the softness and absorbency of the towels, avoid using excessive amounts of detergent.
Temperature And Detergent Recommendations:
Choose a warm water temperature between 30 to 40 degrees Celsius (86 to 104 degrees Fahrenheit) for washing Turkish bath towels.
Opt for a mild, eco-friendly detergent formulated for delicate fabrics.
Avoid using strong detergents or stain removers, as they can cause discoloration or damage to the towels.
Pre-Washing And Drying Techniques:
Before using your new Turkish bath towels for the first time, it is advisable to pre-wash them to remove any excess lint.
To pre-wash, simply put the towels in the washing machine and run a gentle cycle with mild detergent.
After pre-washing, tumble dry the towels on low heat or air dry them for best results.
Storing And Maintaining Condition:
Make sure your Turkish bath towels are completely dry before storing them to prevent the growth of mildew or unpleasant odors.
Fold the towels neatly and store them in a dry, well-ventilated area, away from direct sunlight.
Avoid hanging damp towels for extended periods, as this can lead to mold or mildew growth.
Folding And Stacking Techniques:
To save space and maintain the towels' shape, consider folding them in thirds or quarters.
Stack your folded towels in an organized manner to maximize storage efficiency.
Stacked towels can also be displayed in an attractive way, adding a touch of elegance to your bathroom decor.
Avoiding Potential Damage:
Avoid using fabric softeners, as they can coat the fibers and reduce absorbency over time.
Never iron Turkish bath towels, as the high heat can damage the delicate fibers.
Keep sharp objects away from the towels to prevent snags or tears.
By following these simple care instructions, you can ensure that your Turkish bath towels remain soft, absorbent, and beautiful for years to come. So, pamper yourself with the luxury of Turkish towels and enjoy the ultimate bathing experience.
Conclusion
Turkish bath towels offer a multitude of benefits that make them a superior choice for both everyday use and special occasions.
With their exceptional absorbency and quick-drying properties, these towels ensure a refreshing post-bath experience.
The luxurious texture and softness of Turkish cotton provide a cozy and plush feel against the skin, elevating the relaxation factor.
Their durability and long-lasting quality make them a worthwhile investment, saving you money in the long run.
Turkish bath towels also exude elegance and style, with their beautiful designs and vibrant colors adding a touch of sophistication to your bathroom decor.
Furthermore, their versatility extends beyond the bath, as they can be used as sarongs, beach towels, or even picnic blankets.
Whether you prioritize functionality, comfort, or aesthetics, Turkish bath towels are an excellent choice that meets all your needs. Embrace the luxurious experience they offer and elevate your self-care routine.