Bath Towel Gift Wrapping Ideas! Discover Creative Ideas!
Bath towel gift wrapping is a wonderful and creative way to present a gift to your loved ones. It not only makes the gift look aesthetically pleasing but also adds a personal touch.
You can choose to wrap the gift in a single towel or use multiple towels for a layered effect. Bath towel gift wrapping is a method of wrapping presents using bath towels instead of traditional wrapping paper.
This method is not only eco-friendly, but also adds a practical element to your gift. The towel used to wrap the gift can be a part of the gift itself, making it a 2-in-1 surprise! Presentation matters when it comes to gift-giving.
Using bath towels for gift wrapping not only makes your gift look beautiful but also speaks volumes about your creativity and thoughtfulness. It's an art of gifting where utility meets aesthetics!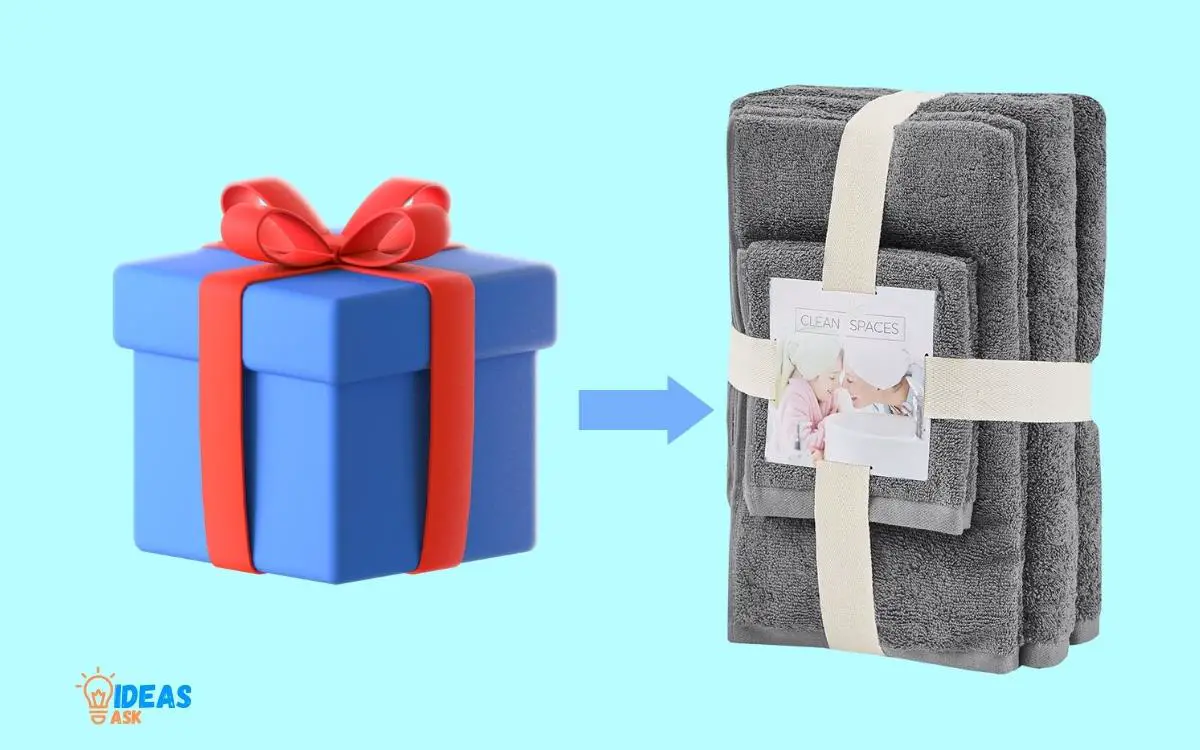 Key Takeaway
Bath towel gift wrapping is an innovative and environmentally friendly way to present gifts.
This method eliminates waste from traditional gift wrapping paper and is a gift in itself as the receiver can use the towel.
It promotes creativity and personal touches as you can choose from an array of towel designs, sizes, and colors.
Bath towel gift wrapping is a perfect fit for presenting spa or bathroom-related gifts but is not limited to these.
Reasons for Choosing a Bath Towel as Gift Wrapping Ideas
High-Quality:
One of the key reasons for choosing a bath towel as a gift wrapping idea is its high-quality nature. Bath towels are known for their durability and absorbency.
By using a bath towel as wrapping material, you're not only presenting the recipient with a thoughtful gift, but you're also giving them a practical item that will last for a long time.
High-quality towels are often made from premium materials like Egyptian cotton or high-GSM (grams per square meter) fabric, ensuring that they are soft, plush, and long-lasting.
Best Fits the Recipient's Preferences (Color, Size, Material):
Bath towels come in a variety of colors, sizes, and materials, making it easy to choose one that perfectly suits the recipient's preferences.
When selecting a bath towel for gift wrapping, you can tailor your choice to match the recipient's favorite color or the color scheme of their bathroom.
You can also choose from different sizes, ensuring that the towel suits their needs, whether it's for drying off after a relaxing bath or a quick shower.
You can select a material that aligns with their personal preference, whether it's organic cotton, bamboo, or a blend of fabrics.
Clean and Neatly Folded:
Bath towels offer an elegant and tidy way to wrap a gift.
When properly folded and arranged, they provide a clean and organized appearance. Neatly folded bath towels can create an appealing presentation, enhancing the overall visual impact of the gift.
You can fold the towel to create pockets or compartments for other smaller gifts, such as toiletries or spa products, adding an extra layer of surprise and thoughtfulness.
The smooth and even texture of the towel makes it easy to secure with ribbons, bows, or pins, ensuring that the gift looks well put together.
Bath towels make an excellent choice for gift wrapping due to their high-quality nature, ability to cater to the recipient's preferences in terms of color, size, and material, and their clean and neatly folded appearance, which enhances the overall presentation of the gift.
This unique and practical gift wrapping idea adds an extra layer of thoughtfulness and can be a memorable part of the gift-giving experience.
Creative And Unique Bath Towel Gift Wrapping Ideas
Bath towels can serve as a unique and thoughtful way to wrap your gifts. They add an element of surprise and practicality to your presents.
Here are some creative bath towel gift wrapping ideas to inspire your gift-giving:
Simple Elegance:
Choose a high-quality bath towel in the recipient's favorite color.
Neatly fold the towel and wrap it around the gift, securing it with a decorative ribbon.
Add a personalized touch with a gift tag or a small card.
Spa-Inspired Wrap:
Select a plush bath towel in a serene, spa-like color.
Place spa essentials such as scented candles, bath salts, and skincare products in the center.
Gather the towel around the gifts, twist the ends, and secure with a bow.
Towel Tote Bag:
Transform a large bath towel into a functional tote bag.
Fold the towel in half, sew or use fabric glue to secure the sides, and attach sturdy handles.
Fill the bag with smaller gifts or use it as a gift itself.
Beach Vacation Bundle:
Choose a vibrant beach towel.
Roll up beach-related items like sunscreen, sunglasses, and a beach novel into the towel.
Tie the ends with a beach-themed ribbon for a perfect beach vacation surprise.
Towel and Robe Ensemble:
Combine a bathrobe and a bath towel for a luxurious gift.
Fold the bathrobe neatly and wrap the bath towel around it, securing it with a chic belt or ribbon.
Seasonal Wraps:
Match the towel's color to the season. Use pastels for spring, bright colors for summer, or warm tones for fall and winter.
Add seasonal decorations like ornaments or faux flowers.
Personalized Monogram:
Customize the bath towel by monogramming or embroidering the recipient's initials.
Fold it neatly and add a ribbon for an extra touch of elegance.
Towel Art and Origami:
Fold the towel into various shapes, such as swans, hearts, or flowers, using towel origami techniques.
Place these art pieces on top of the gift for a unique and eye-catching presentation.
Towel-Wrapped Bouquet:
Wrap a beautiful bouquet of flowers in a clean, white bath towel.
Secure the towel with a ribbon, creating a double surprise of flowers and a useful gift.
Kitchen Essentials Basket:
Arrange kitchen gadgets, utensils, and oven mitts within a neatly folded kitchen towel.
Secure the towel with twine or kitchen-themed ribbon.
These bath towel gift wrapping ideas offer a creative and practical way to present your gifts, showing your thoughtfulness and attention to detail.
Choose the method that suits your recipient and the occasion, and make your gift-giving experience even more special.
Unique Ideas To Present Bath Towels As Gifts
Are you tired of the same old boring gift wrapping ideas? Look no further! We have compiled a list of creative and unique ways to wrap bath towels as gifts.
Whether you want to surprise your loved ones or impress your friends, these ideas will surely make your gift stand out.
Get ready to elevate your gift-giving game with these innovative towel wrapping techniques!
Hare some ideas to help you make bath towels a memorable gift:
Towel Origami: Fold the bath towels into creative shapes or animals using towel origami techniques. For example, fold them into swans, elephants, or hearts. Place these towel art pieces on top of the gift for an eye-catching presentation.
Towel Bouquets: Roll several bath towels and arrange them to resemble a bouquet of flowers. Tie them together with a colorful ribbon or fabric and add a card for a unique and practical gift.
Personalized Monogram: Customize the bath towels by having the recipient's name or initials monogrammed or embroidered onto them. This adds a touch of elegance and personalization to the gift.
Towel Cake: Roll and stack bath towels to create a "cake" shape. Decorate it with ribbon, faux flowers, or other decorative elements. This towel cake can be an excellent present for weddings or anniversaries.
Towel and Spa Essentials Basket: Fill a large bath towel with spa essentials like scented candles, bath salts, essential oils, and a plush robe. The towel can serve as the wrapping and the spa day essential.
Furoshiki Wrapping: Explore the Japanese art of Furoshiki, using bath towels to wrap gifts in an eco-friendly and stylish way. Learn various Furoshiki techniques to create elegant gift presentations.
Beach Vacation Kit: Roll up beach towels and include items like sunscreen, flip-flops, a beach novel, and a beach hat. Place these items in a beach bag for a complete beach vacation kit.
Towel Tote Bag: Transform a large bath towel into a functional tote bag. Fold the towel and sew or glue the sides to create a bag. Add handles, and it can be used for shopping or beach trips.
Kitchen Gift Wrap: Wrap kitchen essentials like utensils, oven mitts, and kitchen gadgets in a bath towel. This is an ideal gift for cooking enthusiasts or those moving into a new home.
Towel and Baby Care Bundle: Create a baby care package by using baby-sized towels and washcloths. Add baby shampoo, lotion, and other baby care items for new parents.
Towel Napkin Rings: Fold bath towels into decorative napkin ring shapes that can be used as a creative and practical addition to the dinner table.
Towel Roll-Ups: Roll bath towels neatly and secure them with colorful ribbons or twine. These can be given as standalone gifts or added to gift baskets for an elegant touch.
By incorporating these creative and unique ideas, you can turn bath towels into not just practical gifts but also memorable and visually appealing presents for various occasions and recipients.
Creative Gift Wrapping For Kids' Bath Towels
Get creative with gift wrapping ideas for kids' bath towels. Make bath time fun and exciting for little ones with these unique and eye-catching ways to present their new towels.
From themed wrapping paper to adorable towel animals, these creative gift-wrapping ideas will add an extra special touch to your next gift.
Hare some ideas to help you make bath towels a memorable gift:
Towel Teddy Bear: Fold the bath towel to resemble a teddy bear's body, with the head, arms, and legs. Use smaller towels or washcloths for the bear's facial features. This interactive wrap doubles as a cuddly toy.
Towel Treasure Map: Turn the bath towel into a pirate's treasure map. Roll it up, tie it with twine, and attach a small toy telescope or pirate hat for an adventurous bath time theme.
Animal Hooded Towel: Fold the bath towel and attach a hood with animal ears, such as a bunny, dinosaur, or lion. Add some bath toys to create a fun and functional gift for bathtime.
Towel Superhero Cape: Create a superhero-themed gift by folding the bath towel into a cape. Attach a "superhero" mask, and let the child's imagination run wild.
Towel Beach Kit: Roll up a kids' bath towel along with a mini beach bucket, shovel, and some beach toys, making it a perfect gift for a day at the beach or a poolside adventure.
Engage children with these fun and playful towel gift wrapping ideas, and make their bath towel gifts an unforgettable experience.
Presentation Tips And Tricks
Discover creative and unique bath towel gift wrapping ideas to elevate your presentations. These presentation tips and tricks will impress your loved ones and make gift-giving even more special.
When it comes to presenting bath towel gifts, you want to make sure they are beautifully wrapped to enhance their appeal.
To help you create a stunning presentation, we have gathered some tips and tricks that will make your gift stand out.
Incorporating other items and using creative techniques in your gift wrapping can add an extra touch of thoughtfulness. Below are some suggestions to make your bath towel gifts truly extraordinary:
Discuss Tips For Presenting Bath Towel Gifts Beautifully:
Choose high-quality wrapping paper or fabric in elegant patterns or colors that complement the towels.
Consider adding a decorative ribbon or bow to create a sophisticated and finished look.
Use tissue paper or fabric squares to add a layer of delicacy and protect the towels.
Fold the towels neatly and symmetrically to showcase their design and create a uniform shape.
Consider placing the towels in a stylish gift box for an extra touch of luxury.
Provide Suggestions For Incorporating Other Items To Enhance The Gift:
Include scented bath products such as bath bombs or shower gel that coordinate with the towels' colors or themes.
Add a personalized touch by including a monogrammed towel or a custom-made embroidered patch.
Include a handwritten note or a small card expressing your well wishes and gratitude.
Highlight Ways To Make The Gift Wrapping Stand Out:
Use unconventional wrapping techniques such as towel origami to create unique shapes like animals or flowers.
Consider adding embellishments like dried flowers, leaves, or decorative buttons to add visual interest and texture.
Incorporate a themed element such as a seashell or a miniature bathtub to give the gift a playful twist.
Experiment with different types of ribbons, strings, or twine to add texture and contrast.
Remember, the key to a beautifully presented bath towel gift is to infuse your personal touch and creativity.
By following these tips and incorporating additional items and techniques, you can create a gift that will leave a lasting impression.
Conclusion
To wrap up, these bath towel gift wrapping ideas are perfect for adding a touch of creativity and thoughtfulness to any gift-giving occasion.
Whether you opt for the classic bow tie or try out the unique towel cake or animal design, there are many ways to make your gift stand out.
Remember to choose towels with colors and patterns that match the recipient's taste and style. Adding little accessories like ribbons, flowers, or even personalized tags can take your gift to the next level.
The best part is that these gift-wrapping ideas are not only visually appealing but also practical, as the towels can be reused by the recipient.
So next time you're preparing a gift, consider using a bath towel and let your creativity shine. And who knows, your gift might just become the talk of the event. Happy gift-wrapping!