Bleached Vs Unbleached Paper Towels
Bleached paper towels are those that have been treated with chemicals to whiten them, while unbleached paper towels are made from natural fibers and not subjected to any chemical treatment. Bleached paper towels typically have a whiter color and softer texture, making them more absorbent than unbleached ones.
Bleached paper towels are more absorbent than unbleached paper towels.
Unbleached paper towels contain fewer chemicals and additives, making them more ecofriendly
Bleached paper towels tend to be whiter and brighter in color compared to unbleached ones.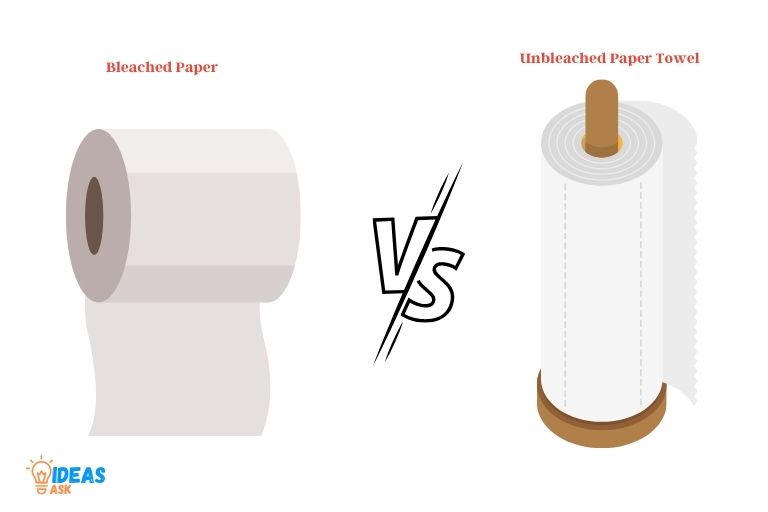 Why Do They Bleach Paper Towels?
Bleaching is an important step in the paper towel manufacturing process. It helps to:
Remove impurities and bacteria from the raw material used to make paper towels.
Improve the strength of the finished product.
Make sure that each sheet of paper towel produced is uniform in colour and texture.
Ensure that paper towels are hygienic enough for use in bathrooms, kitchens or medical settings.
It also helps to extend their shelf life so they can be stored for longer periods without breaking down or becoming unusable.
Why is Unbleached Paper Better?
Unbleached paper is better because it has fewer chemicals and pollutants. This ensures that the environment remains safe and healthy. Benefits of unbleached paper include:
No added toxins or dyes, making it safer for the environment.
Reduced emissions of chloroform gas, which contributes to air pollution.
Brighter colors without bleaching agents.
Easier recycling due to less chemical residue.
Overall, using unbleached paper supports a healthier planet with its low environmental impact while still providing quality results.
Are Unbleached Paper Towels Better for the Environment?
Unbleached paper towels are better for the environment, as they:
use less energy to manufacture than bleached paper towels.
create fewer emissions during production. Since their production does not require harsh chemicals, unbleached paper towels can be reused multiple times before needing to be recycled.
This makes them a more sustainable option compared to regular disposable paper towel products.
Watch Video on : Unbleached Paper Towels
What Paper Towels are Food Safe?
Paper towels are food safe when they meet specific criteria. These include:
Being non-toxic and free from dyes, chemicals, or fragrances.
Having no coating that may contain harmful substances.
Not having been in contact with other potentially hazardous substances.
Paper towels which meet these requirements can be safely used to clean food surfaces and utensils without the risk of contamination.
Are Bounty Paper Towels Bleached?
Bounty paper towels are not bleached with chlorine or any other harsh chemicals. The towels are produced using a combination of pulp fibers, water and air to produce the soft texture that makes them so absorbent and strong.
The paper is whitened with an oxygen-based process instead of bleach which keeps it free from harmful chemicals.
Are Paper Towels Toxic?
Paper towels are generally not considered to be toxic, as long as they are made from natural materials such as bamboo or cotton.
While the inks and dyes used to make these paper towels may contain certain chemicals that could be potentially harmful if ingested, most of them do not pose any significant health risks when handled properly.
Additionally, since paper towels are designed only for single-use and immediate disposal, it is unlikely that you would come into contact with any toxins even if they were present.
Non Toxic Paper Towels
Non-toxic paper towels are a great way to reduce your exposure to potentially harmful materials.These paper towels are made with natural, unbleached fibers and are free from chlorine bleaching and other chemicals that can cause harm when used in the home.
They're also highly absorbent and strong enough for even the toughest messes, making them a great choice for any eco-conscious household.
FAQ
What is the Difference between Bleached And Unbleached Paper Towels?
Bleached paper towels are made with chlorine or other chemicals to give them a white color. Unbleached paper towels have not been chemically treated and remain their natural brown or tan colors.
Bleached paper towels may be more absorbent, but unbleached paper towels are environmentally friendly as they contain no bleaching agents.
Are Bleached Paper Towels More Absorbent Than Unbleached Paper Towels?
No, unbleached paper towels are generally more absorbent than bleached paper towels.
Why are Some People Concerned About Using Bleached Paper Towels?
Some people are concerned about using bleached paper towels because the bleaching process can release potentially harmful chemicals into the environment.
Additionally, these chemicals may remain in the paper towel itself and could be absorbed by skin or ingested if used to clean food surfaces.
Can I Use Either Type of Paper Towel for Cleaning Up Spills Or Messes around My Home?
Yes, you can use either type of paper towel for cleaning up spills or messes around your home.
Conclusion
Overall, it is clear that bleached and unbleached paper towels can both have their advantages and disadvantages. Unbleached paper towels are more environmentally friendly, but may be less absorbent than bleached versions. On the other hand, bleached paper towels may not be as eco-friendly, but they often perform better in terms of absorbing liquid.

Ultimately, choosing between the two options really depends on what matters most to you – performance or sustainability.