Do Hostels Provide Bath Towels? Find Out!
Some hostels do provide bath towels, but it's not a standard practice across all hostels. It often depends on the hostel's policies and the type of accommodation booked.
Hostels are budget-friendly accommodation options, and in order to keep costs low, some may not offer amenities like bath towels.
However, many hostels do provide towels either for free, for a small rental fee, or included in the price of a private room.
While bath towels may not be a guaranteed amenity in all hostels, many are recognizing the need for providing these essentials to travelers.
Some hostels are even going the extra mile and offering not just towels, but also toiletries and bed linens.
Always remember to check before you pack, as this can significantly affect your luggage space and overall travel convenience.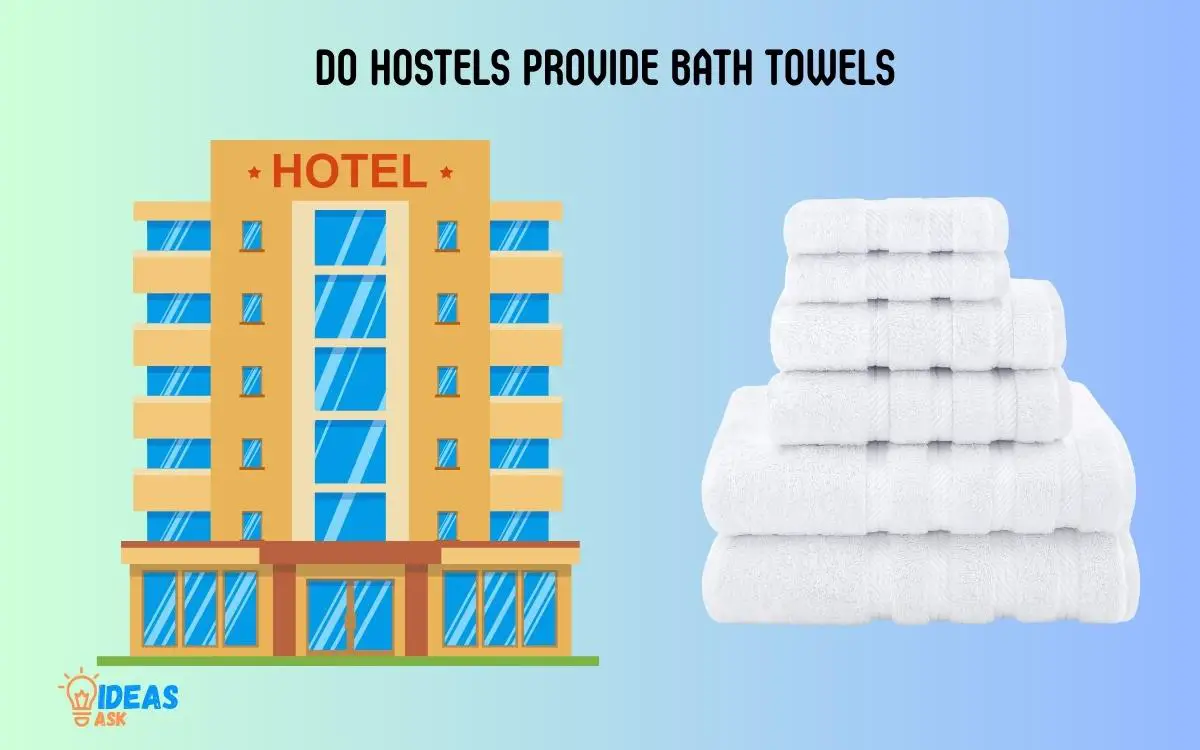 Key Takeaway
Not all hostels provide bath towels as part of their service. It largely depends on the individual hostel's policy.
Often, premium or high-end hostels provide bath towels for free while budget hostels might charge a small rental fee for towel use.
Hostels that don't provide towels typically allow guests to bring their own, but some might have specific rules about using personal towels on their premises.
The provision of towels may be indicated on a hostel's online booking or information page. If not, travelers can usually find out by contacting the hostel directly.
Towel Policies in Hostels
Varied Practices Among Different Hostels
Hostel Types:
Luxury Hostels: Some luxury hostels may provide complimentary towels as part of the overall service. Towels might be of higher quality, akin to those found in hotels.
Budget Hostels: Towel provision is less common in budget-friendly hostels. Guests may need to bring their towels or adhere to rental services.
Geographical Variances: Towel policies can differ based on the region or country. Cultural norms may influence whether towels are provided as standard amenities.
Online Reviews and Policies: Travelers are advised to check online reviews or hostel websites for specific towel policies. Information on towel provision or rental services is often available in advance.
Towel Rental Services
Availability: Some hostels offer towel rental services for a nominal fee. Rental availability may be subject to hostel capacity or peak seasons.
Deposit Systems: Hostels might implement a towel deposit system to ensure their return. Guests receive deposits back upon returning the rented towels.
Quality and Cleanliness: Rental towels are generally well-maintained and clean. Quality may vary, but hostels typically strive to provide satisfactory options.
Reservation or Request: Guests may need to reserve towels in advance, especially during busy periods. Some hostels may require guests to request towels explicitly.
BYOT (Bring Your Own Towel) Policies
Communication in Advance: Hostels with BYOT policies communicate this in advance through booking platforms or their websites. Travelers are encouraged to check policies during the booking process.
Benefits and Drawbacks: BYOT policies contribute to cost savings for both hostels and guests. Guests need to consider luggage space and the inconvenience of carrying a towel.
Exceptions and Alternatives: Some hostels may make exceptions for guests who forget towels, providing them temporarily or for a small fee. Travelers can explore local stores or markets to purchase affordable towels as an alternative to bringing their own.
Environmental Considerations: BYOT policies may align with eco-friendly practices, reducing laundry and resource consumption. Guests are encouraged to support such initiatives and bring reusable towels if possible.
Tips for Travelers
Research Hostel Policies in Advance
Online Reviews and Websites: Check online reviews on travel platforms for insights into hostel amenities, including towel policies. Visit the hostel's official website for detailed information on what is provided and what guests are expected to bring.
Booking Platforms: Utilize booking platforms to find specific details about towel provisions or rental services. Some platforms may have a dedicated section for amenities and policies.
Contacting the Hostel: If uncertain, consider reaching out to the hostel directly through email or phone to inquire about their towel policies. Clarify any doubts regarding towel availability, rental fees, or specific requirements.
Pack a Travel Towel
Compact and Quick-Dry: Choose a travel towel that is compact, lightweight, and easy to pack. Opt for quick-dry materials to facilitate easier laundering during your travels.
Multipurpose Towels: Consider a multipurpose travel towel that can be used for various activities, such as beach outings or picnics. Versatile towels maximize utility in different travel scenarios.
Antibacterial Features: Some travel towels come with antibacterial properties, which can be advantageous during extended trips without regular access to laundry facilities. These features contribute to maintaining the towel's freshness during use.
Inquire About Towel Availability During Booking
During the Reservation Process: Ask about towel availability and policies when making a reservation. Ensure that you are aware of any additional fees associated with towel rental or if you need to bring your own.
Special Requests: If specific preferences exist, such as towel quality or size, communicate these to the hostel during the booking process. Hostels may accommodate special requests based on availability.
Confirmation Email: Double-check towel-related information in the confirmation email received after booking. The email may contain essential details about towel policies, ensuring you are well-prepared for your stay.
Alternatives to Hostel Towels
Purchase a Local Towel
Local Markets and Stores: Explore local markets or stores at your travel destination to purchase an affordable towel. Buying locally can provide a cultural experience and a practical solution.
Supporting Local Businesses: Purchasing a local towel supports local businesses and artisans. Unique designs or traditional craftsmanship may be found in locally-made towels.
Sustainability Considerations: Choosing a locally-made towel aligns with sustainable travel practices by reducing the environmental impact associated with mass-produced items. Look for towels made from eco-friendly materials for a more sustainable choice.
Use Personal Quick-Dry Towels
Travel Towels: Invest in a high-quality, personal travel towel designed for quick drying. Compact and lightweight, these towels are ideal for travelers who prioritize convenience.
Material Considerations: Look for towels made from microfiber or other quick-drying materials. These materials facilitate faster drying, reducing the risk of carrying a damp towel during your travels.
Antibacterial Features: Some personal travel towels come with antibacterial properties, minimizing odors and maintaining freshness during extended use. These features are particularly beneficial for travelers on longer journeys.
Explore Laundry Facilities
Hostel Laundry Services: Many hostels provide laundry facilities or services for guests. Utilize these services to clean your towels during your stay, ensuring a fresh supply.
Local Laundromats: If the hostel lacks laundry facilities, explore nearby laundromats or laundry services. This option is especially useful for travelers on extended trips with the need for regular laundry.
Handwashing: In the absence of dedicated laundry facilities, consider handwashing your towels in the hostel's designated areas. Quick-dry towels are particularly suitable for this method, allowing for faster drying times.
Pack Travel-Friendly Detergent: Carry a small amount of travel-friendly detergent to facilitate handwashing. This enables you to maintain cleanliness and hygiene without relying on external laundry services.
Conclusion
Most hostels will provide you with a towel, but it's always best to double check before you book. Some hostels will charge you for the use of a towel, so it's important to know what your hostel's policy is.
If you forget to bring a towel or run out of clean ones, don't worry! You can usually purchase towels at the front desk or from other guests.