How Are Scott Paper Towels Made? 11 Easy Steps!
Scott paper towels are made from a combination of virgin wood pulp, recycled paper materials, and water, utilizing a process known as papermaking to create absorbent and durable paper towels.
The process of making Scott paper towels begins with sourcing raw materials, which include virgin wood pulp from responsibly managed forests and recycled paper materials.
These materials are then mixed with water to create a paper pulp. This pulp is spread out onto a fine mesh screen, which allows the water to drain away and creates a thin layer of paper fibers.
The fibers are then heated and pressed together to remove additional water and to form the paper towel's structure.
After the paper sheets are dried, they are embossed with a pattern that helps to improve absorbency and are rolled and cut into individual sheets.
Scott paper towels are made from virgin wood pulp and recycled paper materials.
Papermaking is the process used to create absorbent and durable paper towels.
The paper pulp is spread out on a fine mesh screen to create a thin layer of fibers.
Embossing is used to improve the absorbency and overall performance of the paper towels.
Scott paper towels are designed to provide optimal absorbency and strength, making them perfect for various household tasks.
By combining virgin wood pulp and recycled materials, the company ensures a sustainable and eco-friendly approach to its production process.
The use of embossing techniques enhances the paper towels' ability to absorb liquids, and the papermaking process ensures a consistently high-quality product that consumers can rely on for their cleaning needs.
11 Steps Of The Manufacturing Process of Scott Paper Towels
| Step | Description |
| --- | --- |
| 1 | Pulp Preparation: Wood fibers are converted to pulp using a mixture of water, heat, and chemicals. |
| 2 | Pulp Washing: Pulp is washed to remove contaminants and impurities. |
| 3 | Pulp Bleaching: Pulp is bleached to produce a bright, white color. |
| 4 | Pulp Refining: Pulp is refined to create smoother and stronger paper fibers. |
| 5 | Paper Formation: Pulp is mixed with water and spread onto a wire mesh to form a sheet of paper. |
| 6 | Water Removal: Water is removed from the paper sheet using a combination of vacuum, heat, and pressure. |
| 7 | Paper Drying: Paper is dried by passing it through a series of heated rollers. |
| 8 | Creping: Paper is creped, which adds texture and improves softness and absorbency. |
| 9 | Slitting and Rolling: Paper is cut into the desired width and rolled onto large rolls. |
| 10 | Perforating and Cutting: Paper is perforated and cut into individual sheets, then rolled onto smaller rolls for packaging. |
| 11 | Packaging: Finished Scott paper towel rolls are packaged and shipped to retailers. |
11 Steps Of The Manufacturing Process of Scott Paper Towels
Key Takeaway
Scott paper towels are made from a mix of wood pulp fibers and recycled materials
The manufacturing process involves several crucial steps, such as pulping, sheet formation, pressing, and embossing
Scott paper towels have a high absorption capacity due to their unique design and structure
These paper towels are environmentally friendly because they use recycled content and sustainable forestry practices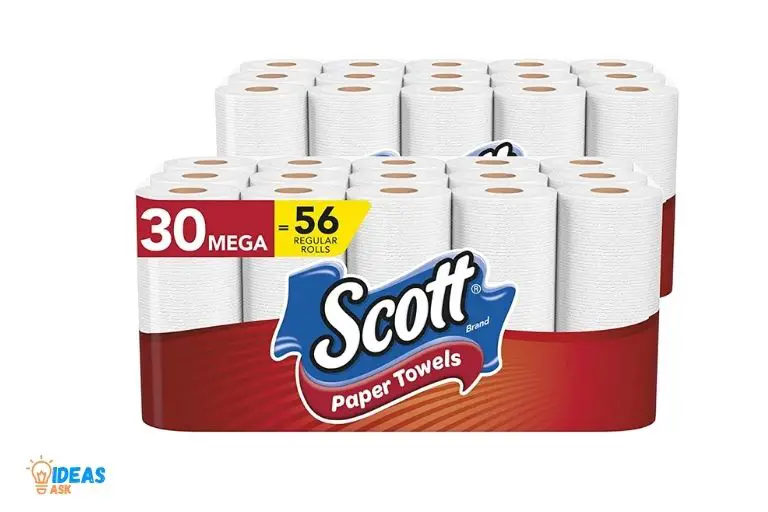 Five Facts About Manufacturing of Scott Paper Towels
Scott paper towels are made by Kimberly-Clark Corporation, which was founded in 1872 and is one of the largest manufacturers of personal and health care products (Source: Kimberly-Clark Corporate Website)
The base of Scott paper towels is a mixture of new and recycled fibers, obtained from materials like cardboard boxes and office waste paper, contributing to their eco-friendliness (Source: How Products are Made)
During the manufacturing process, the fibers are mixed with water to form a slurry which is then spread evenly onto a moving wire mesh, allowing water to drain and forming the initial paper sheet (Source: How Products are Made)
The embossing step in the process, where a pattern is pressed into the paper, enhances the paper towel's ability to absorb water and improves its overall strength (Source: How Paper Towels are Made)
Scott paper towels promote sustainable forestry practices, as the company works closely with the Forest Stewardship Council (FSC) to ensure responsible sourcing of wood fibers (Source: Scott Brand Sustainability)
Raw Materials Used In Making Scott Paper Towels
Scott paper towels are durable yet soft, featuring absorbency pockets that quickly engage in liquid spills. But how are scott paper towels made?
The process of making scott paper towels is complex, but understanding the raw materials that make up the product can help us appreciate the work that goes into creating such a product.
Scott paper towels are produced by kimberly-clark corporation, which uses two primary raw materials: pulpwood and recycled paper.
Pulpwood
Pulpwood refers to the softwood trees used as raw material for making pulp. Kimberly-clark corporation uses southern yellow pine trees, which grow in abundance in the forests of the southern united states.
The trees are harvested, and the bark and leaves are removed. The trunks are then chipped and soaked with chemicals to break them down into individual fibers. The pulp is then pressed and dried to create the final paper product.
Recycled Paper
Recycled paper is an essential raw material for making scott paper towels. Kimberly-clark corporation uses recycled office paper, which is collected from sources, such as schools and businesses.
The paper is then sorted and cleaned to eliminate any contaminants or impurities. It is then mixed with fresh pulp and formed into paper rolls.
Chemicals Used In The Process
In addition to the raw materials, kimberly-clark corporation employs a diverse range of chemicals in the process of creating scott paper towels.
Some of the primary chemicals used in the process include:
Sodium hydroxide: Used in pulping to break down the wood chips into individual fibers.
Sodium silicate: Used as a binder to enhance the strength of the pulp fibers.
Hydrogen peroxide: Used as a bleaching agent to make the paper bright white.
Sodium borohydride: Used to brighten the paper and eliminate any remaining bleach.
Softening agents: Applied to the paper to stop it from feeling rough.
Importance Of Sustainability In The Choice Of Raw Materials
Kimberly-clark corporation recognizes the importance of sustainability in its operations, and the choice of raw materials is not an exception.
The company is dedicated to sourcing its raw materials from well-managed forests, ensuring the responsible use of resources.
The company has implemented several sustainability programs that promote environmental stewardship, including responsible fiber sourcing, waste reduction initiatives, and energy conservation practices.
Making the right choice of raw materials ensures that scott paper towels continue to be environmentally friendly and sustainable for years to come.
The Manufacturing Process Of Scott Paper Towels
Scott paper towels are among the most reliable and absorbent paper towels available in the market. It is interesting to know how these paper towels are made from start to finish.
In this section, we will discuss the manufacturing process of scott paper towels step by step.
Preparation Of Raw Materials:
Scott paper towels are made from virgin wood pulp that is derived from trees.
The raw materials used in making scott paper towels are:
Chlorine-free wood pulp
Water
Adhesive binders
Wax emulsion
Dye
The Pulp-Making Process:
In this step, the raw materials are mixed and prepared for the pulp-making process. The prepared raw materials are cleaned, and contaminants such as dirt and rocks are removed.
Then, the materials go through a process called kraft, where the wood chips are chemically digested in a solution to remove the lignin from the wood. Afterward, the fibers are washed, then bleached to achieve a uniform, white color.
Forming Of Paper Towels:
The next step is where the pulp is made into paper. The fibers are separated, and the pulp is diluted with water.
The mixture is sprayed onto a moving mesh belt that has suction applied to it, and the water is removed through the suction process.
Drying And Cutting Of Paper Towels:
In this stage, the paper is passed through heated roller drums to remove the remaining water content. The dried paper is then cut into sheets of desired length and width.
Packaging And Distribution Of The Finished Product:
The final step is the packaging and distribution of the finished product. The cut paper towels are neatly stacked, then packaged in plastic bags, and labeled. Afterward, they are sent to retail stores and wholesalers for sale to consumers.
The manufacturing process of scott paper towels is a comprehensive process that involves the acquisition of raw materials, pulp-making, forming of paper towels, drying and cutting, and finally packaging and distributing the finished product.
This detailed process ensures that every roll of scott paper towel is of the highest quality to meet the consumer's demands.
Quality Control And Assurance In Scott Paper Towels Production
The Role Of Technology In Ensuring Product Quality And Consistency
Technology plays a crucial role in ensuring the quality and consistency of scott paper towels.
Here are some of the ways technology is used in the production process:
Quality control systems are in place throughout the manufacturing process to monitor and adjust production parameters, such as temperature and humidity, to ensure consistent product quality.
Automated equipment is used to measure and cut the paper into precise dimensions to ensure that every roll of paper towel is the same size.
Sensors are also used to detect any defects in the paper towel, such as holes or tears, and divert them away from the production line to prevent them from reaching consumers.
Testing Methods And Standards Used In The Industry
Scott paper towels go through rigorous testing to ensure that they meet industry standards and consumer expectations.
Here are some of the testing methods and standards used:
Absorbency tests are conducted to ensure that each sheet of paper towel can absorb an adequate amount of liquid.
Tensile strength tests are carried out to check the strength of the paper towel, ensuring that it can withstand the pressure of use without tearing.
The paper used to make scott paper towels is also tested to ensure that it is safe for use, free from harmful chemicals and dyes.
Importance Of Meeting Consumer Expectations
In a competitive market, meeting consumer expectations is crucial for the success of any product, and scott paper towels are no exception.
Here are some reasons why it is important to meet consumer expectations:
A satisfied customer is more likely to purchase a product again, improving brand loyalty and profitability.
Meeting consumer expectations can lead to positive word-of-mouth marketing, which can attract new customers.
Failing to meet consumer expectations can result in negative online reviews, damaging the brand's reputation.
Scott paper towels are made using a combination of advanced technology, strict testing methods, and a focus on meeting consumer expectations. These efforts ensure that every roll of paper towel is high-quality, consistent, and safe for use.
Innovations In Scott Paper Towels Production
Overview Of The Latest Technologies And Processes In The Industry:
The production of scott paper towels is an ever-evolving industry that consistently embraces innovative technologies, resulting in high-quality paper towels.
Here are some of the latest technologies and processes used in the scott paper towel production process:
Air-laid technology
Scott paper towels are manufactured using air-laid technology, where cellulose fibers are blown into a uniform web using air, then anchored by a bonding agent.
This process produces a more absorbent and durable paper towel.
Advanced embossing
The paper towels are embossed with designs that increase their absorbency and softness.
Scott paper towels are renowned for their fast absorption rate that is as a result of advanced embossing.
Multi-ply construction
Multi-ply construction refers to combining multiple layers of paper to form a single sheet of paper.
Scott paper towels utilize a combination of multi-layered paper held together by a bonding agent to create a thicker, more resilient, and absorbent paper towel.
The Move Towards Sustainable Practices And Materials:
Many customers are increasingly concerned about the impact of paper towel production on the environment. Scott paper towels have responded by adopting more environmentally friendly practices and materials.
Here are some of the ways that scott paper towels are working towards sustainability:
Wood sourcing: Scott paper towels are manufactured from pulp sourced from sustainable forests. The company strives to ensure that their wood comes from forests with a certification from the forest stewardship council (fsc).
Improved water utilization: Paper towel production requires a lot of water. Scott has implemented several water conservation technologies to ensure responsible water usage, such as reusing wastewater from the paper mill in their manufacturing process.
Recycling initiatives: In addition to sourcing sustainable wood, scott is working towards reducing their environmental impact by incorporating recycled materials. They have programs in place for larger facilities to recycle waste products.
The Future Of Paper Towels Production And Usage:
As the world evolves, so does the industry of paper towel production.
Here are some of the projections as to the future of paper towel production and usage:
Sustainability: The trend of using sustainable materials and practices in paper towel production is likely to only increase in the future. Many customers are looking to purchase products from companies that value sustainability.
Automation: The use of automation in paper towel production is expected to increase. A video tour of a scott paper towel manufacturing facility highlights state-of-the-art machinery, which scott is continually updating.
A shift towards digital communication: As technology advances, there is an increase in the use of digital communication platforms for sharing information. This shift may lead to fewer uses of paper towels in public restrooms and theaters and increase the demand for digital hand dryers.
As scott paper towels production remains at the forefront of cutting-edge technologies and processes, they will increasingly work to offer the best possible sustainable solutions to help protect the planet.
FAQ On Scott Paper Towels
How Are Scott Paper Towels Made?
Scott paper towels are made by pressing and drying wood pulp fibers into sheets, which are then cut and packaged.
What Materials Are Used To Make Scott Paper Towels?
Scott paper towels are made from sustainably-sourced wood pulp fibers and may contain a blend of recycled fibers.
How Strong Are Scott Paper Towels?
Scott paper towels are designed to be strong and absorbent, with the ability to handle tough spills and messes.
Are Scott Paper Towels Environmentally Friendly?
Scott paper towels are eco-friendly as they are made from sustainably sourced wood pulp fibers and may contain a blend of recycled fibers.
Conclusion
To sum up, understanding the process of how scott paper towels are made can give us a greater appreciation for the role these products play in our lives.
From its humble beginnings as a disposable alternative to cloth towels, the manufacturing process has evolved to become a highly advanced and efficient operation.
The company's commitment to sustainability and environmental responsibility is evident in their use of recycled materials and energy-efficient production methods. The resulting product is not only strong and absorbent but also environmentally friendly.
Scott paper towels have become an essential part of our daily lives, from household cleaning to commercial applications, and the manufacturing process continuously strives to improve its quality and sustainability.
With continued innovation in the industry, we can expect to see more advancements in the future that will benefit both consumers and the environment.