How to Germinate Blueberry Seeds in Paper Towel? 10 Steps!
To germinate blueberry seeds in a paper towel, follow these four simple steps: 1) stratify the seeds, 2) prepare the paper towel, 3) moisten and fold, and 4) monitor and transplant the seeds when ready.
Germinating blueberry seeds in a paper towel is an effective method for starting the growth process before transplanting them into soil.
This approach provides a controlled environment, making it easier to maintain the ideal moisture and temperature levels required for successful germination.
Stratification: a crucial process to break seed dormancy and enhance germination
Paper towel preparation: creating a clean and seed-ready surface
Moistening and folding: ensuring proper moisture levels for germination
Monitoring and transplanting: keeping an eye on the seeds' progress and moving them to soil once they sprout
Stratification is an essential step when germinating blueberry seeds, as it involves chilling the seeds to simulate natural winter conditions.
First, mix the seeds with moistened peat moss or sand in a plastic bag, seal it, and refrigerate for at least 6-8 weeks.
After stratification, prepare a clean paper towel by laying it on a flat surface. Sprinkle the seeds evenly across the towel, ensuring they are not clumped together.
Dampen the paper towel with water using a spray bottle, making sure it's moist but not saturated. Carefully fold the paper towel to cover the seeds, then place the folded towel in a plastic bag or container to maintain humidity
10 Easy Steps for Germinating Blueberry Seeds in Paper Towel
| Step | Description |
| --- | --- |
| 1 | Gather the materials: blueberry seeds, paper towels, water, plastic bags, and a marker. |
| 2 | Moisten a paper towel completely, but avoid soaking it. |
| 3 | Spread the blueberry seeds evenly onto the moist paper towel, leaving some space between each seed. |
| 4 | Fold the paper towel in half, covering the seeds, and gently press down to ensure good seed contact with the moist surface. |
| 5 | Place the folded paper towel with seeds inside a plastic bag and seal it, leaving some air for circulation. |
| 6 | Label the plastic bag with the date and seed type using a marker. |
| 7 | Place the sealed bag in a warm and dark location, such as a cupboard, with a temperature range of 60-70°F (15-21°C). |
| 8 | Check the seeds daily for moisture and germination. Re-moisten the paper towel if it starts to dry out. |
| 9 | Once the seeds have sprouted roots and a small shoot, carefully transplant them into small pots filled with well-draining soil. |
| 10 | Place the young seedlings in a sunny location and water them regularly, ensuring the soil stays moist but not waterlogged. |
10 Easy Steps for Germinating Blueberry Seeds in Paper Towel
Key Takeaway
Blueberry seeds can be germinated using the paper towel method, offering an easy and effective way to start plants.
Proper stratification, moisture, and temperature are essential for successful blueberry seed germination.
The paper towel method helps in closely monitoring seed germination and maintaining proper moisture levels.
Transplanting sprouted seeds into soil should be done carefully, ensuring root systems are not damaged.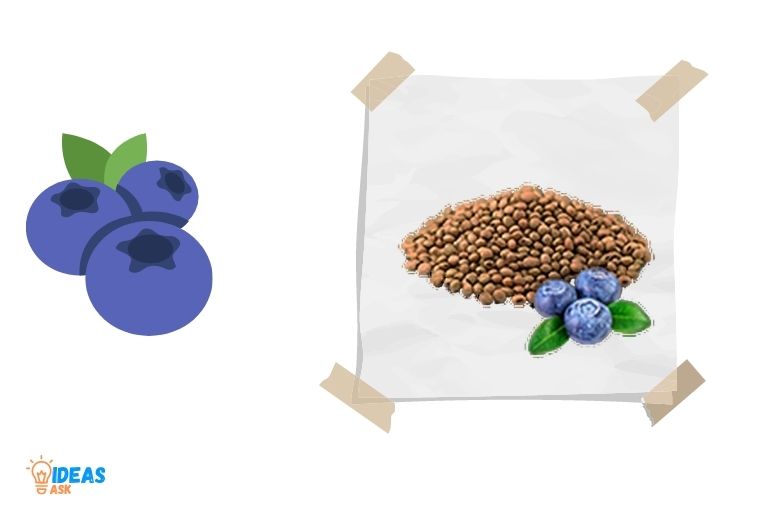 Five Fascinating Facts About Germinating Blueberry Seeds in Paper Towel
Blueberry seeds require a period of cold stratification before germination, typically for about 6 to 8 weeks at around 33-34°F (0.5-1°C) in a moist environment. (Source: University of Maine Cooperative Extension)
The paper towel method involves placing seeds between moist paper towels, sealing them in a plastic bag, and maintaining a consistent temperature of around 60-70°F (15.5-21°C) to facilitate germination.
Blueberry seeds generally take between 4 to 6 weeks to germinate. However, it is important to frequently check the paper towels to ensure they remain moist throughout this period. (Source: Park Seed)
Once seeds have germinated and developed a small root system, carefully transplant them into individual pots with well-draining, acidic soil mix. The ideal soil pH for blueberries is between 4.5 and 5.5. (Source: Gardening Know How)
To maintain optimal growth after transplanting, blueberry plants should receive at least 4-6 hours of direct sunlight daily, and it is crucial to keep the soil consistently moist but not waterlogged. (Source: Stark Bro's)
Gathering Your Supplies
Germinating blueberry seeds can be a fascinating and rewarding experience. Although it can seem daunting at first, the process is quite simple if you gather all the necessary supplies before getting started.
Here are the key points to keep in mind while gathering your supplies:
Ensure You Have All The Necessary Supplies
Blueberry seeds
Quality paper towels
Two sealable plastic bags
A spray bottle with water
A clean, sterile workspace
Quality Of Paper Towel And Seeds Matter
The paper towel should be of high quality to ensure the moisture is distributed evenly across the surface. The seeds should be fresh, viable, and from a reputable supplier.
Keep in mind that not all blueberry varieties will grow back true to the parent plant from seed, so it's important to research the variety before planting.
Clean And Sterile Workspace Is Important
Before you begin, make sure your workspace is clean and sterile. Wash your hands thoroughly and ensure all items coming into contact with the seeds are also clean. A contaminated workspace can lead to mold or disease, which can kill your seedlings.
By gathering these necessary supplies beforehand and ensuring the quality of the paper towel and seeds, as well as maintaining a clean workspace, you will set yourself up for a successful blueberry seed germination process.
Preparing The Paper Towel And Seeds
Germinating blueberry seeds can be an exciting experience for gardeners. One popular method for germination is using paper towels. In this section, we will discuss the preparatory steps for this process to ensure proper germination.
Soak Paper Towel In Distilled Water:
Before starting the process, it is crucial to ensure that the tools you use are clean and free of contaminants.
Follow these steps:
Take a paper towel and fold it in half.
Fill a clean tray or plate with distilled water.
Submerge the paper towel in the distilled water and let it absorb the water.
After that, take out the towel and squeeze out any excess water.
Space Seeds Properly On Paper Towel:
Proper spacing is essential for proper germination.
Here are the steps for spacing the seeds on the paper towel:
Place the moist paper towel on a clean plate or tray.
Take a small number of blueberry seeds and place them on the paper towel. We recommend spacing the seeds about an inch apart to ensure they do not touch.
Try to place the seeds on the paper towel with the root facing down and the narrower end up.
Roll The Paper Towel Around The Seeds:
To roll the paper towel efficiently, follow these simple steps:
Start rolling the paper towel on one end towards the other while ensuring the seeds do not shift position.
Tuck in the ends of the paper towel to prevent the seeds from falling out.
Place the paper towel with the seeds in a sealable plastic bag, ensuring the paper towel does not get torn.
That's it! Follow these preparatory steps, and you are well on your way to germinating blueberry seeds using the paper towel method. Remember to keep the seeds in a warm and moist environment to assist in the germination process. Happy gardening!
Creating The Best Environment For Germination
Germinating blueberry seeds can be an exciting diy project for gardeners who want to grow their own blueberry plants from scratch.
While there are various methods to germinate blueberry seeds, using a paper towel is by far one of the easiest. In this section, we'll discuss the key requirements for creating the best environment for germination.
Temperature Recommendations
Blueberry seeds require warmth to sprout. You can use a heat mat to maintain a consistent temperature of around 70°f to 85°f throughout the germination process. Keep the heat mat on for around 14 to 16 hours each day to ensure optimal growth.
Importance Of Humidity
Maintaining the correct amount of humidity is critical in the germination process. If the humidity is too low, the seeds will dry out, and if the humidity is too high, the seeds may rot.
To ensure the right moisture levels, you can cover the paper towel with a plastic bag or a plastic dome. You can also mist the seeds with distilled water regularly.
Light Requirements
Blueberry seeds do not require light to germinate. The seeds should be kept in a dark place during the germination process. After sprouting, expose the seedlings to a few hours of sunlight each day to help them grow.
Possible Germination Challenges
While germinating blueberry seeds can be fun, it is not always a guaranteed success.
Here are some common challenges you might encounter:
The seeds may take longer to germinate than expected.
Some seeds may not sprout at all, no matter how much care you take.
Be careful when watering your seedlings after planting them in soil, as overwatering can kill the sprouts.
By keeping these challenges in mind and following the above guidelines for creating the best environment for germination, you can increase your chances of success in germinating blueberry seeds and watch your own blueberry plant grow!
Monitoring And Caring For Germinating Blueberry Seeds
Germinating blueberry seeds using paper towels method requires careful attention and consistent care for successful seedling growth. Once the seeds have sprouted, the next phase is equally essential to ensure the seedlings' proper development and ultimately healthy bushes.
Following these guidelines on monitoring and caring for germinating blueberry seeds will foster robust growth and increase the likelihood of a bountiful harvest.
Watering Seeds
After the first week of germination, watering needs will change for the growing seedlings.
Follow these steps to ensure proper hydration.
Water the seedlings on the surface of the soil using a spray bottle. Directly watering the soil may displace, expose, or trauma sprouting seedlings, causing them to die.
Ensure that soil doesn't become dry before watering again. Dry soil can stress and damage seedlings.
Use room temperature water. Cold water shocks the seedlings, and hot water may cause seedlings to scorch and the roots to die.
Possible Risks And How To Avoid Them
Here are some risks that may arise during this phase of growing blueberry seeds and how to overcome them.
Mold growth on the paper towel could suffocate the seedlings due to excess moisture in germinating seeds. Using a sterile environment and quality seeds can minimize this risk.
Overfertilizing seedlings can cause an undue amount of stress, leading to stunted growth due to injury to delicate seedling roots. You can avoid this risk by using a water-soluble fertilizer and following the instructions on the label.
Troubleshooting Tips
It is essential to keep a close watch on seedlings and know how to troubleshoot potential issues.
Below are some tips on dealing with common issues.
Wilting or drooping seedlings could occur from underwatering or excessive heat. Adding water will help rehydrate the seedlings, and lowering the temperature to around 70-80f will alleviate heat issues.
Seedlings with pale or yellow leaves require more sunlight. To correct the lack of sunlight issue, increase the amount of sunlight exposure by moving the seedlings to a brighter area or adding grow lights.
Preparing To Transplant
Transplanting blueberry seedlings is the final step before growing bushes. It's crucial to ensure that the seedlings are adequately prepared for the transition.
Consider the following:
Prepare the soil mix in the desired planting container to mix one-third peat moss and two-thirds sterile potting mix. This mixture creates a conducive planting environment for blueberry seedlings.
Transplant the seedlings once they grow stable root systems and develop their true leaves. True leaves are typically the fifth or sixth leaves on the seedling.
Following these guidelines for monitoring and caring for germinating blueberry seeds will help ensure healthy seedlings and robust bushes. With enough attention, your blueberry seeds can produce a bountiful harvest year after year.
FAQ About Germinating Blueberry Seeds in Paper Towel
How Long Does It Take For Blueberry Seeds To Germinate Using A Paper Towel Method?
It usually takes about 2-4 weeks for blueberry seeds to germinate using the paper towel method, depending on the conditions.
What Is The Success Rate Of Germinating Blueberry Seeds In A Paper Towel?
The success rate of germinating blueberry seeds in a paper towel is generally high, around 80-90%, if the seeds are viable and the conditions are suitable.
How Do I Know If My Blueberry Seeds Are Viable To Germinate Using A Paper Towel?
To check the viability of blueberry seeds, you can do a simple float test. Place the seeds in water, and those that sink are viable, while those that float are not.
Do I Need To Provide Light While Germinating Blueberry Seeds Using A Paper Towel Method?
No, blueberry seeds do not require light to germinate. However, once the seeds have sprouted, they will need to be provided with adequate light to grow properly.
Conclusion
Germinating blueberry seeds in a paper towel can be a challenging yet rewarding experience. With the right techniques and patience, you can successfully turn these tiny seeds into thriving plants. By following our step-by-step process, you can ensure a high germination rate and a healthy start for your blueberry seedlings.
Remember to keep the seedlings in a well-lit area and keep the soil moist but not waterlogged. With time and care, you'll soon be enjoying the sweet, delicious taste of homegrown blueberries. We hope that this guide has been helpful in demystifying the process of growing blueberries from seeds and has encouraged you to give it a try yourself.
Happy gardening!