How to Germinate Cherry Seeds in Paper Towel? 12 Steps !
To germinate cherry seeds using the paper towel method, follow these steps: stratify the seeds, prepare the paper towel, place the seeds on the paper towel, enclose the seeds, and monitor their progress.
Germinating cherry seeds in a paper towel is a simple and effective method to start the growth process before transplanting them into soil. This method provides a controlled environment, ensuring optimal conditions for the seeds to sprout successfully.
Stratification: Cherry seeds require a period of cold stratification to simulate winter dormancy, increasing the likelihood of germination.
Preparing the paper towel: Dampen a paper towel with water, ensuring it is not overly saturated to prevent mold growth.
Placing the seeds: Evenly distribute the cherry seeds across the surface of the paper towel, leaving space between each seed to allow for proper root development.
Enclosing the seeds: Fold the damp paper towel with the seeds inside, and place it in a sealed plastic bag to maintain humidity.
Monitoring progress: Check the seeds regularly for germination, ensuring the paper towel remains moist, and transplant them once roots emerge.
Germinating cherry seeds in a paper towel is a popular technique for gardeners who want to grow cherry trees from seeds.
It provides an ideal environment for the seeds to sprout, allowing for better observation and control over the germination process.
The ease of this method makes it suitable for both experienced and novice gardeners alike, as it requires minimal equipment and effort.
Step-by-Step Guide to Germinating Cherry Seeds in Paper Towel
| Step | Instructions | Duration |
| --- | --- | --- |
| 1 | Collect cherry seeds | N/A |
| 2 | Clean cherry seeds | 5-10 minutes |
| 3 | Stratify cherry seeds | 90 days |
| 4 | Prepare a damp paper towel | 2 minutes |
| 5 | Place cherry seeds on damp paper towel | 1 minute |
| 6 | Fold paper towel over seeds | 1 minute |
| 7 | Place folded paper towel inside a plastic bag | 1 minute |
| 8 | Seal plastic bag | 1 minute |
| 9 | Label bag with date and seed type | 1 minute |
| 10 | Store the bag in a warm, dark location | N/A |
| 11 | Check seeds for germination periodically | Every 1-2 weeks |
| 12 | Transplant germinated seeds to pots | As needed |
Step-by-Step Guide to Germinating Cherry Seeds in Paper Towel
Key Takeaway
Cherry seeds require specific conditions for successful germination
The use of a paper towel is a simple and effective method for germinating cherry seeds
Proper seed stratification is necessary to break dormancy and initiate germination
Monitoring and maintaining appropriate humidity, temperature, and light conditions will increase the chances of successful seed germination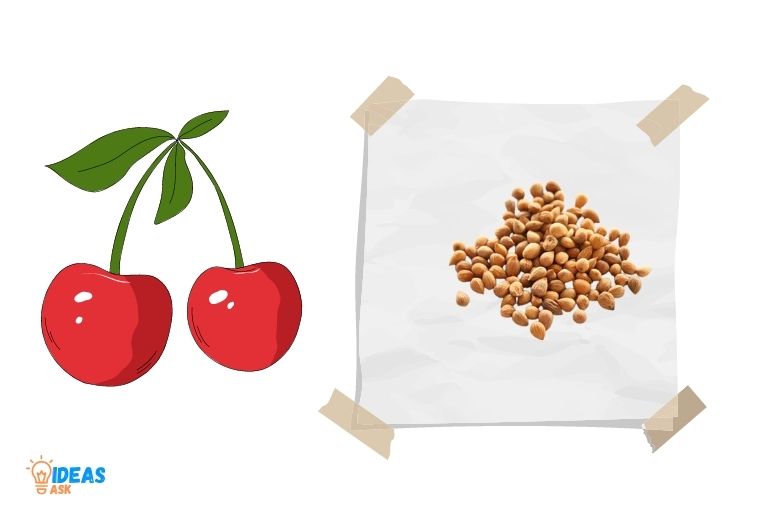 Three Facts About Germinating Cherry Seeds in Paper Towel
Cherry seeds need to undergo a process called stratification before they can germinate, which involves exposing them to cold and moist conditions for an extended period (typically around 10-12 weeks). This process mimics the natural winter dormancy period, breaking the seeds' dormancy and allowing germination to begin. (Source: Gardening Know How)
To stratify cherry seeds using a paper towel, the seeds should first be soaked in water for 24 hours to help soften the outer shell. Then, they can be placed on a damp paper towel, which is folded over to cover the seeds. The towel-wrapped seeds should be placed in a sealed plastic bag and stored in the refrigerator to simulate winter conditions. (Source: SF Gate)
The ideal temperature for cherry seed stratification is 40°F (4°C). During this time, it's important to check the seeds periodically and ensure that the paper towel remains moist but not soggy to prevent mold growth. (Source: Gardening Know How)
The Benefits Of Germinating Cherry Seeds Using Paper Towels
Importance Of Germinating Cherry Seeds
Germinating cherry seeds is an essential process that enables gardeners to propagate cherry trees efficiently. Germination signals the beginning of the growth cycle of the cherry trees, which ultimately leads to fruit production.
Germination through the traditional soil planting process can be time-consuming and often yields unsatisfactory results, making the use of paper towels a better alternative.
Benefits Of Using Paper Towels
Using paper towels for germinating cherry seeds is an efficient and convenient way to propagate cherry trees. Some of the benefits of using paper towels include:
Faster germination: Paper towels provide the seeds with the necessary moisture and temperature for quick germination, so you can expect to see early results.
Cost-effective: Paper towels are inexpensive and readily available, making it a convenient and cost-effective method of propagation compared to other techniques.
Space-saving: Large soil pots can take up much space; using paper towels for germinating cherry seeds can save you a lot of space in your nursery.
Easy monitoring: Germination with paper towels allows you to monitor the process closely and intervene quickly if something goes wrong.
Precautions To Take Before Starting The Germination Process
Before you begin the germination process, there are several precautions to take to ensure a successful germination.
Select viable cherry seeds: Look out for cherry seeds that are plump and healthy. Discard any that are wrinkled, discolored, or underdeveloped.
Clean your hands: Make sure your hands are clean before handling cherry seeds to avoid contamination, which could cause poor germination or infection.
Use distilled water: Do not use tap water, as it may contain chlorine or fluorine which can be harmful to the seeds.
Store the seeds properly: Cherry seeds need to be stored in a cool and dry place away from direct sunlight until you are ready to use them.
Label your seeds: Keep track of the number and type of cherry seeds you are germinating. This helps with monitoring and planning.
With these precautions in mind, you can begin the germination process and look forward to a bountiful cherry harvest.
Preparation For Germination
Sourcing Cherry Seeds
If you love cherries, why not grow your own? Germinating cherry seeds in paper towels is a simple and effective way to start your cherry tree journey.
The first step is to source your cherry seeds. You can get them from fresh cherries that you purchase from the grocery store or your local farmers' market.
It's essential to choose ripe, healthy cherries as these will give you viable seeds that will sprout and grow. Once you have the cherries, cut them open and remove the seeds. Make sure to handle them carefully as damaging the seeds can stop germination from occurring.
Pre-Treatment Requirements For Cherry Seeds Before Germination
Before you start germinating your cherry seeds, you need to prepare them properly to increase your germination success. The pre-treatment process is essential for removing any inhibitors that may stop the seeds from sprouting.
Here are the steps you need to follow:
Wash your cherry seeds thoroughly in cold water to remove any pulp or fruit residue.
Boil a pot of water and place the seeds in it. Leave the seeds in the boiling water for 5 minutes before transferring them to a bowl of cold water. This process helps the seeds to stratify, imitating a winter environment that signals to the seed that it's time to germinate.
Next, use a paper towel to pat dry the seeds.
Place the cherry seeds in a resealable plastic bag or container with a zip-on seal.
Put the bag or container in the fridge where it will stay for the next 8-10 weeks. This long chilling process is essential for triggering germination.
Soaking Seeds In Water
Once your cherry seeds have undergone the necessary pre-treatment, the next step is to soak them in water to start the germination process.
Here is what you need to do:
Dampen a paper towel with water and wring out the excess.
Lay the damp paper towel flat on a clean surface, and arrange your cherry seeds on top of it, ensuring they are well spaced apart.
Once you have placed the seeds on the paper towel, fold the towel in half or quarters, ensuring the seeds are well covered.
Then, place the towel in a resealable plastic bag or container with a zip-on seal, and leave it on a warm windowsill, ensuring there is no direct sunlight.
Check the seeds every few days to ensure the paper towel remains damp, and sprinkle a little water on it to retain moisture.
After approximately one to three weeks, your cherry seeds should begin to germinate and sprout roots!
That's how simple it is to germinate cherry seeds in paper towels. Follow these steps for success, and enjoy your homegrown cherry tree.
The Germination Process
Germinating cherry seeds in paper towel is a simple and rewarding process that can be done at home. The germination process allows the seeds to sprout, leading to healthy and fruitful cherry trees. In this section, we will provide an easy step-by-step guide to germinating cherry seeds in paper towel.
Choosing The Right Type Of Paper Towel
Selecting the right paper towel is crucial to ensure that cherry seeds germinate effectively. When choosing a paper towel, ensure that it is 100% pure and free from any dye or fragrance. Avoid using recycled or bleached paper towels, as they may contain chemicals that are harmful to the seeds.
How To Moisten The Paper Towel Correctly
Moistening the paper towel is an essential step in the germination process. To ensure that the seeds germinate, you must moisten the paper towel correctly.
Firstly, get a paper towel and dampen it with lukewarm water. Ensure that the paper towel is moist but not soaking wet. Take the excess water and squeeze it out. Fold the paper towel in half, forming a square.
Spacing And Arranging The Cherry Seeds On The Paper Towel
Cherry seeds should be spaced out evenly on the paper towel to allow proper germination. Carefully place the cherry seeds on one half of the folded paper towel, arranging them with even spacing.
Ensure that the seeds are not touching each other. Use the other half of the folded paper towel to cover the cherry seeds.
Sealing And Storing The Seeds
Sealing and storing the seeds are the final steps to complete the germination process. Once the seeds have been arranged and covered in the paper towel, place it inside a plastic zip-lock bag.
Seal the bag tightly and store it in a warm and dark place with temperatures ranging between 70 and 80 degrees fahrenheit.
Check the paper towel regularly to ensure that it remains moist, but not too wet. In 2-4 weeks, you will begin to see the seeds sprout.
Germinating cherry seeds in paper towel is a simple and rewarding process that can be done at home, making it an excellent way to start your very own cherry tree. By following these step-by-step instructions, you will have healthy and fruitful cherry trees in no time.
Caring For Your Germinating Cherry Seeds
Germinating cherry seeds in a paper towel is an excellent way for beginners to learn about plant cultivation. The process is straightforward and easy to follow, and it doesn't require you to have a lot of gardening experience.
However, once you've germinated your cherry seeds, you need to take care of them properly for your seedlings to grow into healthy plants.
In this section of the blog post, we'll explore how to care for your germinating cherry seeds, covering growth monitoring and progression, transplanting germinated seeds, and caring for the seedlings.
Growth Monitoring And Progression
Once you've planted your cherry seeds in a paper towel, monitor the growth of the seedlings closely.
Here are some crucial points to look for:
After seven to ten days, you should see roots sprout from the seeds. This is an indication that germination has begun.
Note the measurement of the leaves when they grow to about half an inch. Cherry seedlings will take ten to fourteen days to achieve this stage.
Cherry seedlings may grow for two to four weeks before the transplanting stage arrives.
Transplanting The Germinated Seeds
When your cherry seeds have germinated, it's time to transplant them into soil.
Here's what you need to know:
Select a pot that is slightly larger than the seedling with sufficient soil to transplant.
Make a hole in the center of the soil with a stick or your finger, then carefully place the root side down into the hole.
Do not cover the seed with soil; it should remain exposed.
Consult youtube videos or gardening books for more information on transplanting.
Caring For The Seedlings
Your cherry seedlings require continued care after transplanting.
Here are some things to keep in mind:
Place your cherry seedlings in a sunny location. South-facing windows are excellent for light exposure.
Water the seedlings, preferably in the morning, and avoid wetting the leaves.
Check soil moisture often and adjust water quantity and frequency based on the needs of the seedlings.
Infrequent re-potting can cause the roots to be excessively coiled, so it is advisable to re-pot almost every year to help the roots expand.
Following these steps while caring for your germinating cherry seeds will help you grow healthy and vibrant cherry trees. So go ahead and start your seedlings today; you'll be amazed at how easy it is!
FAQ About Germinating Cherry Seeds In Paper Towel
How Long Does It Take For Cherry Seeds To Germinate In A Paper Towel?
It takes 2-3 weeks for cherry seeds to germinate in a paper towel.
Can I Use Any Paper Towel To Germinate Cherry Seeds?
Avoid paper towels that have been chemically treated, and use organic paper towels.
Can I Reuse The Paper Towel After Germinating Cherry Seeds?
It's not recommended to reuse paper towels after germinating cherry seeds to prevent contamination.
How Do I Know If Cherry Seeds Have Germinated In The Paper Towel?
You'll see a small root emerging from the seed, and you can gently tug on it to confirm its growth.
Conclusion
After completing this process, you will certainly realize that growing cherry trees from seed is an achievable task. The simple and straightforward step-by-step process we have shared will make germinating cherry seeds in paper towels an effortless experience.
The use of paper towels helps you to monitor the seeds' progress and determine when they are ready for planting. By following these instructions, you can enjoy cherries at home without spending a lot of money on buying them.
Growing cherry trees from seeds can be a fun and rewarding experience. So start gathering your cherry seeds and initiate the germination process today to grow a beautiful cherry tree in your garden!