How to Make a Periscope Out of Paper Towel Rolls? 6 Steps!
Creating a periscope out of paper towel rolls is an easy and exciting DIY project. You'll need two paper towel rolls, a small mirror, tape, scissors, and a ruler.
Start by cutting two squares (about 1×1 inch each) at the ends of both paper towel rolls. These squares should be angled at 45 degrees.
Insert small mirrors into these squares and secure them with tape. It is crucial that the mirrors face each other at a 45° angle.
Attach the two paper towel tubes together at the ends with the mirrors. Your periscope is now ready to use!
Easy and fun DIY project using household items
Enhances understanding of how light travels and reflects
Inexpensive way to create a device used in submarines and other vessels
Great hands-on learning opportunity for children
Making a periscope is a fantastic way to explore the principles of light reflection and refraction. It can spark scientific curiosity in children and offer a practical understanding of how periscopes work in submarines.
This simple DIY project is not only educative but also encourages creativity and resourcefulness using common household items like paper towel rolls and mirrors.
6 Steps to Make a Periscope Out of Paper Towel Rolls
| Step Number | Instructions |
| --- | --- |
| 1 | Gather two paper towel rolls, scissors, tape, and two small mirrors. |
| 2 | Cut two small slots at a 45-degree angle at the top end of one paper towel roll, and at the bottom end of the other. |
| 3 | Secure the small mirrors in the slots by using tape. Ensure that the reflective side of each mirror is facing into the paper towel roll. |
| 4 | Tape the two paper towel rolls together, making sure the mirrors are aligned. |
| 5 | Look through the bottom paper towel roll. You should be able to see what the mirror is reflecting from the top end of the periscope. |
| 6 | Adjust the mirrors as needed for a clear view. |
6 Steps to Make a Periscope Out of Paper Towel Rolls
Key Takeaway
A periscope made of paper towel rolls is a simple but effective way to understand and demonstrate the laws of light reflection.
The construction of this DIY periscope requires minimal materials and is an engaging activity for children.
This DIY periscope demonstrates how mirrors can be used to change the path of light, allowing us to see objects that are not in our direct line of sight.
With some creativity, this basic periscope design can be easily enhanced and personalized.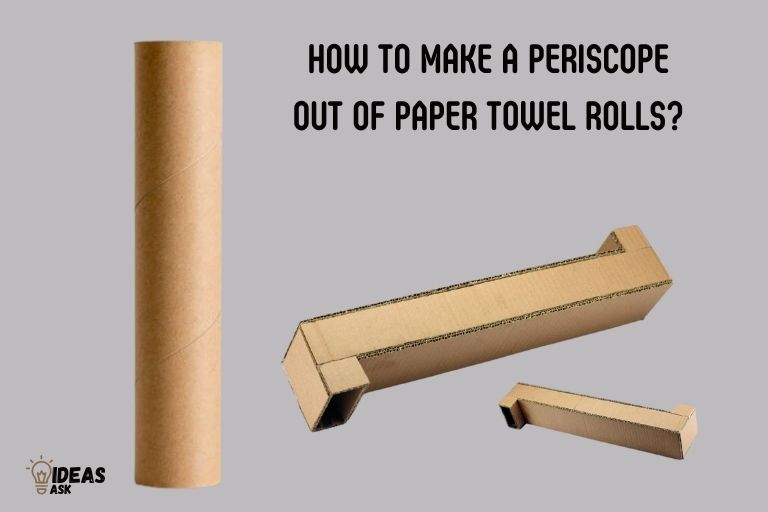 Five Facts About Making a Periscope with Paper Towel Rolls
A periscope made of paper towel rolls is a demonstration of how periscopes in submarines work, using the laws of light reflection. Source: Sciencing
The crucial components for this DIY project include two paper towel rolls, two small mirrors, tape, scissors, and a ruler. Source: Classroom
The mirrors in the periscope are placed facing each other at 45-degree angles, allowing the user to see over or around obstacles. Source: BBC
While basic, this DIY periscope provides the foundation for understanding periscopes in various fields like naval navigation, building construction, and medical endoscopes. Source: Encyclopedia Britannica
There are myriad creative ways to enhance the design of this basic periscope like using colored paper for decorations, expanding the height, or even adding multiple mirrors to change viewing angles. Source: MakerEd
Materials Needed
Getting creative and finding inventive ways to pass the time has been a challenge since the beginning of the pandemic.
Making a periscope out of paper towel rolls is a great activity for anyone looking for something fun to do indoors.
You can learn how to make this device using our easy-to-follow guide. We'll go over all the materials needed to make a periscope out of paper towel rolls. By the end, you'll be ready to take a peek!
List Of Materials Needed To Make A Periscope Out Of Paper Towel Rolls
Here is a list of items you will need to create your very own periscope using paper towel rolls:
Two paper towel rolls
A pair of scissors
A ruler
A pencil
Tape or glue
A small mirrors or reflective surface
Black paint or construction paper
To see why each of these items are necessary and how they come together to create a functional periscope, let's dive deeper.
Explanation Of Why These Materials Are Necessary
Two paper towel rolls: The main structure of the periscope will be made using the paper towel rolls. One will serve as the viewing end, and the other will act as the reflecting end.
A pair of scissors: You will need scissors to cut the paper towel rolls to a specific size and shape to ensure they fit together properly.
A ruler: Using a ruler will allow you to make precise measurements when cutting the paper towel rolls.
A pencil: A pencil will come in handy when you need to mark where you plan to cut the paper towel rolls.
Tape or glue: The tubing of the paper towel rolls is hollow, so you will need to seal the sides of the periscope to prevent light from leaking out. Tape or glue will help you seal the edges together.
A small mirror or reflective surface: This is the most crucial component of the periscope. To create a periscope that works, you'll need a mirror to reflect light.
Black paint or construction paper: To keep outside light from coming in thru the sides, paint the insides black or cover the openings with black construction paper.
Now that you know what you need let's put it all together into a periscope. With these materials and our easy-to-follow instructions, you can fashion your periscope in as little as 30-minutes.
Let's get creative!
Step-By-Step Guide: How To Make A Periscope Out Of Paper Towel Rolls
How To Make A Periscope Out Of Paper Towel Rolls: Step-By-Step Guide
Looking for a fun diy project that you can do with your kids? Why not make a periscope out of some paper towel rolls? It's easy, inexpensive, and it can provide hours of fun and entertainment.
Let's dive in and discover the step-by-step process of making this exciting apparatus using some simple materials you may already have at home.
Explanation Of Step-By-Step Process
First, gather all the necessary materials.
You will need:
Two paper towel rolls
Two small mirrors
Scissors
Tape
Glue
Decorative materials (optional)
Next, follow these steps:
Cut both of the paper towel rolls in half.
Take one of the halves and cut a 45-degree angle at one end of the roll.
Repeat this process with the other half of the paper towel roll, but make sure it's a mirrored image of your first half.
Glue the two angled pieces together to form an l-shape with the angled pieces on the inside.
Take your second paper towel roll and do the same as you did in steps 2-4.
With the l-shaped paper towel rolls, insert a mirror into each end of the rolls facing each other and tape them in place.
Glue the two l-shaped rolls together, forming a periscope.
Decorate your periscope if desired.
Tips And Tricks For Completing Each Step Successfully
When cutting the paper towel rolls, make sure to keep the edges straight.
Use a sharp pair of scissors to ensure clean cuts on the paper towel rolls.
When gluing the angled pieces together, make sure the angles are as close to 45 degrees as possible for optimal reflection.
Be careful when inserting and taping the mirrors in place, as they can easily move around and become misaligned.
If you find that your periscope is not reflecting properly, try adjusting the mirrors slightly until it works.
By following these simple steps and tips, you'll be able to create a periscope out of paper towel rolls that is sure to provide hours of fun and wonder for you and your family.
Happy crafting!
Decorating Your Periscope
Creative Ideas For Decorating A Homemade Periscope
Making a periscope out of paper towel rolls is a fantastic, creative, and inexpensive way to keep your kids busy and entertained. But why not take it to the next level by adding some personal touches to your diy project?
Here are some creative ideas for decorating your homemade periscope:
Make it colorful! Paint your periscope with bright colors or use stickers and washi tape to add a pop of color.
Add patterns. Get creative with patterns by decorating your periscope with stripes, polka dots, or any design you like.
Use decals. Decorate your periscope with decals of your favorite characters, animals, or anything else that interests you.
Add pictures. Print out your favorite photos and use glue or double-sided tape to adhere them to your periscope.
Personalize it with your name or initials. Make your periscope truly your own by adding your name or initials on it.
Add glitter or sequins. For a bit of sparkle and shine, add some glitter or sequins to your periscope.
Attach a strap or cord. Make it easier to carry your periscope around with a strap or cord. You can use a shoelace or ribbon for this.
Tips For Making The Periscope More Fun Or Personalized
In addition to decorating your periscope, there are other ways to make it more personal and fun.
Here are some tips:
Give it a theme. Make your periscope fit a certain theme, such as pirates, superheroes, or space.
Make it interactive. Add different elements like buttons, switches, or levers to make your periscope more engaging.
Make a stand. Build a stand to hold the periscope in place, allowing you to use it hands-free.
Add magnifying lenses. Make your periscope magnify even more by adding extra lenses to it.
Make a pair. Create two periscopes and connect them to make a pair. This will allow you to see around corners even better!
Add a light source. Enhance your viewing experience by attaching a small flashlight or led light to your periscope.
With these tips and creative decorating ideas, making a periscope out of paper towel rolls can be an enjoyable and personalized experience for both kids and adults.
Safety Tips
Important Safety Tips For Using The Periscope
Your safety is of utmost importance when using a periscope, even if it is just a diy one made out of paper towel rolls.
Here are the key points to bear in mind while using your homemade periscope to ensure you stay safe.
Choose a well-lit and flat location to use your periscope properly. Dimly lit or uneven surfaces can cause accidents or injury.
Always have adult supervision while using your periscope. Kids should not play with it without adult supervision.
Design your periscope with safety in mind. Avoid using sharp or pointed objects, and ensure the mirrors are well-positioned and are not likely to easily break.
Use your periscope responsibly. Don't ever use it to peer into other people's private areas or rooms.
Since your periscope is made of paper towel rolls, avoid using it on rainy or misty days, as it will become soggy and weak, making it less safe to use.
Precautionary Measures That Need To Be Taken While Using The Periscope
Aside from following the safety tips outlined above, there are additional measures that you should take into account while creating and utilizing your paper towel roll periscope.
Ensure that the mirrors used in creating your periscope are clean and free from scratches or dust. This will guarantee optimal image quality and prevent unnecessary accidents.
Use the periscope sparingly, or in moderation. Using it too often or for long periods can cause eye strains or injuries that may lead to long-term vision problems.
Stay out of the sun while using your periscope, as it can be dangerous to look directly into the sun. Sun rays can cause permanent eye damage, so avoid using the periscope during the day when the sun is too bright.
If you experience any discomfort while using the periscope, like dizziness, headache, or blurred vision, stop using it immediately.
Keep your periscope dry and clean. Humidity or moisture can damage the cardboard surface and weaken the structure of the periscope.
Remember that a periscope is a fun and educational tool, but safety comes first. Follow the guidelines outlined above to ensure that you and those around you have a good time safely.
Enjoy observing the world from a new perspective!
FAQ On Making A Periscope Out Of Paper Towel Rolls
How Do You Make A Periscope Out Of Paper Towel Rolls?
To make a periscope out of paper towel rolls, you'll need two rolls, a piece of cardboard, and some mirrors.
What Can I Use Instead Of Mirrors For My Paper Towel Periscope?
If you don't have mirrors, you can use aluminum foil-backed paper or mylar sheets to reflect light.
What Type Of Glue Should I Use For My Paper Towel Periscope?
Use a strong adhesive like super glue or hot glue to ensure the paper towel rolls and mirrors stay securely in place.
How Can I Decorate My Paper Towel Periscope?
Use markers, paints, stickers, or other arts and crafts materials to decorate your periscope and make it unique.
What Are Some Fun Things To Look At With My Paper Towel Periscope?
Try using your periscope to explore different angles of your environment, like checking out your surroundings from the viewpoint of a bug or bird.
Conclusion
There you have it! Making a periscope using paper towel rolls is a fun and simple diy project that anyone can do.
Whether you want to impress your kids with a cool craft or learn more about the basics of optics, this tutorial can help you get started.
With just a few materials and some easy-to-follow steps, you can create a functioning periscope that lets you see things around corners and over obstacles.
Remember to experiment with different angles and positions to get the best possible view, and don't be afraid to get creative with your designs.
Who knows? You might just discover a newfound love of optics and diy engineering. Thanks for reading, and happy crafting!