What is the Best Paper Towel Dispenser? Find Out!
The best paper towel dispenser depends on your specific needs and preferences. In general, stainless steel or high-quality plastic dispensers are durable options suitable for most settings.
Automatic dispensers are often preferred for their touchless and hygienic operation. Dispensers with transparent windows for monitoring towel levels and easy maintenance features are highly convenient.
Ultimately, the best dispenser for you will combine durability, hygiene, and ease of use while aligning with your budget and intended usage.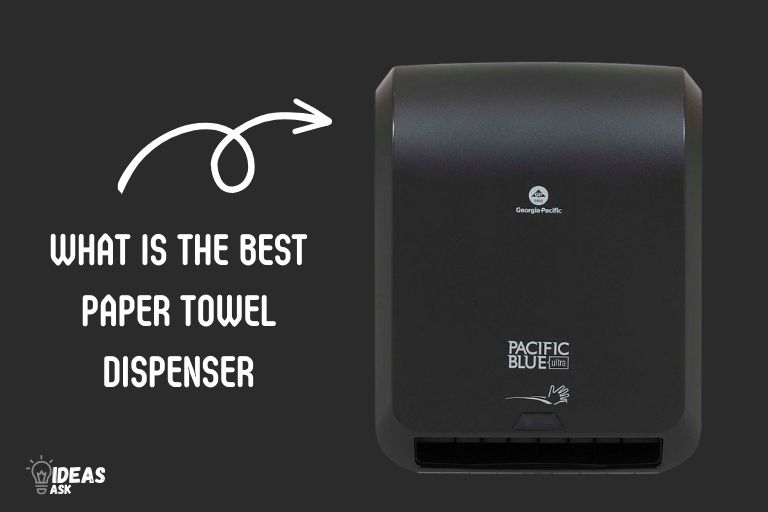 Key Takeaway
Paper towel dispensers play an essential role in maintaining hygiene standards in various settings – from domestic kitchens to public restrooms and communal office areas.
The choice of a paper towel dispenser greatly depends on the specific needs and requirements of the user, including size, location, the number of users, and available space.
Automatic paper towel dispensers are becoming increasingly popular due to their hands-free operation, which prevents the spread of germs.
Refillable dispensers can be more cost-efficient and environmentally friendly than disposable ones, as they allow using paper towel rolls or multifold paper towels.
What Makes A Great Paper Towel Dispenser
Why Choosing The Best Paper Towel Dispenser Is Important In Any Setting
Here are a few reasons why choosing the best paper towel dispenser is important in any setting:
Hygiene – Having a high quality dispenser that dispenses one towel at a time can help promote hand hygiene by preventing multiple people from touching the same towel. This helps reduce spread of germs.
Waste reduction – Good dispensers that don't allow overpulling or bunching of towels can help reduce paper waste. This saves money and is more environmentally friendly.
Functionality – The right dispenser improves the functionality of the restroom or breakroom. Easy towel dispensing prevents frustration and keeps things running smoothly.
Aesthetics – Dispensers are part of the decor. A stylish or sleek dispenser can add to the ambiance of a well-designed room.
Reliability – Sturdy, well-built dispensers withstand high traffic use without breaking down. This improves convenience and accessibility.
Safety – Some dispensers are designed to prevent contamination from backflow of germs. This adds an extra level of protection and hygiene.
Accessibility – Dispensers should accommodate all users. Handing out towels without twisting, touching or pulling promotes universal access.
The dispenser has a big impact on the overall experience, health standards, visual appeal and practicality of an area.
Investing in quality ensures efficiency, cleanliness and proper functionality at all times. This makes the dispenser an important choice in restrooms, kitchens, offices, schools, hospitals and more.
Factors to Consider When Choosing a Paper Towel Dispenser
When choosing a paper towel dispenser for your home, office, or commercial space, there are several important factors to consider.
Each of these factors plays a crucial role in ensuring that you select the right dispenser that meets your specific needs.
Here's a detailed breakdown of these considerations:
Durability and Build Quality:
The durability and build quality of a paper towel dispenser are paramount. Look for models made from high-quality materials like stainless steel or sturdy plastics. This ensures the dispenser can withstand regular use and potential impacts.
Consider the environment in which the dispenser will be placed. If it's for a high-traffic area or a commercial setting, a more robust and durable dispenser is essential to withstand heavy usage.
Check for features like impact resistance and corrosion resistance to ensure a long lifespan.
Dispensing Mechanism and Capacity:
Different paper towel dispensers employ various dispensing mechanisms. The two common types are manual and automatic.
Manual dispensers typically require users to pull a lever or press a button to dispense towels, whereas automatic dispensers use sensors to dispense towels hands-free. The choice between these mechanisms may depend on your preference and the level of hygiene you desire.
Consider the capacity of the dispenser. A larger capacity dispenser will require less frequent refilling, making it suitable for high-traffic areas.
Maintenance and Refilling Ease:
Easy maintenance and refilling are crucial factors for a convenient experience. Look for dispensers that are easy to open and reload.
Some dispensers have transparent or semitransparent windows that allow you to monitor towel levels, helping you know when it's time for a refill.
Choose a dispenser with a simple locking mechanism to prevent unauthorized access and theft.
Hygiene Features:
Hygiene is essential, especially in commercial and public spaces. Automatic dispensers are often preferred because they minimize contact with the dispenser, reducing the spread of germs.
Some dispensers come with antimicrobial coatings to inhibit the growth of bacteria and maintain a more sanitary environment.
Touchless operation and adjustable sheet length settings can help reduce waste and promote hygiene.
Cost-Effectiveness:
Consider the initial cost of the dispenser as well as the ongoing costs related to paper towel refills. Some models may be more expensive upfront but offer cost savings in the long run due to efficient dispensing.
Think about the availability and price of compatible paper towel refills. Opt for a dispenser that is compatible with readily available and reasonably priced paper towels to avoid ongoing expense and inconvenience.
Choosing the right paper towel dispenser involves assessing the durability, dispensing mechanism, maintenance and refilling ease, hygiene features, and cost-effectiveness.
By carefully considering these factors, you can select a dispenser that not only meets your specific requirements but also enhances the overall user experience while maintaining a clean and hygienic environment.
Types of Paper Towel Dispensers and Their Features
Manual Paper Towel Dispensers
Manual Operation: Users need to physically pull or press a lever to dispense paper towels.
Cost-Effective: Typically budget-friendly and straightforward.
User Control: Users determine the length of paper towel they require, reducing waste.
Durability: Made from sturdy materials, ensuring longevity.
Reliability: Works in settings with no access to electricity.
Automatic Paper Towel Dispensers
Touchless Operation: Utilizes motion sensors for hands-free dispensing, reducing cross-contamination.
Efficiency: Dispenses a controlled length of paper towel to minimize waste.
Battery-Powered: Easy to install and versatile with battery operation.
User Experience: Convenient and user-friendly for public restrooms and commercial spaces.
Hygienic: Promotes cleanliness and sanitation.
Touchless Paper Towel Dispensers
Advanced Hygiene: Utilizes advanced sensors to detect users from a distance, ensuring exceptional cleanliness.
Customization: Some models allow users to customize paper towel length for flexibility.
Reduced Cross-Contamination: Virtually eliminates the risk of germ transfer, ideal for healthcare and food preparation areas.
Power Options: Can be battery-operated or electrically connected.
Premium User Experience: Offers the highest level of convenience, suitable for upscale establishments prioritizing user satisfaction and hygiene.
Each type of paper towel dispenser comes with its own unique features, catering to different needs and settings.
Manual dispensers are simple and cost-effective, automatic ones offer touchless convenience, and touchless dispensers take hygiene and user experience to the next level. The choice depends on your specific requirements and priorities.
The Best Paper Towel Dispenser Brands and Models
Reputable Brands Known for Quality Dispensers
Georgia-Pacific: Georgia-Pacific is a well-known brand recognized for its high-quality paper towel dispensers. Their models often feature innovative technology and materials designed for durability and efficiency.
Bobrick: Bobrick is a trusted brand that offers a range of paper towel dispensers suitable for various settings. They are known for their focus on sustainability, offering eco-friendly options that reduce waste and environmental impact.
Kimberly-Clark Professional: Kimberly-Clark Professional is synonymous with hygiene and quality. Their dispensers are designed for both touchless and manual use, catering to different preferences and needs.
San Jamar: San Jamar is renowned for its user-friendly and easy-to-maintain dispensers. They offer a variety of models that are both durable and cost-effective.
Specific Models and Their Standout Features
Georgia-Pacific enMotion® Impulse® 10″:
This touchless model is known for its reliability and efficient paper towel dispensing. It features adjustable settings to control the length of the towel, reducing waste. The enMotion technology also helps reduce the risk of cross-contamination.
Bobrick B-2621 Classic Series:
Bobrick's B-2621 is a wall-mounted, manual paper towel dispenser that combines durability and sleek design.
It is often chosen for its robust construction, ensuring a long lifespan, and its compatibility with different types of paper towels.
Kimberly-Clark Professional MOD Stainless Steel Recessed Dispenser:
This recessed model from Kimberly-Clark Professional offers a touchless, hygienic solution. Its standout feature is its modern stainless steel design, making it suitable for upscale restrooms.
It also provides options for customization, allowing businesses to choose the color and branding that matches their decor.
San Jamar T1750TBK Ultrafold™ Fusion Folded Towel Dispenser
San Jamar's Ultrafold™ Fusion dispenser is a compact, countertop model known for its ease of use and easy refilling. It accommodates C-fold and multifold paper towels, making it versatile for various settings.
These specific models from reputable brands showcase the variety of options available to consumers. When choosing the best paper towel dispenser, it's important to consider the unique features of each model and how they align with the specific needs of the setting in which they will be used.
Whether it's touchless technology, durability, sustainability, or design aesthetics, these brands and models offer choices for different preferences and requirements.
Conclusion
To summarize, finding the best paper towel dispenser comes down to your specific needs and preferences.
Whether you prioritize durability, design, or eco-friendliness, there is a dispenser out there that will work for you. Consider the size of your space and the frequency of use, as well as your budget.
Don't overlook the importance of hygiene, as there are touchless and easy-to-clean options available. Ultimately, investing in a high-quality dispenser will save you time and money in the long run.
As you weigh your options, keep this guide in mind and choose a paper towel dispenser that meets your needs and helps keep your space clean and organized.