Where to Put Paper Towels in Kitchen? Near the Sink
The best place to put paper towels in the kitchen is on a countertop near the sink or cooking area, or mounted on the wall or under a cabinet for easy access and to save space.
Paper towels are an essential item in the kitchen for various tasks such as cleaning up spills, wiping hands, and drying dishes.
It is crucial to have them easily accessible and within reach while working in the kitchen. Placing them near the sink or cooking area ensures that they can be grabbed quickly in case of spills or messes.
Mounting them on the wall or under a cabinet helps save valuable countertop space and keeps the kitchen organized.
Easily accessible location
Near the sink or cooking area
Mounted on the wall or under a cabinet
Saves countertop space and keeps the kitchen organized
Accessibility and space-saving are the primary factors to consider when deciding where to put paper towels in the kitchen
. Ensuring that they are within reach when needed can make your kitchen tasks more efficient and keep your workspace free from clutter.
Wall-mounted or under-cabinet paper towel holders can be a stylish and practical solution for meeting these needs.
As you plan your kitchen layout, find a balance between functionality and aesthetics to create a comfortable and efficient space.
Optimal Locations for Paper Towels in Kitchen
| Location | Advantages | Disadvantages |
| --- | --- | --- |
| Near the sink | Easy access when washing hands or dishes. Reduces amount of water dripped on counters/floors. | Paper towels may accidentally get wet or splashed. |
| Under the cabinet | Saves counter space. Can be hidden from view for a cleaner look. | Installation may be required. May be harder to access. |
| Wall-mounted | Frees up counter space. Can be placed at a convenient height for easy access. | Installation required. May not be reachable for all users. |
| Freestanding | Portable – can be moved to different locations as needed. No installation required. | Takes up counter space. May topple over if not properly weighted. |
| Inside a drawer | Hidden from view for a cleaner look. Protects paper towels from spills. | Takes up drawer space. May be less convenient to access. |
Optimal Locations for Paper Towels in Kitchen
Key Takeaway
Location plays a significant role in placing paper towels in the kitchen
Accessibility is crucial for convenience and quick clean-up
Consider kitchen aesthetics when choosing a paper towel holder
Wall-mounted, countertop, and under-cabinet holders are popular options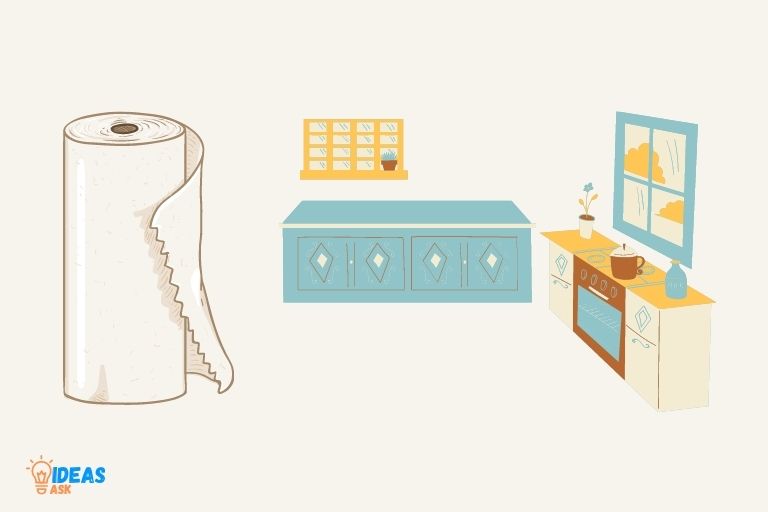 Five Interesting Facts about Placing Paper Towels in Kitchen
Placing paper towels near the sink or cooking area improves accessibility and functionality (Source: Mentalfloss.com)
Wall-mounted paper towel holders save counter space and keep paper towels clean and off the countertop (Source: Epicurious.com)
Under-cabinet paper towel holders are ideal for small kitchens because they utilize unused space and can be hidden from sight (Source: The spruce.com)
Find a holder that complements your kitchen style; choices range from sleek stainless steel to vintage wood designs (Source: Foodandwine.com)
Magnetic paper towel holders can be attached to refrigerators or other metal surfaces for easy access and space-saving solutions (Source: Businessinsider.com)
The Importance Of A Proper Paper Towel Placement
As basic as it may seem, the placement of paper towels in the kitchen is crucial. A proper paper towel placement ensures hygiene, organization, and convenience.
In a space where cooking takes place, spills and stains are inevitable, and having a designated area for cleaning them up helps streamline your workflow.
Here are a few reasons why you should pay attention to how and where you store your paper towels:
The Dangers Of A Cluttered Countertop
A cluttered countertop is not only unpleasant to look at but also unhygienic. With too many items littered around your workspace, cross-contamination becomes an imminent risk. When you have paper towels strewn everywhere, it's easy to lose track of where you used them last and where you should dispose of them.
Consider the following risks of a cluttered countertop:
Bacteria buildup: A messy surface gives bacteria and germs an opportunity to thrive, making it a breeding ground for infections and illnesses.
Fire hazard: Paper towels sitting close to flames or hot appliances pose a serious fire hazard, and can quickly cause a blaze that quickly spreads.
Limited workspace: A cluttered countertop restricts your workspace, making it harder to cook and move around freely.
The Benefits Of A Designated Paper Towel Holder
Designating a specific area and holder for your paper towels has several benefits, such as:
Increasing efficiency: When you need to clean up spills or wipe your hands, you can quickly locate a roll of paper towels without having to rummage through drawers or countertops.
Reduced germ spread: A specific holder makes it easy to use and dispose of towels in the right place, reducing the spread of germs and bacteria.
Improved organization: By having a designated holder, your kitchen looks more organized, neat and tidy, making it easier for you to find things and create an inviting ambiance.
Organizing and placing your paper towels in the right location is essential for a well-functioning and hygienic kitchen. By utilizing a paper towel holder, you'll reduce clutter, enhance hygiene, save time and energy, and enjoy an organized kitchen space.
Best Paper Towel Placement Ideas For A Clutter-Free Kitchen
A cluttered kitchen can be frustrating to work in, and it's easy for paper towels to contribute to that mess. Proper placement can keep your kitchen looking neat and tidy while also making paper towels readily available when you need them.
Here are four of the best paper towel placement ideas for a clutter-free kitchen.
Over-The-Cabinet Door Paper Towel Holder: Accessibility And A Hidden Location
Saves valuable counter space and adds an extra level of functionality to your cabinets
Easy to install and requires no hardware or drilling
Provides quick and easy access to paper towels without cluttering up your countertops
Is a perfect option if you want a hidden paper towel location
Wall-Mounted Paper Towel Holder: The Advantages And Disadvantages
Can be installed at the perfect height for you and your family members
Easiest to use and refill
Keeps the paper towels clean and dry as they are off the counter
Could be an eyesore on your wall
It may not be wall space available near the kitchen counter
Under-The-Sink Mount Paper Towel Holder: Saving Space And Keeping Towels Clean
Saves countertop space for other kitchen items
Keeps paper towels safe and clean from spillage and dust particles
An unused space that can be transformed into a storage unit
Install could be time-consuming
Freestanding Paper Towel Holder: Versatility And Design Considerations
Easy to move and relocate when needed
A design aspect and could add character to the kitchen decor
Provides options for placing it on top of counters
They can tip over quickly if knocked or not secure enough.
It can consume too much countertop space
Investing in a good paper towel placement system can make your kitchen look cleaner and more organized while also allowing for easy access to paper towels when you need them. Choose the option that works best for your kitchen's layout, design, and functionality!
Design Considerations For Paper Towel Placement In Kitchen
Paper towels are an essential part of any kitchen. They make cleaning up messes and spills a breeze. But, deciding where to put paper towels in your kitchen can be a tricky decision. Here are some design considerations to keep in mind:
Choosing The Right Size And Shape Of The Paper Towel Holder
Measure the space where you want to put the paper towel holder before purchasing.
Choose a holder that can accommodate the size of the paper towels you typically use.
Consider the shape of the holder – freestanding or wall-mounted? Vertical or horizontal?
Matching The Holder With The Kitchen Style And Decor
Look for paper towel holders that complement your kitchen's style and decor.
For a modern kitchen, choose a sleek stainless steel holder.
For a rustic kitchen, choose a wooden or wrought iron holder.
Finding The Right Location For The Holder, Taking Into Account Kitchen Workflows And Traffic
Place the holder in a convenient location, such as near the sink or stove.
Consider how the holder can be accessed from different parts of the kitchen.
Take into account kitchen workflows and traffic to ensure that the holder is not in the way.
Remember, placing your paper towel holder in the right location can make a big difference in the functionality and aesthetics of your kitchen. Choose wisely and enjoy a clean and organized kitchen!
What If I Don'T Have Enough Space For A Paper Towel Holder?
Not to worry!
Here are some easy solutions if you simply don't have enough space for a traditional paper towel holder:
Hang a tension rod under cabinets
Mount a paper towel holder under cabinets or shelves with screws
Use a magnetic strip for metal paper towel rolls and attach to metal appliances
Place a freestanding holder on the countertop
How Can I Hide Paper Towels If They Are An Eyesore?
Sometimes paper towel rolls can clash with a kitchen's aesthetic, so here are some tips on how to hide them:
Use a holder that matches your kitchen decor
Place the holder in a pantry or cupboard out of sight
Put a roll inside a drawer or cabinet
Use a decorative basket to conceal rolls
What If I Use Multiple Types Of Paper Towels? Can I Still Use A Paper Towel Holder?
Of course! Multiple types of paper towels can be stored in one holder.
Here are some holders that work well for varied towel sizes:
Wall-mounted holders with adjustable arms
Countertop holders with multiple levels or compartments
Stand-alone holders with adjustable heights
By providing solutions to common issues, the possibilities for paper towel storage in the kitchen are endless. Try out these ideas to keep your kitchen organized and stylish.
FAQ About Placing Paper Towels in Kitchen
Where Should I Keep Paper Towels In The Kitchen?
Keeping paper towel near the sink or on countertop is ideal for quick access.
Is It Necessary To Have A Paper Towel Holder In The Kitchen?
Although it's not necessary, it can be an efficient way to keep your kitchen organized.
How Can I Reduce Paper Towel Usage In The Kitchen?
You can reduce paper towel usage by using washable cloths for spill cleaning and drying dishes.
What Are The Alternatives To Paper Towels In The Kitchen?
Reusable cloths, microfiber towels, and sponges are good alternatives to paper towels.
Conclusion
After exploring different places where we can put paper towels in the kitchen, we have learned that the location depends on many factors. Consider your kitchen layout, hygiene, and convenience when deciding where to place your paper towels.
Whether you choose to use a freestanding holder or mountable rack, make sure you have easy access to your towels whenever you need them.
Remember, the right location can make your cooking and cleaning tasks more manageable. Additionally, it's always a good idea to keep extra paper towels on hand so that you can quickly replace them whenever you need to.
By keeping these tips in mind, you can choose the perfect location for your paper towels and ensure that your kitchen stays clean and organized.