Are Bath Towels Considered Linens? Yes!
Yes, bath towels are considered linens. Bath towels fall under the category of "household linens". The term "linens" refers to fabric household goods, such as beddings, tablecloths, and towels, including bath towels.
Although the term initially applied to items made from linen fabric, it now encompasses products made from other materials.
Bath towels, among others, are considered linens due to their functional role in home life, regardless of the material they're made from.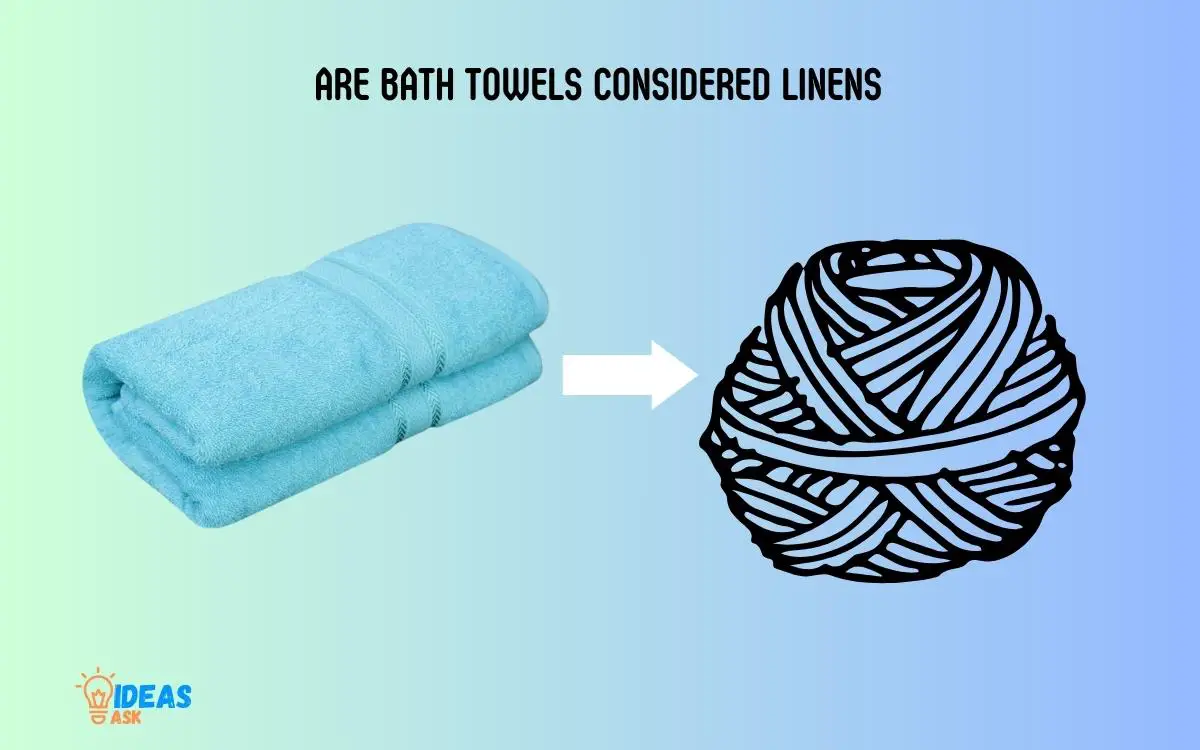 Key Takeaway
Bath towels are classified as household linens.
The term "linens" includes a variety of household items like bed sheets, tablecloths, and towels.
Initially, "linens" only referred to items made from linen fabric.
Nowadays, linens can be made from a variety of materials, not just linen.
Understanding The Scope Of Linens
Linens are a crucial part of our everyday lives, offering both functionality and style in our homes. When it comes to linens, they encompass a variety of textiles that serve different purposes throughout our living spaces.
Let's explore the different types of linens and their diverse applications:
Bed Linens:
Bedsheets: These versatile linens come in various materials and thread counts, providing comfort and protection for your mattress while adding a touch of personality to your bedroom.
Pillowcases: Enhance your sleep experience with soft and breathable pillowcases, available in a range of styles, colors, and finishes.
Duvet Covers: Protect your duvet or comforter while effortlessly transforming the look of your bed. Duvet covers offer an easy way to change up your bedroom decor.
Bedspreads: Add an extra layer of warmth and visual appeal to your bed with bedspreads. They come in different designs, from simple to ornate, to suit your personal taste.
Table Linens:
Tablecloths: Bring elegance and protection to your dining experience with tablecloths. They not only shield your table from spills and stains but also set the mood for meals, whether formal or casual.
Table Runners: These decorative linens add a touch of style to your table while protecting its surface. Table runners can be used alone or layered with tablecloths for a more personalized look.
Napkins: Complete your dining table setup with napkins. Available in various materials and sizes, they offer practicality and sophistication for any meal.
Kitchen Linens:
Kitchen Towels: From drying your hands to cleaning up spills, kitchen towels are a versatile accessory in any kitchen. They come in an array of colors and patterns, adding charm to your culinary space.
Dishcloths: These smaller linens are specifically designed for cleaning dishes and countertops. They are highly absorbent and can withstand repeated use and washing.
Whether you're decorating your bed, setting a beautiful dining table, or adding a pop of color to your kitchen, linens play a vital role in creating a welcoming and functional space. With their range of styles, materials, and purposes, there's no denying that linens are an essential component of our home decor.
Are Bath Towels Considered Linens?
Bath towels are often considered linens due to their use in the bathroom and their fabric composition. They are essential for drying off after a shower or bath and are typically made of absorbent materials like cotton or microfiber.
The Categorization Of Bath Towels
Bath towels, a bathroom essential, fall under the category of linens due to their primary function of providing comfort and absorbency after a bath or shower.
They are considered linens alongside other items like bed sheets, tablecloths, and napkins. Let's explore the various aspects that make bath towels a part of the linen family.
Materials Used In Bath Towels
Cotton: The most popular material for bath towels, cotton offers softness, absorbency, and durability. Egyptian and Turkish cotton are known for their superior quality.
Microfiber: Made from synthetic fibers, microfiber towels are highly absorbent and quick-drying, which makes them ideal for travel and gym purposes.
Bamboo: Known for its eco-friendly properties, bamboo towels are naturally antibacterial, soft, and highly absorbent.
Linen or hemp: These natural fiber options are becoming more popular due to their ability to resist mold, bacteria, and odors.
The Role Of Bath Towels In Linens
Bath towels are an essential part of linens, providing both comfort and functionality. They serve as versatile pieces that absorb moisture and keep us dry, making them an integral element in any linen collection.
Bath Towels As Part Of A Larger Category
Bath towels are a crucial component of the broader category known as linens. They are one of the essential linens found in every household, along with bed sheets, tablecloths, and curtains.
These versatile textiles play a significant role in our daily lives, especially when it comes to personal hygiene and comfort.
Linens, including bath towels, are typically made from various materials such as cotton, linen, or microfiber.
Their primary purpose is to enhance our living spaces and provide functionality while adding aesthetic appeal to our homes.
Bath towels, in particular, serve a specific role in meeting our needs after bathing or showering.
How Bath Towels Differ From Other Linens?
Bath towels differ from other linens in terms of their design, size, and purpose.
Here's a breakdown of how bath towels stand apart within the larger linen category:
Design
Bath towels are specifically designed for drying the body after bathing or showering. Unlike bed sheets or tablecloths, they feature absorbent qualities and are often thicker and more plush to ensure efficient moisture absorption.
Size
Bath towels are typically larger than other linens, such as hand towels or washcloths, to provide ample coverage for drying the body.
Their larger size allows for better absorption and makes them more suitable for drying off after a shower or bath.
Purpose
While other linens serve primarily decorative or functional purposes, bath towels are primarily utilitarian. Their main role is to assist in drying the body and promote cleanliness and comfort.
They are specifically designed to absorb moisture efficiently and provide a soft, fluffy feel against the skin.
Similarities Between Bath Towels And Other Linens
Despite their differences, bath towels share some similarities with other linens within the broader category.
Here are a few similarities worth noting:
Materials
Like other linens, bath towels are made from various materials such as cotton, linen, or microfiber. These materials offer varying levels of softness, absorbency, and durability, ensuring that bath towels can meet different preferences and needs.
Care and maintenance
Bath towels, like other linens, require regular care to maintain their quality and longevity. They generally involve similar care instructions, including regular washing, avoiding harsh detergents or bleach, and proper storage to prevent mildew or damage.
Aesthetic appeal
While bath towels may primarily serve a functional purpose, they also contribute to the overall aesthetic appeal of a bathroom.
Just like the choice of bed sheets or curtains can enhance a bedroom's decor, selecting bath towels in complementary colors or patterns can add a touch of style and cohesion to the bathroom.
Bath towels play a vital role as part of the larger linen category. They differ from other linens in terms of their design, size, and purpose, while also sharing similarities in materials, care, and aesthetic contributions.
Whether it's stepping out of the shower or bath, bath towels offer the comfort, functionality, and personal care necessary for a refreshing and enjoyable bathing experience.
Conclusion
Bath towels are indeed considered linens. They are an essential component of our daily lives, providing comfort, convenience, and functionality.
Bath towels are designed to absorb moisture, making them ideal for drying off after a shower or bath. They also add a touch of luxury and style to our bathrooms.
Whether they are made from cotton, microfiber, or other materials, bath towels are a versatile textile item that serves a practical purpose while also enhancing the aesthetic appeal of our homes.
Whether you are looking to update your bath towels or simply curious about the classification of linens, understanding that bath towels are included in this category can help you make informed decisions when it comes to purchasing and caring for your linens.
So next time you reach for your cozy bath towel, remember that you are not only grabbing a simple towel but a bona fide linen.