Bath Towel Smells Like Onions! Accumulation Of Bacteria!
A bath towel can smell like onions due to the accumulation of bacteria and body oils. When these aren't thoroughly removed during washing, they can cause an unpleasant smell akin to onions or sweat.
Bacteria thrive in moist environments, so a towel that's damp after a shower can be an ideal breeding ground. These bacteria feed on dead skin cells and sebum, a type of body oil.
The bacteria then produce compounds that can cause a foul odor. When the towel is not washed thoroughly, the bacteria and body oils may not be completely removed, leading to an unpleasant onion-like smell.
Keeping your bath towels clean and dry is key to preventing them from developing an unpleasant smell.
Dry your towels immediately after use, wash them regularly with hot water, and consider adding vinegar to your wash. This will help to kill bacteria, remove body oils, and neutralize any odors.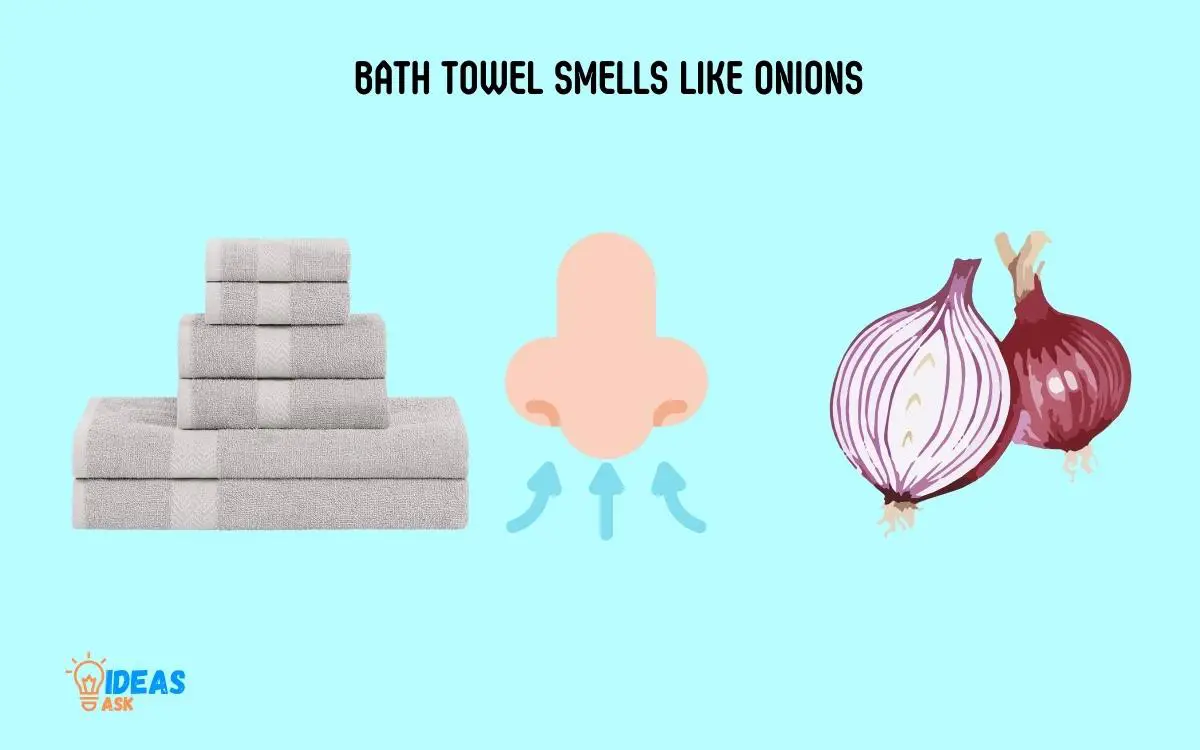 Key Takeaway
Consumption of food with a strong smell such as onions or garlic can cause bath towel to smell like onions.
Regular washing and drying of bath towels is necessary to prevent the build-up of bacteria that can cause the onion smell.
Leaving a wet towel for an extended period can also lead to a musty or onion-like smell, as damp environments promote bacterial growth.
Certain body smells or odours can transfer onto towels.
Using baking soda along with your regular laundry detergent when washing bath towels can help to eliminate onion smells from bath towels.
Understanding The Causes Of Onion Odor In Bath Towels
Discover the underlying causes behind the onion-like odor emanating from your bath towels and learn how to eliminate it effectively.
Gain insight into the factors that contribute to this issue and find practical solutions to keep your towels smelling fresh and clean.
We will delve into the causes of onion odor in bath towels, shedding light on three possible culprits: bacterial growth, improper drying techniques, and laundry detergent residue.
Understanding these causes can help you eliminate the mysterious onion smell and restore freshness to your towels.
Bacterial Growth:
Bacteria thrive in warm and moist environments, making your damp bath towel an ideal breeding ground.
The presence of bacteria can result in the production of compounds that smell like onions.
Poor hygiene practices, using dirty towels repeatedly, or failing to dry them properly can contribute to bacterial growth.
Regular washing of bath towels using hot water and antibacterial detergents can help eliminate the bacteria and their associated odor.
Improper Drying Techniques:
Leaving your bath towel in a crumpled heap after use can hinder proper drying and create a musty environment.
Insufficient airflow, such as hanging towels in crowded or poorly ventilated areas, can impede the drying process.
Moisture trapped in the towel fibers can lead to the growth of bacteria, which produce the onion-like smell.
To prevent this, ensure towels are fully spread out when drying, preferably in a well-ventilated area or under direct sunlight.
Laundry Detergent Residue:
Certain laundry detergents may leave behind a residue on your bath towels, resulting in an onion-like odor.
The residue can accumulate over time if not properly rinsed out during the washing process.
Towels that aren't thoroughly rinsed leave traces of detergent that react with moisture, creating an unpleasant smell.
To tackle this issue, consider using fragrance-free detergents or adding an extra rinse cycle to ensure thorough detergent removal.
By addressing these possible causes, you can bid farewell to the peculiar onion odor in your bath towels.
Remember to maintain proper hygiene practices, adopt effective drying techniques, and ensure thorough rinsing of laundry detergent.
Enjoy fresh-smelling and hygienic towels for a luxurious post-bathing experience!
Solutions To Eliminate Onion Smell From Bath Towels
Discover effective solutions to eliminate the unpleasant smell of onions from your bath towels. Say goodbye to unwanted odors and enjoy fresh, clean towels with these simple tips and tricks that are easy to implement.
We will explore three simple methods to eliminate the onion smell from your bath towels: pre-treatment with a vinegar solution, hot water wash with an odor-eliminating detergent, and sun-drying for natural deodorization.
Pre-Treatment With Vinegar Solution
Soak the onion-scented towels in a vinegar solution for at least 30 minutes before washing.
Create a solution using equal parts of white vinegar and water.
Gently agitate the towels in the solution to ensure the vinegar penetrates the fabric.
Vinegar helps neutralize odors and acts as a natural deodorizer.
After pre-treatment, proceed to wash the towels with your regular detergent.
Hot Water Wash With Odor-Eliminating Detergent
Wash the pre-treated towels in hot water to ensure effective odor removal.
Use an odor-eliminating laundry detergent that specifically targets stubborn smells.
Follow the manufacturer's instructions for the appropriate amount of detergent to use.
Hot water helps break down and wash away the onion odor from the towels.
Run an additional rinse cycle to ensure all detergent residue is removed.
Sun-Drying For Natural Deodorization
Take advantage of the sun's natural deodorizing properties by air-drying your towels outdoors.
Hang the freshly washed towels in direct sunlight.
Sunlight not only dries but also helps eliminate odors, including the lingering onion smell.
Ensure that the towels are completely dry before bringing them back indoors.
Enjoy the fresh, revitalized scent of your onion-free bath towels.
By following these simple solutions, you can bid farewell to that pesky onion smell and enjoy the comforting freshness of your bath towels once again. Incorporate these methods into your laundering routine to prevent any future unpleasant odors from taking hold.
Remember, a little extra attention and care go a long way in keeping your towels smelling clean and inviting.
Tips For Preventing Onion Odor In Bath Towels
Bath towels are an essential part of our daily hygiene routine, but sometimes they can develop a lingering smell of onions which can be quite unpleasant.
If you've experienced this issue, fret not! There are several effective measures you can take to prevent onion odor from infiltrating your bath towels.
We will explore three crucial tips that will help you keep your towels smelling fresh and clean.
Proper Drying After Each Use
To prevent onion odor from setting in your bath towels, it is essential to ensure proper drying after each use.
Here's how you can accomplish this:
Hang your towel in a well-ventilated area: It's crucial to hang your towel in a place with adequate air circulation. This will help facilitate faster drying and prevent moisture buildup, which can contribute to odor.
Avoid folding damp towels: Folding your towel while it is still damp can create a breeding ground for bacteria, leading to unpleasant smells. Make sure your towel is completely dry before folding and storing it.
Regular Washing With Antibacterial Agents
To tackle onion odor in bath towels, regular washing with antibacterial agents is key.
Consider the following tips:
Use hot water: Washing your towels on a high-temperature setting, preferably with hot water, can help kill bacteria and eliminate odors effectively.
Choose a detergent with antibacterial properties: Opt for a detergent specifically formulated to combat bacteria and remove stubborn smells. Look for ingredients like hydrogen peroxide or tea tree oil, known for their antimicrobial properties.
Avoiding Cross-Contamination In Laundry
Cross-contamination during laundry can contribute to onion odor in bath towels.
Here's how you can prevent it:
Separate your kitchen and bath towels: It's crucial to avoid washing your bath towels together with kitchen towels that may have come into contact with onions. Separate them to prevent the transfer of odors.
Use vinegar as a natural disinfectant: Adding a cup of distilled white vinegar to your laundry can help neutralize odors and disinfect your towels. Vinegar acts as a natural fabric softener and antibacterial agent.
By following these tips, you can ensure that your bath towels remain free from onion odor, providing you with a more enjoyable and refreshing post-shower experience.
Remember, proper drying, regular washing with antibacterial agents, and preventing cross-contamination in laundry are essential steps to maintain odor-free bath towels.
Say goodbye to that unwanted onion smell and hello to fresh, clean towels every time!
Conclusion
To sum up, dealing with a bath towel that smells like onions can be a frustrating and unpleasant experience. However, there are several simple and effective solutions to get rid of this unpleasant odor.
Regularly washing your towels with a mixture of vinegar and baking soda can eliminate the smell and keep your towels fresh. Hanging your towels in a well-ventilated area to dry can also prevent the growth of bacteria and reduce odors.
Storing your towels properly, away from strong-smelling substances, such as onions and garlic, can help maintain their freshness.
Remember to always follow the care instructions provided by the manufacturer to ensure the longevity and fragrance of your towels.
By implementing these tips, you can confidently enjoy the softness and cleanliness of your bath towels without worrying about any lingering onion smell.