Can You Dye Bath Towels? Yes!
Yes, you can dye bath towels to change their color. Dyeing bath towels is a great way to give them a new look or match them with your bathroom decor.
Whether you want to create a bold statement or simply freshen up the towels, dyeing them can be a fun and creative project.
However, it is important to note that dyeing bath towels requires careful preparation and the right materials to ensure successful results.
We will discuss the steps to dye bath towels effectively and provide some helpful tips to achieve the desired outcome. So, if you're ready to transform your bath towels into something new and exciting, let's get started!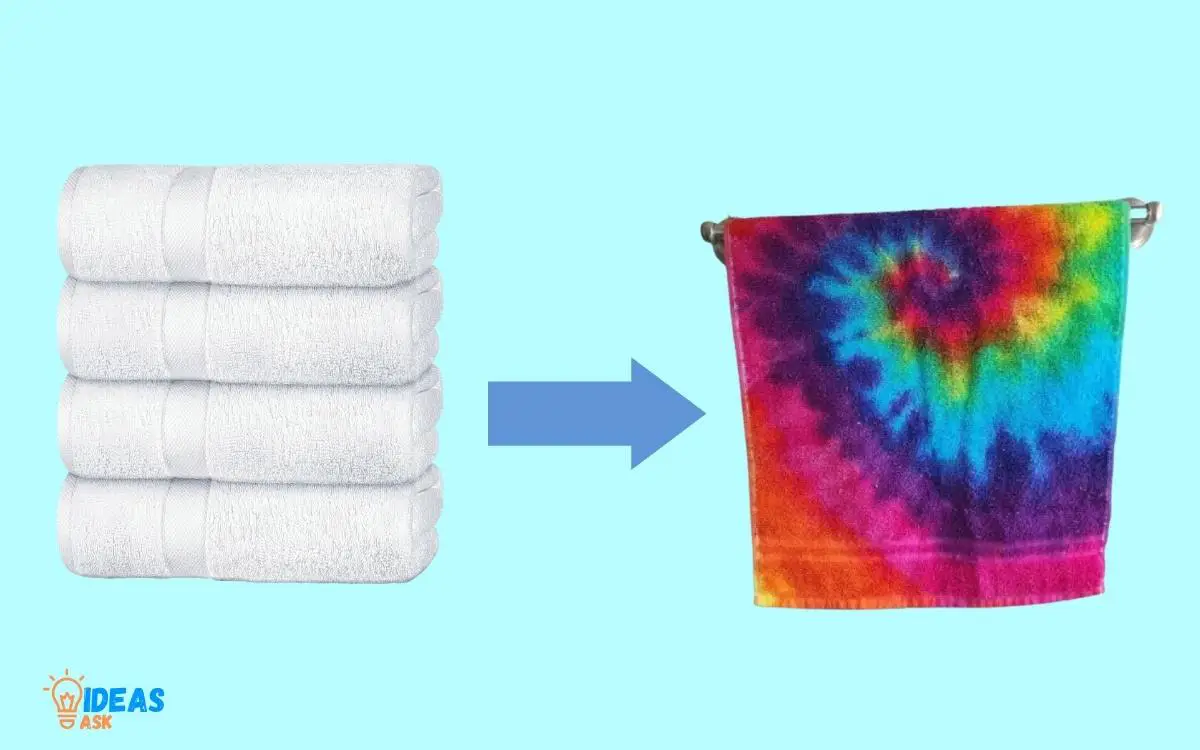 Key Takeaway
Dyeing bath towels can be an effective way to refresh or change the color of older or stained towels.
This process can be done at home using easily accessible materials such as fabric dye and salt.
The process of dyeing bath towels requires care, as improper technique can result in uneven color or damage to the fabric.
The success of dyeing towels greatly depends on the towel's fabric – cotton and linen take dye well, while synthetic materials do not.
Reasons To Dye Bath Towels?
Transform your bathroom with vibrant colors by dyeing your bath towels. Discover how to add a personal touch to your linens and create a stylish and unique look for your bathroom.
Personalized Touch To Your Bathroom Decor
Dyeing bath towels can add a personalized touch to your bathroom decor, allowing you to infuse your own style and creativity into the space.
Here are some reasons why you might want to dye your bath towels:
Updating the look of old or discolored towels:
Over time, bath towels can become faded or stained, losing their original vibrancy. Dyeing them can give them a fresh, new look.
By using fabric dye, you can easily update the color of your towels, making them look as good as new.
Matching towels to a specific color scheme:
If you have recently redecorated your bathroom or changed its color scheme, dyeing your bath towels can help you achieve a cohesive and coordinated look.
By selecting a dye color that complements your bathroom decor, you can ensure that your towels blend seamlessly with the overall aesthetic of the space.
Expressing your personal style:
Dyeing your bath towels allows you to showcase your unique personality and preferences in your bathroom.
Whether you prefer bold and vibrant hues or subtle and calming tones, you can create towels that reflect your personal style and make a statement in your bathroom.
Adding a pop of color:
Bath towels are not just functional items; they can also act as decorative elements in your bathroom.
Dyeing your towels in bright or contrasting colors can add a pop of color to an otherwise neutral or monochrome bathroom, instantly livening up the space.
Giving your towels a second life:
If you have towels that are still in good condition but are no longer to your liking, dyeing them can give them a new purpose.
Instead of discarding them, you can transform them into towels that you love and enjoy using again.
Overall, dyeing bath towels offers a budget-friendly and creative way to enhance your bathroom decor, update the look of old towels, and bring your personal style into the mix. So, why not give it a try and see the difference it can make in your bathroom?
Factors To Consider Before Dyeing Bath Towels
Before dyeing bath towels, there are several factors to consider, such as the towel's fabric composition, colorfastness, and whether it is suitable for dyeing.
Proper preparation and dyeing techniques are crucial to ensure desired results and maintain the towel's quality and appearance. It is advisable to conduct a patch test before proceeding with the dyeing process.
Are you looking to add some vibrancy to your bathroom décor by dyeing your bath towels? While it may seem like a fun and creative project, there are a few factors you should consider before getting started.
By understanding the towel material and dye compatibility, preparing the towels for dyeing, and choosing the right dyeing method, you can ensure successful results and maintain the functionality of your towels.
Towel Material And Dye Compatibility:
Cotton and other natural fibers are typically the best choice for dyeing, as they absorb and retain color effectively.
Synthetic materials like polyester may be more challenging to dye, as they don't absorb colors as well and may result in less vibrant shades.
Check the care label of your towels to determine the fabric composition and whether they are colorfast.
Consider using fiber-reactive dyes or natural dyes specifically formulated for the type of material you're working with, as they are often more compatible.
Preparing The Towels For Dyeing:
Start by washing your towels to remove any dirt, oils, or fabric finishes that may interfere with dye absorption.
Avoid using fabric softeners or bleach, as they can affect the dyeing process.
Pre-soak your towels in warm water to ensure even dye penetration.
If your towels have any stains, pre-treat them with a stain remover before dyeing.
Consider adding a dye fixative to your pre-soak or dyeing bath to enhance color retention.
Choosing The Right Dyeing Method:
Depending on the desired results and the materials you're working with, there are various dyeing techniques to choose from, such as immersion dyeing, tie-dyeing, or dip-dyeing.
Immersion dyeing involves submerging the towel in a dye bath and allowing it to absorb the color evenly.
Tie-dyeing creates unique patterns by tying the towel with rubber bands before applying the dye.
Dip-dyeing involves partially immersing the towel in the dye bath to create an ombre effect.
Consider the level of control, color intensity, and pattern you want to achieve when selecting a dyeing method.
Now that you're aware of the factors to consider before dyeing your bath towels, you can confidently embark on this creative project.
Remember to choose the right dye compatible with your towel material, properly prepare the towels for dyeing, and select a dyeing method that suits your desired outcome.
With these considerations in mind, you'll be able to transform your bath towels into eye-catching, personalized pieces that add a pop of color to your bathroom.
Methods For Dyeing Bath Towels
Dyeing bath towels is possible using various methods such as tie-dye, hand dyeing, or machine dyeing.
Transform your towels with vibrant colors while ensuring they remain soft and absorbent. Explore different techniques and unleash your creativity in giving your bath towels a brand new look.
We will explore three different methods for dyeing bath towels and provide step-by-step instructions for each.
Method 1: Using Fabric Dye In A Washing Machine
Preparing the dye bath: Begin by selecting a fabric dye that is suitable for use in a washing machine. Read the instructions on the dye package carefully and gather all the necessary materials, including gloves and a dye fixative if required.
Adding the towels and dye to the washing machine: Place the towels in the washing machine and add the desired amount of dye, following the instructions on the package. Make sure the towels are fully immersed in the dye bath for even color distribution.
Setting the appropriate cycle and temperature: Select a cycle on your washing machine that allows for prolonged soaking, such as the "soak" or "delicate" cycle. Set the temperature according to the dye package instructions. This will ensure that the dye adheres to the towels effectively.
Finishing touches and post-dye care: After the cycle is complete, rinse the towels thoroughly to remove any excess dye. Follow the dye package instructions for washing and drying the towels to set the color and prevent fading.
Method 2: Hand Dyeing With A Dyeing Tub Or Sink
Preparing the dye bath: Fill a dyeing tub or sink with hot water and add the fabric dye according to the package instructions. Wear gloves to protect your hands from staining.
Submerging the towels into the dye: Place the towels in the dye bath and gently push them down to ensure they are fully immersed. Allow the towels to soak in the dye for the recommended time, stirring occasionally for an even color.
Agitating and stirring the towels for even color distribution: Carefully lift the towels out of the dye bath and agitate them by gently squeezing and moving them around. This will help distribute the dye evenly throughout the fabric.
Rinsing and post-dye care: Rinse the towels in cold water until the water runs clear. Follow the dye package instructions for washing and drying the towels to set the color.
Method 3: Spray Dyeing For Unique Designs
Gathering your materials: Start by collecting fabric dye, a spray bottle, and any stencils or masking tape you may want to use for creating designs.
Preparing the dye solution in a spray bottle: Mix the fabric dye with water according to the package instructions and pour it into a spray bottle. Shake well to ensure proper mixing.
Applying the dye to the towels in desired patterns or designs: Lay the towels flat on a protected surface and use the spray bottle to apply the dye in the desired patterns or designs. You can use stencils or masking tape to create crisp lines and shapes.
Letting the dye set and post-dye care: Allow the dye to set on the towels for the recommended time specified on the dye package. Once the set time has passed, rinse the towels thoroughly and follow the dye package instructions for washing and drying.
Dyeing bath towels can be a creative and rewarding DIY project. Whether you choose to use a washing machine, a dyeing tub, or spray dyeing, make sure to carefully follow the instructions on the fabric dye package for best results.
With these methods, you can transform your plain bath towels into vibrant pieces that reflect your style and personality.
Tips For Successful Dyeing
Discover the key tips for successfully dyeing bath towels and rejuvenating your bathroom decor. Explore various techniques and learn how to achieve vibrant, long-lasting colors without compromising the quality of your towels.
Choosing The Right Dye And Color:
Consider the type of dye: There are various types of dyes available for dyeing towels, such as acid dyes, fiber-reactive dyes, and all-purpose dyes. Choose a dye that is suitable for the material of your towel.
Check color compatibility: Different towels may react differently to dyes. Consider the original color of your towel and choose a dye color that complements it or creates the desired result.
Opt for quality dyes: Select dyes from reputable brands that offer good color retention and durability. This ensures that your dyed towels maintain their vibrancy for longer.
Testing The Dye On A Small Section Of The Towel First:
Cut off a small corner or section of the towel: Before fully dyeing your bath towel, it's important to run a test to see how the dye interacts with the material.
Prepare the dye according to instructions: Follow the manufacturer's instructions for preparing the dye as if you were dyeing the entire towel.
Apply the dye to the small section: Use a brush, sponge, or fabric swab to apply the dye to the test section of the towel.
Observe the results: Assess the color penetration and overall appearance of the dyed section. This helps you make any necessary adjustments before dyeing the entire towel.
Following Manufacturer Instructions For The Dye And Material:
Read the instructions carefully: Each dye and material may have specific instructions that need to be followed for successful results.
Dissolve the dye properly: Some dyes require pre-dissolving in water before applying, while others may require mixing with other substances. Follow the instructions to ensure proper dye preparation.
Maintain the correct dyeing temperature: Many dyes require a specific temperature range for optimal results. Take note of the temperature requirements and adjust accordingly.
Follow recommended dyeing times: Over or under-dyeing can affect the color outcome. Stick to the recommended dyeing time for the best results.
Protecting Yourself From Dye Stains And Spills:
Wear protective gloves: Dyes can stain your hands, so it's important to wear gloves when handling them.
Use a protective apron or clothing: Dye spills can happen, so wearing an apron or old clothing can prevent staining of your regular clothes.
Cover your work area: Lay down plastic or newspapers to protect your work surface from spills or drips.
Have cleaning materials on hand: Keep some cleaning supplies nearby to quickly clean any accidental spills or stains.
Maintaining The Color Vibrancy Of Dyed Towels:
Avoid harsh detergents and bleach: Use mild detergents specifically designed for colored or dyed fabrics. Harsh detergents and bleach can cause color fading.
Opt for cold water washes: Hot water can leach color from dyed towels. Wash them in cold water to maintain the color vibrancy.
Separate dyed towels from other laundry: Washing dyed towels separately prevents color bleeding onto other fabrics.
Air dry or use low heat: Heat can fade colors, so consider air-drying your dyed towels or using a low heat setting in the dryer.
Now that you have these tips for successful dyeing, you can confidently transform your bath towels into vibrant, personalized pieces.
Just remember to choose the right dye, test it first, follow the instructions, protect yourself from spills, and maintain the color vibrancy through proper care.
Happy dyeing!
Common Mistakes To Avoid
Learn about the common mistakes to avoid when dyeing bath towels. Discover tips to ensure a successful and vibrant result without compromising the quality and longevity of your towels.
When it comes to dyeing bath towels, there are a few common mistakes that you should avoid to ensure successful and vibrant results.
Take note of these potential pitfalls so that you can achieve the best possible outcome:
Overcrowding The Washing Machine Or Dyeing Container:
Placing too many towels in the washing machine or dyeing container can lead to uneven dye distribution.
It is important to give each towel enough space for the dye to penetrate evenly.
Overcrowding can result in splotchy or patchy-colored towels.
Using Too Much Or Too Little Dye:
Using an excessive amount of dye may lead to over-saturation and bleeding of the colors.
On the other hand, using too little dye can result in pale and muted tones.
Follow the dye manufacturer's instructions carefully to achieve the desired color intensity.
Neglecting Proper Rinsing And Washing After Dyeing:
Thoroughly rinse the towels after the dyeing process to remove any excess dye.
Failure to properly rinse the towels can result in color bleeding and transfer when they are first used or washed.
Washing the towels after dyeing helps to set the color and prevent fading.
Not Following Safety Precautions When Working With Dyes:
Always wear gloves and protective clothing when dyeing towels to avoid contact with the dye.
Ensure that the area is well-ventilated to prevent inhalation of fumes.
Follow the specific safety guidelines provided by the dye manufacturer to protect yourself and others.
Expecting Perfect And Uniform Results:
It is important to note that hand-dyed towels may not come out perfectly even or identical in color.
Natural variations can occur due to factors such as fabric composition and dye absorption.
Embrace the uniqueness of each towel and appreciate the individuality of the dyeing process.
By avoiding these common mistakes, you can enhance your chances of dyeing your bath towels successfully and achieving vibrant and beautiful results.
Remember to follow the instructions, take necessary safety precautions, and allow room for creativity in the dyeing process.
Happy dyeing!
Care And Maintenance Of Dyed Bath Towels
Learn how to care for and maintain your dyed bath towels with these simple tips. Find out if you can dye your bath towels to refresh their look and add a personal touch to your bathroom.
After dyeing your bath towels, it's important to follow proper care and maintenance techniques to ensure the longevity of the color and the overall quality of the towels. Here are some tips to help you care for your dyed bath towels:
Washing And Drying The Towels After Dyeing
Separate the dyed bath towels from other laundry to prevent color bleeding and maintain the vibrancy of the dye.
Use a gentle laundry detergent specifically formulated for colored fabrics to avoid fading or damaging the dye.
Opt for cold or lukewarm water when washing dyed towels, as hot water can strip the dye and cause it to fade.
Avoid overloading the washing machine, as this can lead to inadequate rinsing and color transfer between towels.
Once washed, refrain from wringing the towels forcefully to remove excess water, as this can damage the fibers and affect the texture and appearance.
Avoiding Harsh Laundry Detergents And Bleach
Harsh laundry detergents and bleach contain chemicals that can strip away the color and weaken the fabric of dyed towels. Opt for milder detergents specifically designed for colored fabrics.
Avoid using bleach altogether, as it can cause discoloration and weaken the fibers, shortening the lifespan of the towels.
Preserving The Color Through Proper Care
Hang the dyed towels in a well-ventilated area to air dry instead of using a dryer, as the heat from dryers can cause the dye to fade.
Keep the towels away from direct sunlight, as prolonged exposure to sunlight can lead to color fading.
Avoid using fabric softeners, as they can leave residue on the towels and affect the absorption properties.
Retouching Or Redyeing Faded Areas
Over time, dyed towels may fade in certain areas. To restore the color, you can try retouching the faded areas using fabric dye that matches the original color.
Follow the instructions on the fabric dye package carefully to avoid over-dyeing or damaging the towels.
Replacing Towels When They Start To Show Wear And Tear
It's important to monitor the condition of your dyed bath towels. When they start to show signs of wear and tear, such as fraying edges, thinning fabric, or fading color that cannot be retouched, it's time to replace them.
Regularly rotating your towels can also help distribute wear and extend their lifespan.
By following these care and maintenance tips, you can keep your dyed bath towels looking vibrant and in excellent condition for a longer time.
Remember to handle them with care and avoid harsh detergents or bleach that can strip away the color. Celebrate the beauty of your dyed towels by giving them the care they deserve.
Conclusion
Dyeing bath towels can be a fun and creative way to add a personal touch to your bathroom decor. Whether you choose to use traditional fabric dyes or opt for natural alternatives like tea or food coloring, the possibilities are endless.
However, it's important to follow the proper dyeing techniques to ensure that your towels retain their absorbency and durability.
Before dyeing, always check the care instructions on your towels and consider pre-washing them to remove any residue that may affect the dyeing process.
Take precautions to protect your skin and work in a well-ventilated area. Remember, while dyeing bath towels can be a rewarding DIY project, it's always a good idea to start with a test piece before diving into the full process.
So go ahead and get creative, and give your bathroom a vibrant makeover with dyed bath towels!