Can You Tie Dye Bath Towels? Yes!
Yes, you can tie dye bath towels. The process is similar to tie-dying a t-shirt; it involves twisting, folding, or crumpling the towel and applying different shades of dyes to create unique patterns.
The process of tie-dying towels involves soaking the towel in warm water and wringing out the excess before creating your desired pattern by twisting or folding.
After securing the pattern with rubber bands, you apply the dye and let it sit for six to eight hours or overnight, rinse, and then wash to set the dye.
Tie-dying bath towels can add a fun, personalized touch to your bathroom decor. Moreover, this can be an exciting and creative activity to do with kids at home.
Just remember to use 100% cotton towels for better dye absorption and always rinse and wash the towels after the dyeing process to ensure colorfastness.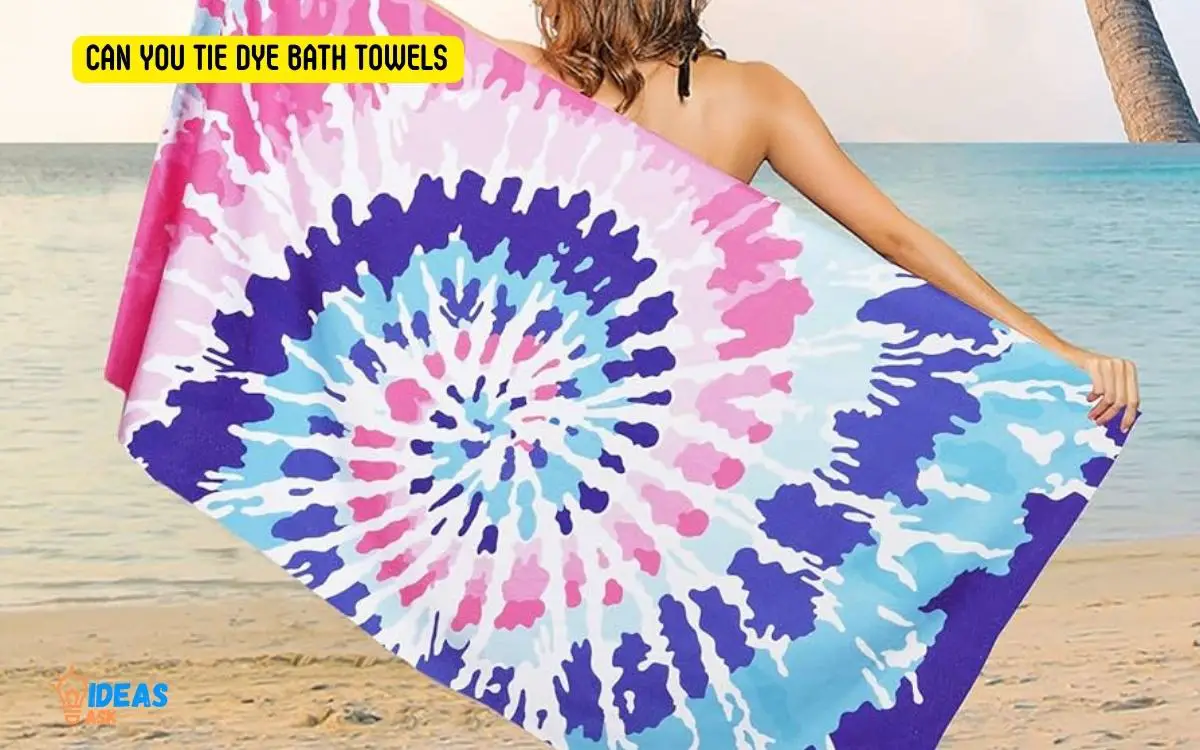 Key Takeaway
Tie-dyeing bath towels is a creative and easy way to personalize your bathroom decor.
Natural fabrics like cotton work best for tie-dye projects as they absorb dye readily.
There are numerous tie-dye patterns that you can try on bath towels from spirals, stripes to more complex designs.
Care should be taken when washing tie-dyed bath towels, as improper washing could lead to color bleed.
Why Tie Dye Bath Towels Are Trending?
Tie dye bath towels are currently trending for their vibrant and unique designs. Many people are wondering if it's possible to tie dye bath towels, and the answer is yes!
With the right materials and techniques, you can create a personalized and stylish addition to your bathroom decor.
Tie dye is no longer just a fashion trend for clothing; it has made its way into home decor, specifically bath towels.
The vibrant and psychedelic patterns of tie dye are now being embraced in the bathroom, adding a pop of color and personality to an otherwise ordinary space.
We will explore why tie dye bath towels are trending and discuss creative ways to incorporate this unique trend into your home decor.
Tie Dye As A Popular Fashion Trend:
Tie dye has experienced a resurgence in popularity in recent years, becoming a staple in fashion-forward wardrobes worldwide.
The bold and vibrant patterns of tie dye offer a playful yet stylish appeal, perfect for those who want to make a fashion statement.
Celebrities and influencers have been spotted rocking tie dye outfits, further fueling the trend's popularity and making it a must-have for fashion enthusiasts.
Creative Ways To Incorporate Tie Dye Into Home Decor:
Tie dye doesn't have to be limited to clothing; it can also be used to elevate your home decor, including bath towels.
Incorporating tie dye bath towels into your bathroom can instantly transform the space, adding a touch of bohemian or beachy vibe.
You can pair tie dye bath towels with neutral-colored bathroom accessories to create a cohesive and visually appealing look.
Another creative way to incorporate tie dye into home decor is by using tie-dyed fabric to create curtains, pillow covers, or even wall hangings.
By incorporating tie dye patterns strategically throughout your living space, you can create a cohesive and visually stunning look that seamlessly ties everything together.
Bath Towels As A Canvas For Tie Dye Experimentation:
Traditional tie dye patterns often feature bright colors and intricate designs, making bath towels an ideal canvas for experimentation.
You can create your own custom tie dye designs on plain white bath towels, allowing you to personalize your towels and make them unique to your style.
Experimenting with different tie dye techniques, such as spiral, crumple, or shibori, can produce various patterns and effects, giving you endless possibilities.
Tie dye bath towels can serve as both functional and decorative pieces, providing a visually appealing accent to your bathroom while also absorbing moisture effectively.
Engaging in tie dye experimentation with bath towels can be a fun and enjoyable DIY project, allowing you to unleash your creativity and create one-of-a-kind pieces that reflect your unique style.
Tie dye bath towels have taken the world of home decor by storm, offering a trendy and vibrant addition to bathrooms everywhere.
By embracing this unique trend and incorporating tie dye patterns into your home decor, you can create a visually stunning and personalized space that showcases your individuality.
So, why settle for ordinary bath towels when you can add a splash of color with tie dye? Let your creativity flow and transform your bathroom with this trending and fun design technique.
Materials Needed For Tie Dyeing Bath Towels
Discover the materials needed to tie dye bath towels and unleash your creativity! From fabric dye and rubber bands to a large plastic container, get ready to transform your ordinary towels into vibrant, personalized works of art.
Tying dye bath towels can be a fun and creative way to add a pop of color to your bathroom decor. Before getting started, it's important to gather all the necessary materials for a successful tie dyeing project. Here is a list of items you'll need:
Bath towels: Choose high-quality towels made of natural fibers like cotton for the best dye absorption.
Tie dye kit: Look for a kit that includes different colored dyes, applicator bottles, and rubber bands.
Plastic squeeze bottles: These are essential for applying the dye onto the towels.
Rubber gloves: Protect your hands from getting stained by wearing durable rubber gloves.
Plastic wrap or ziplock bags: Use these to wrap or seal the towels after dyeing to allow the colors to set.
Plastic tablecloth or garbage bags: Cover your work area to avoid staining any surfaces.
Water: You'll need clean water for rinsing the towels after dyeing.
Bucket or basin: Prepare a container for mixing the dye colors and rinsing the towels.
Optional: Fabric-safe detergent: Use this to wash the towels before tie dyeing, ensuring they are clean and ready for vibrant colors.
Now that you have gathered all the necessary materials, the next step is to explore high-quality dye options for vibrant tie-dyed bath towels.
Techniques To Tie Dye Bath Towels
Tie dyeing bath towels is a fun and creative way to add a pop of color to your bathroom décor. Whether you want to achieve bold and vibrant patterns or opt for a more subtle and mellow look, tie dyeing allows you to customize your bath towels to suit your personal style.
Here are some Techniques To Tie Dye Bath Towels to help you get started on creating your own unique tie dye bath towels:
How To Create Different Tie Dye Patterns On Bath Towels:
Crumple Technique: Crumple the bath towel into a loose ball and secure it with rubber bands. Apply different colors of dye to different sections of the crumpled towel, allowing the colors to blend and create an abstract pattern.
Spiral Technique: Lay the towel flat and pinch the center. Twist the towel in a circular motion until it forms a spiral shape. Secure the spiral with rubber bands and apply dye to each section of the spiral for a classic tie dye look.
Stripe Technique: Fold the bath towel accordion-style or into a long strip. Place rubber bands along the folded towel to create evenly spaced sections. Apply dye to each section, alternating colors for a striped effect.
Choosing The Right Color Combinations For A Desired Effect:
Complementary Colors: Choose colors that are opposite each other on the color wheel, such as blue and orange or purple and yellow, for a vibrant and eye-catching contrast.
Analogous Colors: Opt for colors that are next to each other on the color wheel, such as blue and green or yellow and orange, for a harmonious and soothing color combination.
Monochromatic Palette: Stick to different shades and tints of the same color for a subtle and sophisticated tie dye look.
Techniques For Achieving Crisp And Clean Tie Dye Designs:
Pre-wash the towel: It's important to pre-wash the towel to remove any sizing or chemicals that could interfere with the dye absorption.
Use high-quality dyes: Invest in high-quality fabric dyes specifically formulated for tie dyeing to ensure vivid and long-lasting colors.
Apply dye evenly: Use squeeze bottles or spray bottles to apply the dye, making sure to saturate the fabric evenly for a consistent and clean result.
Let it set: Once you've applied the dye, let the towel sit for the recommended time specified by the dye manufacturer to allow the colors to fully develop.
Rinse and wash: After the dye has set, rinse the towel thoroughly to remove excess dye. Then, wash the towel separately in cold water with a mild detergent to remove any remaining dye.
Now that you have an understanding of the Techniques To Tie Dye Bath Towels involved in tie dyeing bath towels, it's time to unleash your creativity and experiment with different patterns and color combinations.
Remember, the possibilities are endless, so have fun and embrace the art of tie dyeing!
Tips For Successful Tie Dyeing
Discover essential tips for successful tie dyeing, including whether you can tie dye bath towels. With these expert tips, you can create vibrant and unique designs on your towels that will elevate your bathroom decor.
Tie dyeing bath towels can be a fun and creative way to add a vibrant touch to your bathroom decor.
To ensure successful results, it's important to follow these tips:
Maintaining Vibrant Colors In Tie Dyed Bath Towels:
Choose high-quality dyes: Opt for professional-grade dyes specifically designed for fabric tie dyeing. These dyes provide better color retention and vibrancy.
Pre-wash the towels: Before dyeing, give your towels a thorough pre-wash to remove any residues or chemicals that could affect the dye absorption. This step helps the fabric better absorb the dye, resulting in more intense and long-lasting colors.
Use ample dye: Don't be skimpy with the dye! Apply the dye generously to ensure the towel fibers are saturated. Better saturation leads to richer and more vibrant colors.
Opt for bold color combinations: Mix and match vibrant colors to create eye-catching designs. Pair contrasting or complementary colors for a visually striking effect.
Preventing Dye Bleeding And Color Fading:
Rinse and fix the dye properly: After applying the dye, rinse the towel until the water runs clear. Then, allow the colors to set by either air drying or using a hot iron. This step helps in preventing color bleeding and ensures the dye bonds well with the fibers.
Avoid excessive washing: Frequent washing can cause colors to fade over time. Try to limit washing to when it is necessary, and when you do wash the towels, opt for a gentle cycle and use cold water to preserve the colors.
Separate colorful and white towels: To prevent color transfer, wash tie dyed towels separately from white or light-colored towels. This helps maintain the vibrancy of the colors and prevents staining.
Proper Washing And Care Instructions For Long-Lasting Results:
Use mild detergents: Harsh detergents can strip away the dye and fade the colors. Instead, opt for mild and color-safe detergents specifically formulated for vibrant or dyed fabrics.
Avoid bleach and harsh chemicals: Bleach and other harsh chemicals can cause colors to fade and become dull. Steer clear of these agents to maintain the towel's vibrancy.
Air dry whenever possible: Heat from the dryer can cause colors to fade faster. Whenever feasible, air dry your tie-dyed towels to prolong their vibrancy.
Store properly: If you're not using the towels for an extended period, ensure they are stored in a cool and dry place away from direct sunlight. This helps prevent fading and discoloration.
By following these tips, you can achieve stunning results when tie dyeing your bath towels. Enjoy the vibrant colors and unique designs while ensuring the longevity of your tie-dyed creations.
Inspiration For Unique Tie Dye Patterns
Discover the perfect tie dye patterns to create unique bath towels that will add a vibrant touch to your bathroom decor. Experience the joy of tie dyeing bath towels with endless possibilities for creative expression.
Exploring Various Tie Dye Patterns And Designs:
Splatter pattern: Create a vibrant and playful look by splattering dye onto the towel using a dropper or brush.
Spiral pattern: Achieve a classic and eye-catching design by twisting the towel and tying it with rubber bands before applying different colors.
Ombre pattern: Create a stunning gradient effect by dip-dyeing the towel in a dye bath, starting with the lightest color at one end and gradually transitioning to a darker shade.
Stripe pattern: Use rubber bands to section off the towel into stripes and apply different colors to each section, creating a unique and dynamic design.
Bullseye pattern: Apply concentric circles of dye onto the towel, starting from the center and working outwards, to achieve a mesmerizing target-like effect.
Scrunch pattern: Scrunch the towel randomly or in a specific pattern, secure it with rubber bands, and apply various colors to create a fun and chaotic design.
Customizing Tie Dye Patterns To Match Personal Style:
Experiment with different color combinations: Mix and match shades that reflect your personality or complement your bathroom decor.
Play with dye saturation: Control the intensity of the colors by adjusting the dye concentration or the amount of water used in the dye bath.
Incorporate additional elements: Add your personal touch by integrating stencils, stamps, or even embroidery into your tie dye design.
Explore alternative folding techniques: Fold the towel in unique ways, such as accordion or fan folds, to create interesting patterns and textures.
Combine different tie dye techniques: Blend multiple patterns together or layer them to create a truly personalized and distinctive towel design.
Using Different Colors And Techniques To Create One-Of-A-Kind Bath Towels:
Experiment with vibrant colors: Use bold and vibrant dye shades to make a statement or choose softer pastels for a more subtle look.
Try out natural dyes: Explore eco-friendly options by using natural materials like fruits, vegetables, or flowers to create unique and earthy hues.
Utilize resist techniques: Experiment with techniques like shibori or batik to create areas of the towel that resist dye, resulting in intricate and visually appealing designs.
Embrace tie dye techniques beyond the traditional: Think outside the box and try unconventional methods like ice dyeing, bleach dyeing, or spray dyeing to achieve fascinating effects.
Personalize with embellishments: Consider adding embellishments like sequins, beads, or fabric paint to add texture, dimension, and a touch of individuality to your tie dye bath towel.
Remember, tie dyeing bath towels is a wonderful way to express your creativity and add a personalized touch to your bathroom decor.
So go ahead, unleash your imagination, and create your own unique tie dye patterns that will make your bath towels truly one-of-a-kind.
Alternative Methods For Dyeing Bath Towels
Discover alternative methods for dyeing bath towels, including tie-dyeing techniques. Elevate your bathroom decor with vibrant and unique designs, making a stylish statement.
From experimenting with different techniques to achieving dip-dye and ombre effects, get ready to transform your plain bath towels into vibrant works of art!
Experimenting With Alternative Dyeing Methods:
Hand-painting: Use fabric paints or dyes to create intricate designs on your bath towels. With a paintbrush or sponge, you can unleash your creativity and add personalized touches. Whether it's simple patterns or detailed illustrations, hand-painting offers limitless possibilities.
Stenciling: If you're not confident in your artistic abilities, stenciling is an excellent option. Choose a stencil design that appeals to you and secure it onto your towel using tape or adhesive. Apply fabric paint or dye with a sponge or brush, making sure to cover the stencil completely. Once the paint dries, remove the stencil to reveal a beautifully patterned towel.
Spray dyeing: For a more abstract look, consider using spray dyes. Fill spray bottles with diluted fabric dyes or paints, and then mist the solution onto the towel for a unique, watercolor effect. Experiment with different colors and layering techniques to achieve the desired result.
Shibori Techniques For A Different Look On Bath Towels:
Arashi Shibori: Wrap your bath towel tightly around a pole or PVC pipe and secure it with rubber bands. This technique creates beautiful diagonal patterns resembling the look of falling rain. Submerge the wrapped towel in dye, and allow it to sit for the recommended time before rinsing and unraveling. The result? Striking and sophisticated designs on your bath towel.
Itajime Shibori: Fold your towel accordion-style, and then sandwich it between two pieces of wood or acrylic boards. Use rubber bands to secure the boards together tightly. Next, dip the towel into dye, allowing it to absorb the color while the pressure from the wooden boards creates geometric patterns. Unfold the towel and admire the stunning results!
Kumo Shibori: Gather sections of your bath towel and bind them tightly with rubber bands or string. By manipulating the fabric before dyeing, you can achieve unique spider-web-like patterns. Immerse the towel in dye, ensuring complete saturation, and then let it sit for the recommended time. Once it's ready, remove the bindings to reveal intricate and captivating designs.
Dip-Dyeing And Ombre Effects On Bath Towels:
Dip-dyeing: Dip-dyeing creates a gradient effect by partially submerging your bath towel in dye. Start with the darkest color at one end, gradually reducing the immersion depth as you move towards the other end. The result is a stunning transition of colors that adds depth and visual interest to your towels.
Ombre: Ombre dyeing involves blending multiple shades of the same color. Start by submerging the lower portion of your towel in the darkest dye color, gradually transitioning to lighter shades as you move towards the top. This technique creates a beautiful gradient effect that gives your bath towels a sophisticated and artistic appearance.
Now that you know these alternative methods for dyeing bath towels, go ahead and let your creativity run wild.
Whether you choose hand-painting, Shibori techniques, or dip-dyeing, these methods will undoubtedly transform your plain bath towels into vibrant, eye-catching pieces. Embrace the artistry and make washing up a colorful and enjoyable experience!
Conclusion
Tie-dyeing bath towels can add a vibrant and on-trend touch to your bathroom decor. This fun and creative technique allows you to personalize your towels and create unique designs that reflect your style.
Whether you choose traditional swirling patterns or experiment with different techniques, tie-dyeing offers endless possibilities for transforming plain bath towels into eye-catching accessories.
By using high-quality materials and following the right steps, you can ensure that your tie-dye bath towels are not only visually appealing but also durable and long-lasting.
Preparing the fabric properly, selecting the right dyes, and allowing sufficient drying time will help preserve the vibrant colors and prevent fading.
Tie-dyeing is a great way to refresh your bathroom and infuse it with personality. The DIY nature of this technique allows you to unleash your creativity and create a one-of-a-kind look that no store-bought towel can offer.
So, get ready to transform your bathroom into a colorful oasis with tie-dye bath towels that make a statement.