How to Adjust Paper Towel Dispenser Length? 10 Easy Steps!
To adjust the paper towel dispenser length, first open the dispenser and locate the adjustment lever or knob. Then, simply move this lever to increase or decrease the length of paper towel that is dispensed at a time.
Quick Overview
Access the internal settings by unlocking and opening the dispenser cover
Locate the length adjustment mechanism, often a knob, lever, or dial
Adjust the desired towel length by turning or moving the mechanism
Test the dispenser to ensure proper functioning and desired towel length
Adjusting your paper towel dispenser's length can significantly enhance user experience and help control usage, thereby reducing waste.
It allows you to customize how much paper towels are dispensed according to your needs – be it in an office setting where minimal use may suffice or high traffic areas like public restrooms where a longer stretch might be required for proper hand drying.
Not only does this provide convenience but also promotes responsible consumption since people will only take what they need if presented with an appropriate amount.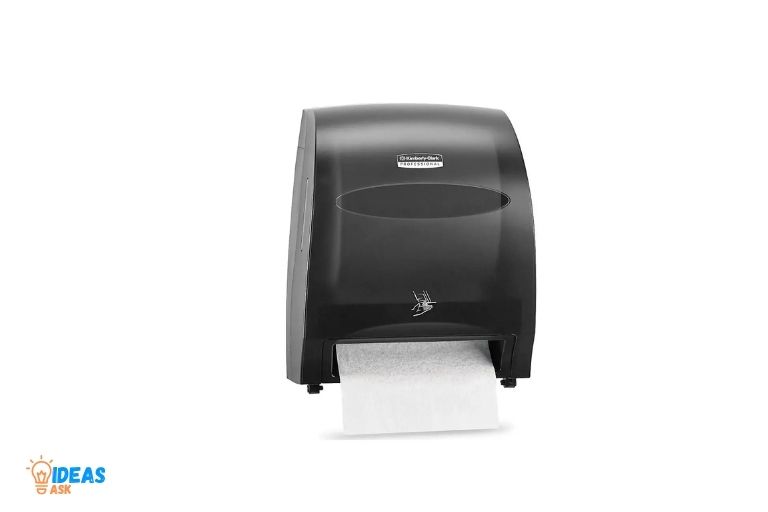 Here are The 10 Steps on How to Adjust Paper Towel Dispenser Length
Adjusting the paper towel length in a dispenser can help control the amount of paper towel dispensed per use, which can result in cost savings and reduced waste. Here's a general procedure for adjusting the length on a common mechanical paper towel dispenser. Keep in mind that the exact steps may vary based on the specific brand and model:
1. Safety First:
Before working on the dispenser, wash your hands and ensure you have the necessary tools or keys to access the internal components of the dispenser.
2. Open the Dispenser:
Many commercial paper towel dispensers have a locking mechanism to prevent theft or tampering. Locate the lock, which is often on the top or side of the unit.
Use the appropriate key or tool to unlock and open the dispenser.
3. Locate the Length Adjustment Control:
Inside the dispenser, look for a control, dial, or switch that's labeled something like "length," "sheet length," "towel length," etc.
The control mechanism can be a dial, a lever, or even a set of pegs or holes where a pin can be placed to adjust the length.
4. Adjust the Length:
Depending on the design, you might turn the dial, move the lever, or reposition a pin to a different hole.
There might be markings indicating short, medium, long, or actual length measurements (e.g., 9″, 12″, 15″). Choose the desired length.
5. Test the Dispenser:
After adjusting, manually dispense a paper towel to see if the length is what you desire.
Adjust again if necessary.
6. Re-secure the Dispenser:
Once satisfied with the length, close the dispenser.
Lock the dispenser if it has a locking mechanism.
7. Note for Automatic/Electronic Dispensers:
Some modern, electronic paper towel dispensers might have electronic settings to adjust the length. In such cases, you might need to follow a sequence of button presses or use a digital interface to set the desired length. Always refer to the manufacturer's manual or guidelines for specific instructions.
8. Maintenance:
While you have the dispenser open, it's a good opportunity to check the paper towel roll and replace it if needed. Also, ensure that the cutting mechanism is clean and free from obstructions.
9. Dispose of Waste:
If you had to trim or cut any paper towels during this process, make sure to properly dispose of the waste.
10. Documentation:
If you're managing multiple dispensers (e.g., in a commercial or institutional setting), it can be helpful to document the settings and adjustments made to each unit.
Remember to always refer to the manufacturer's guidelines or manual for your specific paper towel dispenser model as the steps can vary.
Paper Towel Dispensers Types & Length
Here is a side-by-side informative table comparing different types of paper towel dispensers, including manual and automatic versions, based on their key characteristics and length of paper towels they can accommodate:
| Characteristic | Manual Paper Towel Dispenser | Automatic Paper Towel Dispenser |
| --- | --- | --- |
| Operation | Requires manual pulling | Automatically dispenses towels |
| Activation | Lever or knob | Sensor-based (motion or touch) |
| Hygiene | May require physical contact | Touchless operation |
| Cost | Generally more affordable | Typically more expensive |
| Maintenance | Lower maintenance needs | May require more maintenance |
| Environmentally Friendly | Controlled towel usage | Automatic cutoff for conservation |
| Towel Length Compatibility | Various lengths available | Generally limited to preset size |
| Refill Frequency | Depends on usage | Sensors minimize waste |
| Ease of Installation | Relatively easy | May require professional setup |
| Power Source | No power source required | Requires electricity or battery |
| Ideal Locations | Low to medium traffic areas | High traffic public restrooms |
| Customization Options | Limited design choices | More options for customization |
Paper Towel Dispensers Types & Length
How Often Should Paper Towel Dispenser Length Be Checked?
Checking your paper towel dispenser length should be a regular task in your cleaning routine. However, the frequency of checks depends on how frequently the dispenser gets used.
For high-traffic restrooms, it's best to check the dispenser length daily. For less busy restrooms, you can check once or twice a week.
Tips And Tricks For Extending The Life Of Your Paper Towel Dispenser
Paper towel dispensers are long-term investments, and you want to make sure they last as long as possible.
Extend the life of your paper towel dispenser with these tips and tricks:
Use high-quality paper towels that comfortably fit the dispenser to prevent jamming.
Regularly lubricate moving parts such as rollers and springs.
Avoid over-reloading the dispenser to prevent springs from malfunctioning.
Install a splash guard to keep water away from the dispenser.
By adhering to these best practices, you can keep your paper towel dispenser at the optimal length, ensuring your restroom facilities' smooth functioning.
Troubleshooting Common Issues With Paper Towel Dispenser Length
If you work in a public restroom or kitchen, paper towel dispensers are vital tools for keeping the area clean and hygienic.
Unfortunately, these dispensers can have some issues, such as dispensing too much or too little paper. In this post, we'll explore the common paper towel dispenser length problems and how to troubleshoot them.
Dispenser Not Dispensing Enough Paper Towel
Sometimes, paper towel dispensers don't dispense paper towels properly, leading to frustration and waste.
Here are common reasons for insufficient paper towel dispensing:
The dispenser's tension setting is too tight. The tension setting of the dispenser determines how much paper towel is released with each pull. If it's set too low, the dispenser will release too little paper.
The dispenser's paper towel roll may be damaged or empty. Make sure the roll is properly loaded and that there's enough paper left to dispense.
The dispenser's sensor may be malfunctioning. If the dispenser is a touch-free model, ensure the sensor is functioning properly by testing it with your hand.
Dispenser Dispensing Too Much Paper Towel
An overflowing paper towel dispenser wastes paper and annoys users.
Here are some reasons for excessive paper towel dispensing:
The dispenser's tension setting may be too loose. If the dispenser is set to a low tension, it may dispense too much paper with each pull.
The dispenser's sensor may be malfunctioning. A touch-free dispenser may dispense too much paper if the sensor isn't functioning properly.
The paper towel roll may be installed too loosely, causing it to unravel more than intended. Make sure the roll is properly loaded and installed.
Dispenser Not Dispensing Paper Towel Evenly
Finally, some dispensers may not dispense paper towel evenly, causing frustration and wasting paper.
Here are some causes of uneven paper towel dispensing:
The dispenser's tension setting may not be adjusted correctly. If the dispenser is set to a low tension or too high, it may dispense paper towel unevenly.
The paper towel roll may be installed improperly, causing the dispenser to pull unevenly or pull the paper towel to one side.
The dispenser may be dirty or clogged. Cleaning the dispenser regularly can help prevent buildup and improve its performance.
Cleaning And Maintenance Tips For Optimal Functionality
Keeping your paper towel dispenser clean and well-maintained ensures it remains functional for an extended period.
Here are some cleaning and maintenance tips to help you achieve optimal functionality:
Use alcohol-based cleaners to wipe down the dispenser's surfaces.
Clean the dispenser at least once a week.
Check for broken parts such as hooks, springs, and rollers and have them replaced.
Keep the dispenser away from water to avoid rust formation.
Conclusion
In summary, knowing how to adjust a paper towel dispenser's length is a practical skill that can save time and reduce waste. Follow the manufacturer's instructions for your specific model to ensure efficient paper towel usage.
Regular maintenance and adjustments contribute to sustainability. Master this skill for a more convenient and eco-friendly experience.