How to Install a Paper Towel Holder? 8 Easy Steps!
To install a paper towel holder, first determine the location where you want to fix it. Hold the base of the holder against the wall and mark drilling holes with a pencil. Drill the marked spots and insert wall plugs or anchors.
Align the base of the holder with these plugs and screw it in tightly. Finally, slide the roll of paper towels onto the rod, then place this onto the brackets.
Quick Overview
Identify the best location for your paper towel holder: Choose an easy-to-reach area near your work area.
Mark drilling holes: Hold up your paper towel holder to your chosen spot on your wall or under a cabinet and use a pencil to mark where your screws will go.
Drill holes: Use an appropriately sized drill bit for this task. Make sure you drill deep enough for your wall plug or anchor.
Insert wall plugs or anchors: These provide extra support to ensure that your paper towel holder stays securely attached to the wall.
Screw in base of holder: Align the holes on your paper towel holder with those on your wall, then screw it into place until secure.
Add roll of towels: Slide your roll of paper towels onto its rod, then attach this rod to its brackets.
Installing a paper towel holder is quick and easy with basic tools like a screwdriver, drill, and pencil. Choose a convenient location near your kitchen counter or sink to prevent water drips.
Mount it securely on walls or under cabinets using appropriate screws and anchors for stability during use.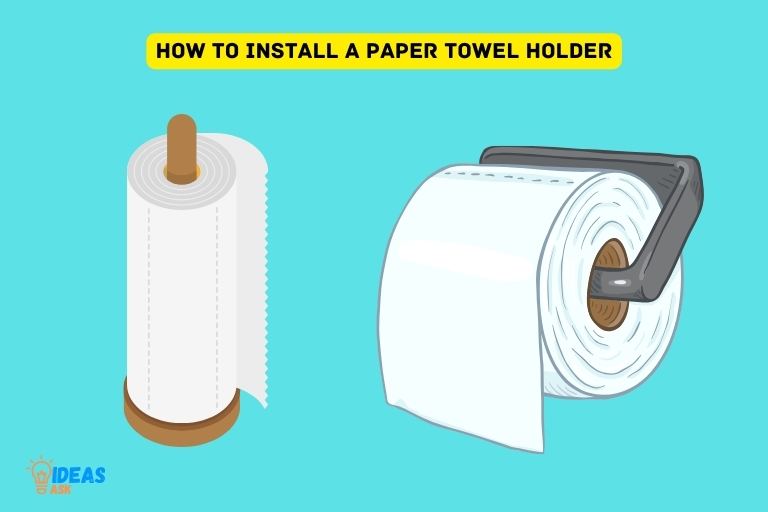 Essential Tools And Materials For Paper Towel Holder Installation
Tired of cluttered counters due to paper towels? Installing a paper towel holder is the simple solution. Here's what you need to get started:
Tools Needed For The Installation Process:
You won't need any specialized equipment to install a paper towel holder.
The following tools will suffice:
Drill
Drill bits
Level
Screwdriver
Tape measure
You'll need these tools for a swift installation. Match drill bit sizes to your screws.
Materials Needed For Installing A Paper Towel Holder:
While there are various types of paper towel holders, most require similar materials for installation.
Here's a list of the items you'll need:
Anchors
Screws
Paper towel holder
Use appropriate anchors and screws matching the holder for added support, crucial due to paper towel weight.
Before starting the installation process, double-check that you have all the necessary tools and materials. Once you've confirmed that, you're ready to begin installing your paper towel holder.
Here is The 8 Steps How to Install a Paper Towel Holder
Installing a paper towel holder is a relatively simple task that you can do yourself with just a few tools and some basic knowledge.
Here are the installation steps:
Choose the Location:
Decide where you want to install the paper towel holder. It should be easily accessible and convenient for use. Common locations include the inside of a cabinet door, on the wall, or under a cabinet.
Measure and Mark:
Measure the spacing between holder holes with a tape measure. Mark hole positions on the wall with a pencil, ensuring they're level.
Prepare the Wall:
On drywall, use wall anchors for stability. Drill holes at the marks.
Skip this step on wood surfaces or cabinets.
Install Wall Anchors (if needed):
Place wall anchors into drilled holes. Skip if not using anchors.
Attach the Mounting Bracket:
Align the mounting bracket with marked holes and secure it using screws or provided hardware if your holder has one.
Attach the Paper Towel Holder:
If you're mounting the holder on the wall, align the mounting holes on the holder with the holes or anchors in the wall. Secure the holder in place using screws. If you're attaching to studs, make sure the screws go directly into the studs for stability.
Test the Installation:
Ensure the holder is securely attached and stable. Test it by pulling a few paper towels to check its functionality.
Clean Up:
Dispose of any packaging materials and clean up any debris or dust created during the installation process.
Your paper towel holder should now be securely installed and ready for use. Make sure to follow the manufacturer's instructions that came with your specific paper towel holder, as installation methods may vary slightly depending on the design and model.
Troubleshooting And Maintenance Tips For A Paper Towel Holder
Common Installation Mistakes And How To Avoid Them
When it comes to installing a paper towel holder, people often make small mistakes that cause big problems later on.
Here are the common installation mistakes and how you can avoid them:
Not measuring before installation: Measure the paper towel roll beforehand and make sure the holder can accommodate it. Don't forget to measure the distance between the holder and any nearby objects, like cabinets or appliances.
Poorly positioning the holder: Putting the holder in the wrong location can be frustrating when you're trying to use it. Make sure it's installed where you can easily use it and where it won't get in the way.
Using incorrect mounting hardware: Check the manufacturer's specifications for recommended mounting hardware, and don't use anything else. Using the wrong screws or anchors can cause damage to your walls or ceiling.
Not securing the holder tightly: A loose holder may not support the weight of a full paper towel roll, causing it to fall off. Tighten all screws and make sure that the holder is firmly in place.
Paper Towel Holder Maintenance And Cleaning Tips
To keep your paper towel holder functioning optimally and looking like new, here are some maintenance and cleaning tips:
Regular cleaning: Wipe the holder regularly with a damp cloth and mild detergent to remove dirt or grime. Don't forget to clean underneath the holder as well. It's important to keep it hygienic.
Lubrication: Lubricate the holder's moving parts with a small amount of oil to keep them moving smoothly. Too much oil, however, can attract dust and grime, which can be hard to clean.
Replace the spring: If the holder's spring is not holding the paper towel roll properly, it may be time to replace it with a new one. Changing the spring is easy and can be accomplished in just a few minutes.
Repair damaged parts: Replace or repair any damaged parts of the paper towel holder as soon as possible. A faulty holder can put your safety at risk and lead to potential damage to your wall or ceiling.
Remember, proper installation and maintenance of your paper towel holder can make your daily routine easier and hassle-free.
Conclusion
In conclusion, follow the steps outlined to install a paper towel holder for a more organized and clean kitchen. Choose one that suits your needs and style.
With minimal effort, you'll have a functional and stylish paper towel holder to improve your daily routine. Get started now!