How to Fold a Paper Towel into a Swan? 10 Steps!
To fold a paper towel into a swan, start by folding the paper towel in half diagonally to create a triangle. Then, fold the triangle in half twice more. Grabbing the pointy end of your shape, pull it towards the folded edge and roll it up until you reach the other end. Lastly, carefully bend your rolled-up paper towel in half to resemble a swan's neck and head.
Quick Overview
Start with a clean paper towel.
Fold it diagonally to form a large triangle.
Fold this triangle in half again to make a smaller triangle.
Repeat one more time to create an even smaller triangle.
With your small triangle, grab the single pointy end (which should be opposite of the longest side or base) and gradually roll towards the base.
Once everything is rolled up, take hold of one end of this rolled paper towel (preferably not where all loose ends meet).
Gently bend this part to mimic a swan's neck and head shape.
Folding a paper towel into a swan can seem like an intricate task but with practice, anyone can master it. This technique not only enhances presentation when used for table settings but also adds an element of sophistication and creativity.
Remember that patience is key; if you don't get it right on your first try, keep practicing until you perfect your swan-shaped masterpiece! It's also useful for teaching kids about origami and geometry in an entertaining way.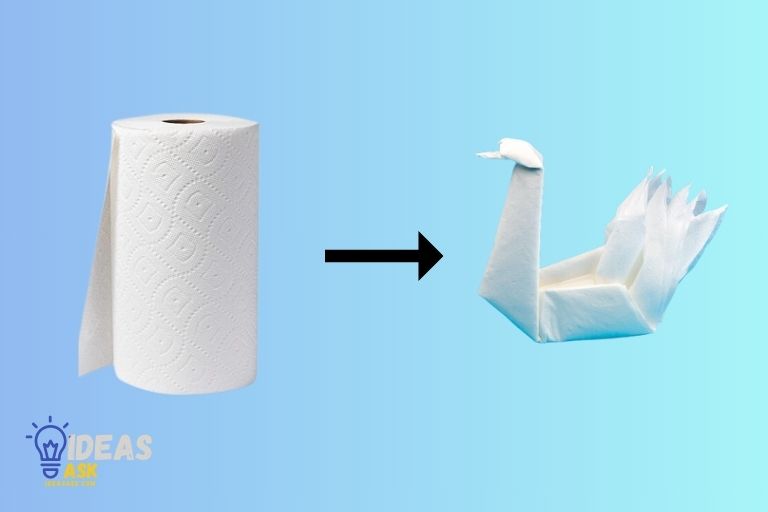 Materials Needed For Fold a Paper Towel into a Swan
Square Paper Towel (typically white):
Look for a standard square paper towel, commonly found in most households. The size may vary, but ideally, it should be about 12×12 inches (30×30 cm) to create a swan of a reasonable size. You can also use a larger or smaller square towel depending on your preference.
Opt for a white paper towel or one with a solid color for a traditional and elegant appearance. However, you can experiment with colored paper towels if you want a more creative and colorful swan.
Flat Surface to Work On:
Find a clean and flat surface to work on, such as a table, countertop, or any other stable work surface.
Ensure that the surface is dry to prevent the paper towel from getting wet or stained during the folding process.
Make sure you have enough space to comfortably fold the paper towel and maneuver it without any obstructions.
These materials are readily available in most households or can be easily obtained from a nearby store. The choice of a white square paper towel and a clean, flat surface will help you create a neat and visually appealing paper towel swan.
Here are the Steps: How to Fold a Paper Towel Into a Swan
Folding a paper towel into a swan can be a fun and creative way to add a touch of elegance to your table setting or presentation.
Here's a step-by-step guide on how to fold a paper towel into a swan:
1. Lay the Paper Towel Flat:
Start by laying the square paper towel flat on a clean and dry surface. Make sure it's positioned as a diamond shape, with one corner pointing towards you.
2. Fold in Half Diagonally:
Take the bottom corner of the diamond and fold it up to meet the top corner, forming a triangle. Press down on the fold to create a crisp edge.
3. Unfold the Triangle:
Carefully unfold the triangle back into a diamond shape.
4. Fold the Top Edge Down:
Now, take the top edge of the diamond and fold it down to meet the bottom edge, creating a rectangle. Make sure the edges align neatly.
5. Fold the Right and Left Corners In:
Fold both the right and left corners of the rectangle inward, so they meet at the centerline. This will create a kite-like shape.
6. Fold Down the Top Flap:
Take the top flap of the kite shape and fold it down, leaving a small triangle of the bottom flap exposed at the top. This triangle will be the swan's head.
7. Forming the Swan's Neck:
Lift the swan's head (the exposed triangle) upward and slightly bend it backward to create the neck of the swan.
8. Creating the Body:
Flip the entire paper towel over, so the neck is pointing away from you. Now, take the bottom part of the paper towel and fold it up, creating the body of the swan. Adjust the fold to your desired shape.
9. Adjust and Refine:
Carefully adjust and refine the swan's shape by gently fluffing out the tail and adjusting the neck as needed. You can also shape the head to give it a more elegant look.
10. Display and Enjoy:
Once you're satisfied with the shape of your paper towel swan, place it on your table setting or presentation as a decorative element. It can be used as a napkin holder or a decorative centerpiece for your table.
Remember that practice makes perfect, so don't be discouraged if your first attempts aren't perfect. Keep refining your folding technique until you achieve the swan shape you desire.
Conclusion
As you can see, paper towel folding is not only a useful skill to have for practical purposes, but it can also be a fun and impressive party trick.
The swan fold may seem daunting at first, but with practice and patience, you'll be able to master it in no time.
Remember to work on a flat and sturdy surface, and use a fresh and clean paper towel for the best results.
Experiment with different sizes and textures to create unique and artistic designs. Who knows, you may even inspire others to try their hand at paper towel folding.
So what are you waiting for? Grab a paper towel and start creating your own swan masterpiece!