How to Germinate Carrot Seeds Paper Towel? 10 Steps!
To germinate carrot seeds using the paper towel method, simply follow these steps: moisten a paper towel, place the carrot seeds on the towel, fold the towel to cover the seeds, place the towel in a plastic bag, and store the bag in a warm, dark location.
The paper towel method is a popular technique for germinating seeds as it provides an ideal environment for seeds to sprout.
By using a moist paper towel and a plastic bag, you create a humid environment that promotes germination. Additionally, storing the seeds in a warm, dark location further aids in the germination process.
The paper towel method is a simple and effective way to germinate seeds.
Moisture and humidity are essential for successful germination.
Warm, dark conditions promote seed sprouting.
Carrot seeds germinate within 14-21 days using this method.
Carrot seeds can be quite small and can take a while to germinate.
By utilizing the paper towel method, you increase the chances of successful germination by providing the necessary moisture, humidity, and ideal environmental conditions.
This method is especially beneficial when dealing with seeds that may be more difficult to germinate or when you don't have access to a traditional garden bed.
By following these simple steps and monitoring the progress of your carrot seeds, you'll be on your way to growing healthy, vibrant carrots in no time.
10 Steps to Germinate Carrot Seeds Paper Towel
| Step | Instructions |
| --- | --- |
| 1 | Gather materials: carrot seeds, paper towel, water, plastic bag, and marker. |
| 2 | Moisten a sheet of paper towel with water until it is damp, not dripping wet. |
| 3 | Place carrot seeds evenly spaced across the damp paper towel sheet. |
| 4 | Gently fold or roll the paper towel to enclose the seeds without crushing them. |
| 5 | Place the folded/rolled paper towel with seeds inside a plastic bag. |
| 6 | Seal the plastic bag, trapping some air inside to create a greenhouse effect. |
| 7 | Label the bag with the date and "carrot seeds" using a marker. |
| 8 | Place the bag in a warm, dark area (ideally 60-70°F or 15-21°C). |
| 9 | Check on the seeds daily and keep the paper towel moist by adding water if needed. |
| 10 | Once the seeds have sprouted (usually within 5-10 days), transfer them to soil. |
10 Steps to Germinate Carrot Seeds Paper Towel
Key Takeaway
Speed up germination: Using a paper towel to germinate carrot seeds can significantly reduce the germination time.
Increased success rate: This method helps to maintain the ideal moisture level, ensuring a higher germination success rate for carrot seeds.
Simple and cost-effective: The paper towel method is easy to execute and requires minimal materials, making it accessible to all gardeners.
Seed selection: The paper towel method enables gardeners to select the strongest, healthiest sprouts for planting, leading to better overall growth.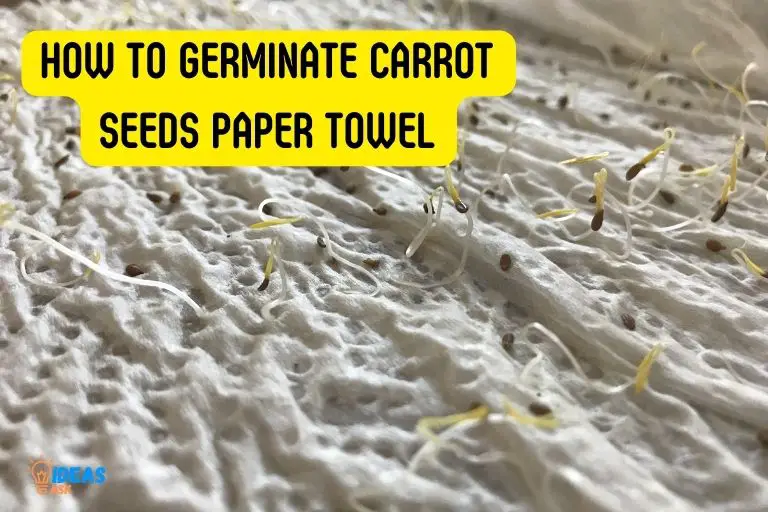 Five Facts About Germinating Carrot Seeds Using a Paper Towel
Germination time: Carrot seeds typically take 10 to 21 days to germinate, but using a paper towel can reduce this time to around 7 to 14 days (source: University of Minnesota Extension).
Ideal moisture: Maintaining constant moisture is essential for germinating carrot seeds. The paper towel method helps maintain moisture without the risk of overwatering or soaking (source: Burpee).
Steps: To germinate carrot seeds using a paper towel, simply dampen a paper towel, place the seeds on it, fold it to cover the seeds, and place the folded towel in a sealed plastic bag. Store the bag in a warm, dark place (source: Gardening Channel).
Temperature: Carrot seeds germinate best at a temperature of 60 to 75°F (15 to 24°C), so make sure to keep the paper towel in a suitable environment during germination (source: The Old Farmer's Almanac).
Understanding Germination And Preparing Your Supplies
Germinating carrot seeds through paper towels is an easy way to ensure successful germination before transplanting your seeds to the soil.
Understanding germination and preparing your supplies is crucial before you start to germinate your carrot seeds.
What Is Germination And Why Is It Important For Growing Carrots?
Germination refers to the process of a seed sprouting and developing into a seedling. When it comes to growing carrots, proper germination is essential for healthy plants.
Germination initiates the growth of the root, which is the most crucial factor in producing a fully developed carrot.
Without proper germination, poorly developed roots may result in small, stunted carrots or no carrots at all.
Choosing The Right Carrot Seeds For Paper Towel Germination
Before you start to germinate your carrot seeds on a paper towel, you need to select the right seeds.
Here are a few key considerations.
Choose high-quality carrot seeds with a high germination rate. Avoid seeds that may have been exposed to excessive heat, moisture, or light as their viability may be low.
Choose carrot seeds that are free from diseases or pest damage. Disease-free seeds have a better chance of developing into healthy seedlings.
Check the expiration date of the seeds. Using expired seeds may result in low germination rates.
Gathering Your Materials: Paper Towels, Sealable Plastic Bags, And Water
Now that you have selected the right carrot seeds, it's time to gather your materials.
Here are the items you'll need:
High-quality paper towels (preferably unbleached)
Sealable plastic bags (such as ziplock bags), depending on the number of seeds you plan to germinate
Clean water (preferably filtered water or distilled water)
To prepare:
Dampen the paper towel with water and make sure it's not soaking wet.
Spread the damp paper towel out on a flat surface and place the carrot seeds around 1 inch apart from each other.
Fold the paper towel over the seeds and gently press it down to ensure that each seed is in contact with the damp paper towel.
Place the paper towel inside the sealable plastic bag and seal it shut.
Now that you've learned the basics of germination and understand how to prepare your supplies for germinating carrot seeds using paper towels, it's time to move on to the next step.
Germinating Your Carrot Seeds On Paper Towels
If you're thinking of growing carrots, germinating the seeds on paper towels is a quick and easy way to start the process.
This method allows you to monitor the growth of your seeds, and once they've germinated, you can plant them in the soil.
Step-By-Step Guide To Germinating Carrot Seeds On Paper Towels
Follow these easy steps to germinate your carrot seeds on paper towels:
First, gather the necessary materials – carrot seeds, paper towels, a plastic ziplock bag, and a spray bottle filled with water.
Wet the paper towel thoroughly and put it on a flat surface.
Scatter the carrot seeds all over the moist paper towel.
Spray some water onto the seeds, ensuring they are covered, but not soaked.
Fold the paper towel over, making sure that the carrot seeds are sandwiched in between two layers of damp paper towel.
Put the folded paper towel into a plastic ziplock bag.
Close the bag, and put it in a warm and dark place, such as a drawer or cupboard.
Check on the seeds daily to see if they have germinated.
The Importance Of Temperature And Light In The Germination Process
Temperature and light are crucial factors in the germination process. They can impact the quality and growth rate of your carrot seeds.
Here are some tips to follow:
The ideal germination temperature for carrot seeds is around 60-70°f, so it's important to keep the seeds in a warm place.
Ensure that the seeds are not exposed to direct sunlight, as this can dry out the paper towel. Instead, keep the seeds in a dark room where the temperature is consistent.
If you're planning to transfer the seeds to soil, make sure the soil temperature is also around 60-70°f.
Troubleshooting Common Problems Like Mold Or Fungus Growth
While this germination method is generally straightforward, there can be some problems that arise, such as mold or fungus growth.
Here are some ways to tackle these issues:
If your seeds start developing mold or fungus, don't panic. It's a natural part of the germination process. However, it's essential to address it quickly to prevent it from spreading.
Remove the affected seeds and dispose of them carefully.
Consider reducing the amount of water you spray onto the seeds to minimize moisture levels.
Open the ziplock bag regularly to allow air to circulate.
By following these simple tips, you can successfully germinate your carrot seeds on paper towels and enjoy a rich harvest.
Happy gardening!
Transferring Germinated Seeds To Soil
How To Properly Move Germinated Carrot Seeds From Paper Towels To Soil
After germinating your carrot seeds on a damp paper towel, it is now time to transplant them to soil.
Below are the steps you need to follow for a successful transfer:
Prepare the soil before transplanting. Make sure that the soil is loose, moist, and free of debris. Dig a shallow trench that is about half-inch deep.
Gently remove the germinated seeds from the paper towel and avoid touching the root as much as possible. The roots are very delicate at this stage and can easily break.
Using tweezers or your fingers, pick up each seedling carefully and place it in the trench. Cover the seedling with a thin layer of soil, leaving the top of the carrot seedling exposed.
Tips For Ensuring Optimal Soil Moisture And Drainage
Maintaining the right moisture level in the soil is critical for the growth of your carrot seedlings.
Here are some tips for ensuring optimal soil moisture and drainage:
Water the newly transplanted seedlings immediately. Give them enough water until they are soaked but avoid over-saturating the soil. Carrot seedlings require moist soil, but too much water can lead to rotting.
Check the soil moisture level regularly. Stick your finger into the soil to determine whether it needs water. The soil should be moist but not soggy.
Ensure proper drainage. Poor drainage can cause the soil to become waterlogged, which makes it difficult for the plants to breathe. You can improve drainage by adding gravel or sand to the soil.
Understanding The Importance Of Spacing When Transplanting Carrot Seedlings
Spacing is essential when transplanting carrot seedlings.
The following are the key reasons why:
Allows for proper root growth. A carrot seedling needs enough space for its roots to grow and develop fully. Without enough space, the roots will become stunted, and this will affect the overall growth of the plant.
Prevents crowding. Carrot seedlings that are too close together will compete for resources such as water, nutrients, and sunlight. This will lead to unhealthy seedlings and reduced yields.
Helps with harvesting. Proper spacing makes it easier to harvest the carrots as they will be easier to pull out of the ground. If the seedlings are too close together, it will be difficult to harvest the carrots without damaging them.
When transplanting your carrot seedlings, ensure that they are at least one inch apart from each other. Consider thinning them out later as they grow to ensure proper spacing.
Caring For Your Growing Carrots
Germinating carrot seeds using a paper towel is an easy way to start growing your own fresh, crunchy carrots.
However, once your carrot seeds have sprouted, you need to take proper care of them to ensure they grow into healthy, delicious vegetables.
Here are some essential tips for caring for your growing carrots.
Maintaining Proper Water And Nutrient Levels During The Growing Period
Carrots need consistent moisture to grow well. Keep the soil evenly moist, but not waterlogged.
Do not over-water your carrots as it can lead to disease and rotting.
Provide your carrots with a slow-release, balanced fertilizer to boost their growth and help them grow healthy.
Apply the fertilizer about once every 4 weeks throughout the growing season.
Ensure that the soil is well-draining, and not too compact, by adding organic matter.
Tips For Preventing Pests And Diseases
Keep your garden weed-free and clear of debris that may harbor pests and diseases.
Cover your carrot rows with lightweight row covers to protect them from pests like carrot flies.
Rotate your crop every year, planting carrots in a different spot every time to prevent the buildup of pest populations and diseases in the soil.
Inspect your carrots regularly for signs of pest infestation or disease. Catching and treating problems early can prevent them from spreading to the entire crop.
Use organic or natural pest and disease control methods to prevent harmful chemicals from contaminating your vegetable patch.
Harvesting The Perfect Carrot: When And How To Pick Your Crop
Wait until your carrots are at least ​¾ inch in diameter​ before harvesting to ensure that they are developed sufficiently for consuming.
Firmly grip the stem of the carrot and pull it straight up and out of the soil to avoid bruising or damaging the carrot.
Rinse the carrot immediately after removing it from the ground.
Be gentle during the cleaning process to prevent damaging or breaking the carrots.
Store the carrots in a cool, dark, moist environment to encourage them to last longer.
With these tips in mind, your carrots are sure to grow successfully. Remember to give them plenty of care and attention and enjoy the fruits of your labor.
FAQ On Germinating Carrot Seeds on Paper Towel
How Long Does It Take For Carrot Seeds To Germinate On A Paper Towel?
It takes 5-10 days for carrot seeds to germinate on a moist paper towel at a temperature between 60-70°f.
Do I Need To Moisten The Paper Towel Every Day During Germination?
Yes, moisten the paper towel daily during germination with water, and keep it in a dark and warm place.
Is It Better To Germinate Carrot Seeds On A Paper Towel Or Directly In Soil?
Germinating carrot seeds on a paper towel is quicker, less wasteful, and allows for easier transplanting later.
How Do I Transplant Carrot Seedlings Grown On A Paper Towel?
Simply lift a section of the paper towel, cut it into small pieces and transplant the seedlings along with the paper into soil.
Conclusion
After all is said and done, germinating carrot seeds with a paper towel is an easy and effective method that provides higher germination rates and a better start for your seedlings.
Using this method, you can ensure that your carrots grow strong and healthy, giving you an abundant harvest.
The key is to provide the right amount of moisture and warmth to your seeds, keep them in a safe and gentle environment, and make sure you take care of them in the early stages of growth.
With a little patience and perseverance, you can see your carrot seeds sprout within a week or two. So, go ahead and try this method out and experience the joy of growing your own fresh and flavorful carrots in your backyard!