How to Hang Paper Towels? 8 Steps!
Hanging paper towels effectively involves selecting an appropriate location, determining the hanging method (under-cabinet, wall-mounted, or countertop), securing the towel holder, and positioning the paper towel roll on the holder.
Regular maintenance like refilling the roll when it's finished is essential to ensure continuous convenience.
Hanging paper towels requires selecting a spot in your kitchen or bathroom where they will be easily accessible yet out of the way of potential splashes or spills.
Next, you'll need to choose a method for hanging: under-cabinet mounts save space, wall mounts are versatile, and countertop holders are portable.
Secure the holder according to the manufacturer's instructions, then position the paper towel roll on the holder. Ensure to replace the roll when it's empty for continuous availability.
Determine the best location for the paper towel holder.
Choose a hanging method: wall-mounted, under-cabinet, or countertop.
Secure the paper towel holder as per the manufacturer's instructions.
Position the paper towel roll and ensure regular replacement when empty.
The key to effective paper towel hanging is location and accessibility. Place it where it will be conveniently accessible yet out of the way of potential water splashes or food spills.
Whether it's wall-mounted, under-cabinet, or on the countertop, ensure it's secure and sturdy for easy tear-off.
Lastly, regular roll replacement ensures you're never without paper towels when you need them.
8 Steps to Hang Paper Towels
| Step Number | Instructions |
| --- | --- |
| 1 | Choose the preferred location for the towel holder. |
| 2 | Mark the place on the wall where it will be placed. |
| 3 | Drill holes in the marked points. |
| 4 | Insert the screws into these holes. |
| 5 | Fix the paper towel holder onto the screws. |
| 6 | Ensure it's properly secured. |
| 7 | Place the paper towel roll onto the holder. |
| 8 | Confirm the roll moves freely for easy use. |
8 Steps to Hang Paper Towels
Key Takeaway
Paper towels are a household essential, and knowing how to hang them is significant for maintaining a clean and organized space.
There are various methods to hang paper towels, such as under cabinets, over cabinets, on walls, or on the countertop with a stand.
Choosing a location for your paper towel roll depends on the layout of your kitchen and personal preference.
Hardware and tools needed will differ depending on the chosen method, such as wall mount hardware or adhesive strips.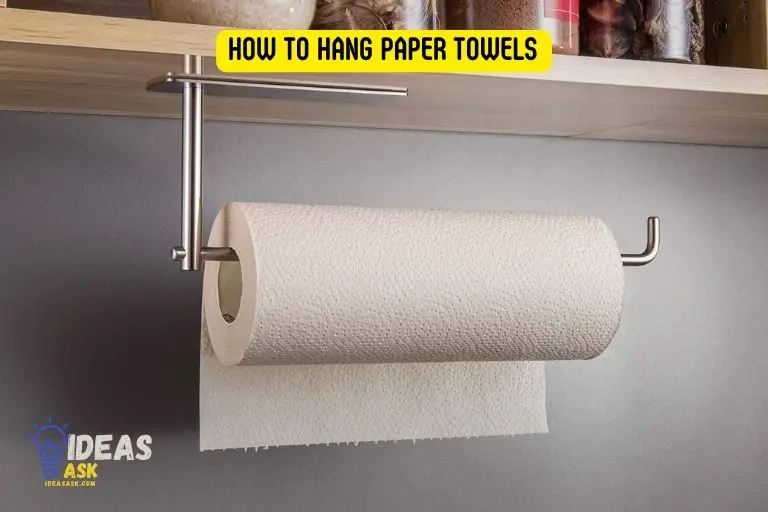 Five Facts About Hanging Paper Towels
Paper towels were invented by Arthur Scott in 1907. Initially, these were small rolls intended for toilet paper which had defects. Scott came up with the idea of marketing them as disposable paper towels. (Source: Today I Found Out)
Today, paper towels are considered a kitchen staple. They are convenient for a quick clean-up of spills and are disposable, making them hygienic.
There are three main types of paper towel holders: wall-mounted, under-cabinet, and countertop holders. Each has its own benefits. For example, wall-mounted and under-cabinet holders save counter space, while countertop holders can be easily moved around.
Some high-tech paper towel holders are equipped with tension arms or springs, ensuring that the roll doesn't unravel and you can pull out a sheet with just one hand. (Source: Business Insider)
Recycling paper towels is not typically recommended because they are often contaminated with food or other waste. However, they can be composted at home if not used with cleaning chemicals. (Source: Stanford University Recycling Centre)
Determine The Optimal Placement
Different Types Of Wall-Mounted Holders For Paper Towels.
There are different types of wall-mounted holders available for paper towels that you can choose from, including:
Vertical holders that allow you to pull down the paper towel from the top
Horizontal holders that let you pull the paper towel from the bottom
Combination holders that cater to both top-down and bottom-up dispensing
Factors To Consider When Choosing A Placement For Hanging A Paper Towel.
When looking for an ideal location to hang a paper towel, there are certain factors that you need to consider, such as:
Accessibility: It should be placed in a visible and easily accessible spot.
Proximity: It should be closer to where you need it the most.
Reachability: The paper towel should be within reach of every member of the household.
Height: It should be hung at a reasonable height where everyone can access it without any difficulty.
Moisture levels: Avoid hanging a paper towel in a damp area as it will quickly become damp and unusable.
Tips For A Convenient And Accessible Location.
Here are a few tips to consider for an easily accessible and convenient placement of a paper towel holder:
Choose a spot near the sink or countertop where you frequently clean and prepare food.
Hang the paper towel in a place that is visible and easy to reach.
Avoid placing it too high or too low. Usually, a hanging height of 15-20 inches is suitable for most people.
Secure your paper towel holder on a strong and sturdy surface like a ceramic tile or drywall to prevent it from falling off.
Make sure that the paper towel holder is installed at a distance that's neither too close nor too far away from the horizontal surface. A distance of around 6 inches from the countertop or surface is ideal.
Importance Of Accessibility.
The importance of accessibility when it comes to hanging a paper towel cannot be emphasized enough. In a fast-paced environment, you need to have the paper towel in a spot that is both easily accessible and convenient to reach.
An accessible paper towel goes a long way in maintaining personal hygiene and makes life a lot easier.
It reduces the risk of germs, contamination, and cross-contamination, making it a critical component in a kitchen or restroom.
Install The Paper Towel Holder
Step-By-Step Guide On How To Install A Paper Towel Holder
Installing a paper towel holder in your kitchen or bathroom is a convenient way of having paper towels at your fingertips.
Here's a step-by-step guide to make the installation process a breeze:
Choose a suitable location – determine where you want to mount the paper towel holder. Make sure the location is easily accessible and convenient.
Gather necessary tools – gather all the necessary tools that will be required for installation. These tools include a drill, screws, a screwdriver, a measuring tape, and a pencil.
Measure and mark – use the measuring tape and pencil to measure and mark the spot where you want to mount the paper towel holder. Double-check the measurements to ensure that the holder is level and straight.
Drill holes – use the drill to make holes at the marked spot. Make sure the hole sizes correspond with the screw sizes.
Mount the holder – take the paper towel holder and align it with the drilled holes. Use the screwdriver to tighten the screws firmly into place.
Test the holder – after mounting, ensure the holder is secure and can withstand the weight of the paper towel roll.
Alternative Ways Of Mounting A Paper Towel Holder
If you're in a rented apartment and don't want to drill holes into the wall or cabinet, you can still mount a paper towel holder using alternative methods.
Here are two alternatives:
Command strips – command strips are adhesive strips that require no drilling and are perfect for renters. They work by sticking to the surface, holding the holder in place. Before mounting, ensure the surface is clean and dry. Follow the instructions on the package for best results.
Magnet – a magnetic paper towel holder is another alternative option. It easily sticks onto any magnetic surface, such as a fridge or metal cabinet. This option is quick and easy to install. However, it may not be as sturdy as a drill mounted option.
Necessary Tools Required For Installation
Before installing a paper towel holder, ensure you have the necessary tools at your disposal.
Here's a list of tools required:
Drill
Screws
Screwdriver
Measuring tape
Pencil
Having these tools readily available makes the installation process seamless and hassle-free.By following these steps, you can easily install a paper towel holder in your kitchen or bathroom.
Whether using a drill, command strips or magnet, you can enjoy easy access to paper towels in no time.
Choose The Right Towel And Roll Size
Size And Shape Variations Of A Paper Towel Holder
When choosing a paper towel holder, make sure to consider the size and shape variations of the holder.
Here are some key points to keep in mind:
Wall mount holders: These holders can be fixed directly to a wall or cabinet. They can come in circular or rectangular shapes and can accommodate different sizes of paper towels.
Countertop holders: These holders can sit on a tabletop or any flat surface. They come in various shapes and sizes, with some designed for specific brands and sizes of paper towels.
Under-cabinet holders: These holders are mounted underneath a cabinet or shelf. They can be installed in different orientations and can fit various paper towel sizes.
Key Factors To Consider While Choosing Towel Size And Roll
Choosing the right paper towel size is essential for the overall functionality of your holder.
Here are some key factors to consider:
Usage frequency: Consider how often you will use paper towels and how many you will need at a time.
Kitchen size: Consider the size of your kitchen and the amount of space you have available for a holder.
Multipurpose usage: Consider whether you will use paper towels for cleaning or just for everyday use.
Convenience: Choose a roll size that is easy to handle, based on the size of your hands.
Compatibility Of A Holder With Various Towel And Roll Sizes
It's important to ensure that your paper towel holder is compatible with various towel and roll sizes.
Here are some things to keep in mind:
Width: Make sure the holder fits the width of the paper towel roll.
Length: Consider the length of the paper towels you will be using and ensure they fit within the holder's dimensions.
Adjustability: Some holders have adjustable springs or arms to fit various towel and roll sizes.
Importance Of Selecting The Right Size
Selecting the right size of paper towel holder and roll is important to ensure the overall efficiency of your holder.
Here's why:
Wastage: Choosing the wrong size may result in unnecessary wastage, leading to an increase in your expenses.
Convenience: The right size of holder and roll can make it easier to clean up spills or messes without creating a mess yourself.
Aesthetics: Make sure the size of the holder and roll matches the aesthetics of your kitchen.
By choosing the right paper towel holder and roll size, you can improve the functionality, convenience, and overall aesthetics of your kitchen.
Maintenance And Replacement
Best Practices For Maintaining A Paper Towel Holder
A paper towel holder is one of the most commonly used items in a kitchen and requires regular maintenance to ensure its best performance.
Here are some best practices for maintaining a paper towel holder:
Cleaning the holder regularly with a damp cloth is essential to maintain its hygiene.
Avoid using harsh cleansers that could damage the surface of the holder, or cause scratches.
Tighten any loose screws or bolts frequently, since it not only ensures the holder's sturdiness but also increases its longevity.
Lubricate the rotating mechanism occasionally to ensure that the holder spins smoothly without any resistance.
Tips For Cleaning And Changing The Towels
Cleaning paper towel holder is not sufficient. It is important to change the towels regularly to maintain the hygiene of your kitchen.
Here are some tips for cleaning and changing the towels:
Ensure that the hands are clean before exchanging the towels to refrain from spreading germs.
Use good quality biodegradable paper towels because they are more environmentally friendly.
Never overstuff the holder with too many towels, because it could strain the holder and cause it to malfunction.
If you have pets in your home, it is recommended to discard the used paper towels in the trash can instead of reusing them.
Common Problems With Paper Towel Holders And How To Fix Them
Some common problems with paper towel holders include:
Looseness of the screws or bolts
The holder is not spinning properly
Difficulty in changing the towels
Follow these tips to fix the most common issues with paper towel holder:
To fix loose screws, tighten them with a screwdriver or metal pliers, but avoid over tightening to prevent striping.
If the holder is not spinning properly, lubricate the mechanism to restore smooth functionality.
If it's difficult to change the towel, consider removing the holder from the wall and cleaning it or replacing the ribbed rollers if they are too worn out.
Importance Of Regularly Checking For Wear And Tear
Checking for wear and tear is important to maintain the longevity and efficiency of your paper towel holder.
Here's how to do it:
Regularly examine the holder for any wear and tear from constant use.
Replace any worn-out parts promptly, such as the holder's rollers or the screws, to prevent any further damage to the holder.
Inspect the holder's mounting bracket to ensure that it remains securely attached to the desired surface.
By following these tips, you can increase the lifespan of your paper towel holder and save money in the long run.
FAQ On Hanging Paper Towels
How Do You Hang Paper Towels Horizontally?
To hang paper towels horizontally, attach adhesive hooks to the wall and thread paper towels through.
How Can I Hang Paper Towels Vertically?
Hanging paper towels vertically is easy with a paper towel holder, stand, or dispenser.
What Height Should I Place The Paper Towel Holder At?
Hang the paper towel holder at a comfortable height from the floor and within easy reach.
What Type Of Adhesive Hook Is Best For Hanging Paper Towels?
Choose an adhesive hook with a weight capacity higher than the weight of the paper towel roll.
Conclusion
Now that you have learned the various techniques and steps to hang your paper towel the right way, it shouldn't be a daunting task anymore. With the right approach, you can easily organize your home and save yourself some stress.
Remember to choose the best location and method for your paper towel, new or used holder, and use the right materials to hang them.
Hanging paper towels can be convenient in your daily life, whether you choose to use them in the kitchen, bathroom, or workplace.
Always remember to keep your surroundings clean and hygienic. With these simple yet effective steps, you are now equipped to hang your paper towel like a pro, so go ahead, get started, and let the convenience roll!