How to Propagate Succulents Paper Towel? 10 Steps!
Propagating succulents with a paper towel involves a simple process of placing succulent's leaves on a moist paper towel, then keeping this in a well-lit area and waiting for roots and new plants to grow from the base of the leaves.
Succulents, including cacti, are among the most resilient and straightforward plants to propagate. They have adapted to survive harsh conditions and can easily grow from a single leaf or stem.
The paper towel method is particularly useful because the moisture level is easy to control, and the paper towel provides a clean and disease-free environment for the new plants.
Succulent propagation is a cost-effective way to grow your plant collection.
The paper towel method is beginner-friendly and requires minimal tools.
Succulents can grow from a single leaf or stem.
The propagation process takes a few weeks to a few months, depending on the succulent species.
To propagate succulents using a paper towel, first, select healthy leaves from your succulent and leave them to dry for a few days.
After they've dried and calloused, set them on a moist paper towel, ensuring the end that was attached to the plant is in contact with the towel.
Place this setup in a well-lit area but away from direct sunlight. Mist the paper towel whenever it dries out.
In a few weeks, you'll notice roots sprouting from the ends of your leaves. You can then plant these in soil and start a whole new succulent plant.
10 Steps to Propagate Succulents Using Paper Towel
| Steps | Description |
| --- | --- |
| Step 1 | Selection of Succulent Leaf |
| Step 2 | Leaf Drying |
| Step 3 | Preparation of Paper Towel |
| Step 4 | Placement of Succulent Leaf |
| Step 5 | Moistening the Paper Towel |
| Step 6 | Placement in the Plastic Bag |
| Step 7 | Placement in a Warm Area |
| Step 8 | Check for Root Growth |
| Step 9 | Planting in Soil |
| Step 10 | Regular Care |
10 Steps to Propagate Succulents Using Paper Towel
Key Takeaway
Propagation using a paper towel is a simple and effective method to grow new succulents from leaves or cuttings.
Succulent propagation requires optimal conditions, including sunlight, humidity, and proper root formation time.
Patience is a key factor in propagating succulents, as the process can take several weeks to months.
It is vital to start with healthy parent plant material to increase the chances of successful propagation.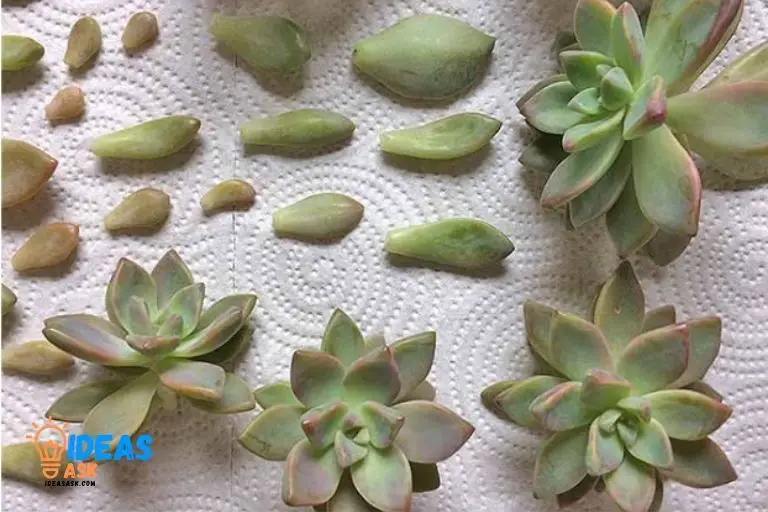 Five Facts About Propagating Succulents with Paper Towel
Succulent propagation by paper towel method is a type of water propagation technique. It involves laying succulent leaf or cutting on a damp paper towel and exposing it to sunlight.
This method is suitable for succulents because the damp paper towel provides the necessary moisture for root development while preventing rot that may occur in standing water.
Rooting hormone can be used to speed up the rooting process, but it's not necessary. Natural rooting will occur when conditions are optimal, which includes sufficient sunlight and warmth.
After the roots appear, the succulents can be planted in soil. However, it must be done gently to prevent damage to the new roots.
The paper towel method of propagation can work with various types of succulents, including Jade plants, Echeveria, and Sedum, among others.
Selecting The Right Succulent For Paper Towel Propagation
Propagation is a fantastic way to expand your plant collection without breaking the bank. While there are many propagation methods, paper towel propagation is one of the easiest and most effective ways to ensure success with succulents.
However, not all succulents are suitable for paper towel propagation. With that in mind, we'll outline the key characteristics of the ideal succulents for paper towel propagation, as well as some recommended species you can try propagating yourself.
Characteristics Of Succulents Suitable For Propagating Using Paper Towels
When it comes to selecting the right succulent for paper towel propagation, it's crucial to keep in mind some essential characteristics that make the process much more straightforward:
Soft leaves: Succulents with soft leaves are easier to propagate with paper towels because their leaves have a higher water content, making them prone to absorbing water.
Pups or offsets: These baby succulents typically develop at the base of the mother plant and are genetically identical to the parent. Pups or offsets grow quicker than seeds since they receive nutrients from the mother plant before they are separated.
Mature leaves: Propagation with mature leaves ensures that there is enough genetic material for the propagation to proceed successfully.
Recommended Succulent Species For Paper Towel Propagation
Some succulent species are easier to propagate than others.
Below are some succulent species we recommend trying out for paper towel propagation:
Echeveria: One of the most popular succulent species is the echeveria, which is known for its rosette-like formation and comes in various colors.
Sedum: This species is relatively easy to propagate using the paper towel method, with its tiny, fleshy leaves that easily take to root.
Graptopetalum: This species is appealing due to its pastel colors and delicate rosette formation. This succulent can take up to four weeks for roots to sprout – so be patient!
Propagating succulents using a paper towel is a straightforward and effective method of expanding your succulent collection.
Ensure you select the right succulent species by keeping in mind the key characteristics and recommended species outlined above. With these tips, you'll be on your way to propagating your plants successfully.
Step-By-Step Guide To Propagating Succulents Using Paper Towel
Succulents can be propagated in many ways, and one of the easiest methods is by using a paper towel.
This method is inexpensive, and all you need are some paper towels, scissors, an empty container, and of course, a succulent! Read on for our step-by-step guide on propagating succulents using a paper towel.
Preparing The Paper Towel
To begin, the paper towel must be moist but not soaking wet. Use a spray bottle or dip the paper towel in water and then wring out the excess water.
The paper towel should be damp enough to absorb some water, but not too wet that it will take forever to dry. Make sure that the paper towel is wide enough to accommodate the succulent stem.
Cutting And Preparing The Succulent Stem
Select a healthy succulent stem and using a clean and sharp pair of scissors, cut it just below the leaf.
Remove the leaves from the bottom of the stem using your fingers, leaving only the upper leaves intact. Give it a day or two to allow the ends of the stem to dry and to prevent rotting.
Placing The Stem On The Prepared Paper Towel
Once the stem has dried, lay it out on the damp paper towel, making sure that the cut end of the stem is in contact with the paper towel.
Gently fold the paper towel over the stem, with the damp part touching the cut end and the dry part facing outwards.
Then, carefully place the paper towel with the stem in an empty container, ensuring that the stem is staying in contact with the moist paper towel.
Preparing The Empty Container For Planting
Prepare the empty container where you'll plant the propagated succulent by filling it with a moist and well-draining soil mix.
Use a spoon or your fingers to create a small hole in the soil, where you will carefully place the stem. Avoid placing the succulent too deep into the soil.
Watering And Caring For The Propagated Succulent
After planting, water the soil until moist, and the paper towel should be wet. Keep the container in a bright but indirect light spot and avoid overwatering as this will lead to rotting.
Once the newly propagated succulent has developed roots, the paper towel will dry up, and you can remove it.
In no time, your succulent will grow into a healthy plant!Propagating succulents using paper towels is a very simple and effective method.
With this step-by-step guide, you can now propagate your own succulents without any hassle and watch them grow. Enjoy!
Caring For Propagated Succulent After Planting
You've successfully propagated your succulent, congratulations! But, what's next? It's essential to take proper care of your new plants to ensure their survival.
Here are the key points to remember when it comes to caring for propagated succulents.
Light Requirements
Place your propagated succulent in an area with bright, indirect sunlight.
Avoid direct sunlight, as it can cause the leaves to burn.
Keep your succulent away from drafty windows or doors.
Rotate the plant every few weeks to promote even growth.
Adjust the light exposure based on the succulent species.
Watering Requirements
Water your propagated succulent sparingly, only when the soil is dry.
Avoid overwatering, which can lead to root rot.
Water the soil directly, avoiding the leaves.
Use well-draining soil mix that allows water to pass through quickly.
Consider using a moisture meter if you're not sure when to water.
Soil Requirements
Succulents thrive in well-draining soil that has a lot of sand.
Consider a ready-made soil mix specifically designed for succulents.
Mix in some perlite or coarse sand to help improve drainage.
Avoid using heavy, clay-like soil, which can retain too much moisture.
Fertilizer Needs
Succulents don't need much fertilizer, but you can occasionally feed them during the growing season.
Use a balanced, water-soluble fertilizer diluted to half strength.
Apply the fertilizer sparingly, only once a month during the growing season.
Avoid fertilizing during the dormant season.
Always follow the instructions on the fertilizer label.
With proper care, your propagated succulent should grow and thrive, adding beauty to your space. Happy gardening!
Troubleshooting Tips For Paper Towel Propagation
Propagating succulents has become a popular trend among plant enthusiasts due to their easy-to-care nature.
One of the most effective propagation methods is through paper towel propagation. This method not only saves space but also promotes the growth of root systems.
However, just like any plant propagation method, issues may arise. This article will provide troubleshooting tips for paper towel propagation so that you can ensure a successful propagation process.
Challenges That May Arise During The Propagation Process
Propagation of succulent plants through paper towels may not be 100% foolproof.
Some factors that may pose a challenge during the process may include:
Overwatering or underwatering of propagules
Absence of humidity
Insufficient light
Inadequate airflow
Causes And Remedies For Stunted Or Withered Propagules
Stunted or withered propagules are a common occurrence in the propagation of succulent plants.
This may be a result of several factors such as:
Overwatering: Overwatering propagules may lead to rotting of the leaves, which then affects the strength of the roots.
Remedy: Allow the propagules to dry out before watering again.
Low humidity: Low humidity may cause the leaves of the propagules to wither.
Remedy: Provide sufficient humidity around the propagules by using a grow dome or covering the container with clear plastic.
Lack of light: Insufficient light may lead to the weakening of the plant cells, which then affects the growth of the roots.
Remedy: Provide sufficient light for the propagules by placing them in a bright, but not too harsh, light source.
Poor airflow: Insufficient airflow may lead to the accumulation of moisture, which may cause the rotting of the leaves.
Remedy: Allow for adequate airflow around the propagules by ensuring that they are not overcrowded, and there is proper ventilation around them.
Other Tips To Help Ensure Successful Propagation
To ensure a successful paper towel propagation process, consider the following tips:
Use fresh leaves: Always use fresh, healthy leaves for propagation.
Proper hydration: Water the propagules from the bottom to avoid rotting of the leaves.
Use rooting hormone: Apply rooting hormone to the cuttings to encourage root growth.
Patience: The propagation of succulent plants may take time, so be patient and do not disturb the developing roots.
Paper towel propagation can be an effective way of propagating succulent plants. However, challenges such as overwatering, low humidity, lack of light, and poor airflow may arise during the process.
To remedy these challenges, ensure that you provide the appropriate care and attention to the propagules.
Using fresh leaves, proper hydration, rooting hormone, and patience are other tips that can help ensure a successful propagation process.
FAQ On Propagating Succulents with Paper Towel
How Long Does It Take For Succulent Cuttings To Root?
It can take between 2 and 6 weeks for succulent cuttings to root.
Can You Propagate Any Succulent In A Paper Towel?
Many succulents can be propagated using the paper towel method.
What Kind Of Soil Is Best For Propagating Succulents?
Use a well-draining soil mix that is specifically formulated for succulents propagating.
How Often Should You Water Propagated Succulents?
Water succulent cuttings once or twice a week, but ensure the soil is completely dry first.
Can You Propagate Succulents Straight Into Soil Instead Of Using Paper Towel?
Yes, you can propagate succulents directly in soil instead of using the paper towel method.
Conclusion
To sum it up, propagating succulents using the paper towel method is an affordable and easy way to grow new plants. It's a fun way to experiment with plants and have a sustainable collection.
This technique can be done using only household items and requires minimal effort. Remember to be patient and check the progress of your propagating plant frequently.
It's essential to ensure that the paper towel stays damp and to avoid overwatering. With some practice and patience, anyone can successfully propagate their succulent plants using this method.
Now that you know how to propagate succulents using the paper towel method, you can start expanding your succulent collection, and your friends may even ask you for some plant cuttings!