How to Germinate Strawberry Seeds in Paper Towel? 10 Steps!
To germinate strawberry seeds in a paper towel, you need to prepare the seeds, create a moist environment, maintain the ideal temperature, and transplant the seedlings once they sprout.
Germinating strawberry seeds in a paper towel is a simple and effective method that promotes healthy seedling growth.
The process involves placing seeds on a moist paper towel, sealing them in a plastic bag, and providing optimal conditions for germination.
Pre-chilling the seeds helps break dormancy
Using a moist paper towel ensures proper hydration for the seeds
Sealing the seeds in a plastic bag retains moisture and warmth
Monitoring the temperature is crucial for successful germination
Pre-chilling the seeds for 2-4 weeks by placing them in the refrigerator can improve germination rates, as strawberries require a period of cold stratification to break dormancy.
After chilling, place the seeds on a moist paper towel and fold it over to cover them. Slide the towel into a plastic bag and seal it tight to maintain humidity.
Store the bag in a warm location with a temperature between 60-75°F (15-24°C). Check the seeds regularly, and once they sprout, transplant the seedlings to individual containers filled with seed-starting mix or potting soil, taking care not to damage the delicate roots.
Step-by-Step Guide to Germinating Strawberry Seeds in Paper Towel
| Step | Description |
| --- | --- |
| 1 | Obtain fresh strawberry seeds from a ripe strawberry or purchase them online or in-store. |
| 2 | Place the seeds in a small bowl and rinse them with distilled water to remove any debris. |
| 3 | Fold a paper towel in half and thoroughly wet it with distilled water. |
| 4 | Spread the strawberry seeds evenly across the wet paper towel, taking care not to place the seeds too close together. |
| 5 | Fold the paper towel over the seeds, making sure all seeds are completely covered and surrounded by the moist paper towel. |
| 6 | Put the folded paper towel with seeds inside a resealable plastic bag, gently pressing air out before sealing. |
| 7 | Label the plastic bag with the date, so you can track the germination process. |
| 8 | Place the plastic bag in a warm location (60-75°F / 15-24°C), away from direct sunlight. |
| 9 | Check the moisture level of the paper towel daily. If it begins to dry out, gently mist it with distilled water to maintain the moisture. |
| 10 | After 14-30 days, the strawberry seeds should begin to germinate. Once the seedlings are approximately 1/4 inch (0.6 cm) tall, they can be transplanted into small pots or another suitable growing medium. |
Step-by-Step Guide to Germinating Strawberry Seeds in Paper Towel
Key Takeaway
Strawberry seeds need the right environment and care for successful germination
Using a paper towel is an effective and low-cost method for germinating seeds
Maintaining moisture and temperature levels throughout the process is crucial for successful germination
Paper towel germination allows for easy observation and transplanting of sprouted seeds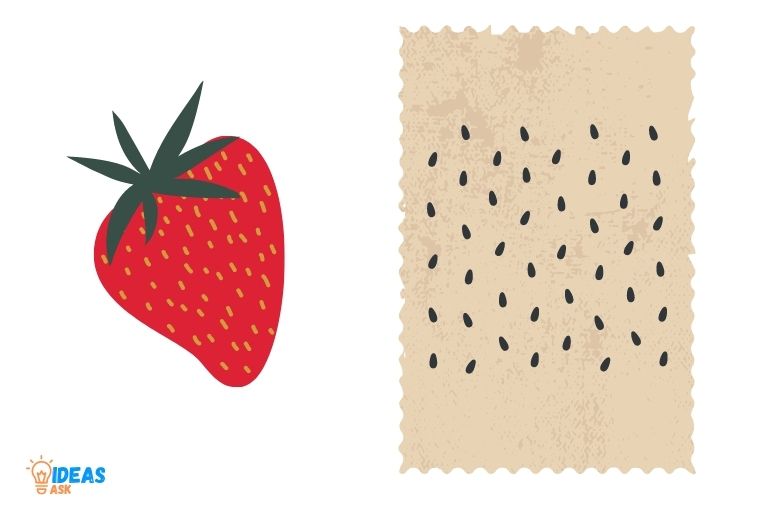 Five Facts About about Germinating Strawberry Seeds in Paper Towel
Strawberries can be easily grown from seeds and doing so allows gardeners to have access to various varieties that may not be available as transplants (Source: Gardening Know How)
When using a paper towel to germinate strawberry seeds, dampen the towel and place the seeds on one half of the towel before folding the other half over the seeds; this creates a moist environment that promotes germination (Source: Leafy Place)
It's essential to keep the paper towel moist throughout the germination process but not soggy; seeds may rot in excessively wet conditions (Source: MIgardener)
Temperature plays a significant role in strawberry seed germination, with an optimal range lying between 60-75°F (15-24°C); a heat mat or a consistently warm spot can be used to maintain temperature (Source: Gardener's Path)
Strawberry seeds can take 2-6 weeks to germinate, allowing for easy observation and transplanting into individual pots when sprouts reach approximately 1 inch (2.5 cm) in height (Source: Garden.eco)
Understanding The Basics Of Germinating Strawberry Seeds
Germinating strawberry seeds in paper towel is a cost-effective way of starting new strawberry plants.
This method is not only affordable but also allows you to start multiple plants at once. In this section, we will discuss the basics of germinating strawberry seeds using paper towel.
Why Germinate Strawberry Seeds In Paper Towel?
Germinating strawberry seeds in paper towel is the most common and easiest method that requires less effort and space.
Here are the reasons why you should choose this method:
Keeps the seeds in an ideal environment for quicker germination.
Prevents seed mold formation.
Easy to control the moisture level for successful germination.
Allows you to monitor seed development.
What Is The Ideal Time To Germinate Strawberry Seeds?
To maximize the success rates, germinating strawberry seeds during the early stages of spring when temperatures ranging from 60°f (15. 6°c) to 75°f (23. 9°c) is best. However, strawberry seeds can also be germinated in any season indoors.
What Are The Supplies Needed For Germinating Strawberry Seeds In Paper Towel?
Before germinating your strawberry seeds in paper towel, you should have the following supplies at hand:
Strawberry seeds
Paper towel
Ziplock bag or container with a lid
Water spray bottle
Permanent marker for labeling the container
To begin the process,
Take a sheet of paper towel and fold it in half twice so that it forms a square.
Wet the paper towel thoroughly with a spray bottle containing water but do not let it becomes too wet.
Place the strawberry seeds on one half of the paper towel, spacing them equally.
Fold the other half over the seeded half and press gently.
Place the folded paper towel containing seeds in a labeled zipped bag or container with a lid. The lid or sealed bag enhances moisture retention.
Store the container or bag in a warm place where air circulation is good.
Check the paper towel regularly to ensure it is moist and not moldy.
In about 1-2 weeks, you should start to see the seeds sprout.
Once the roots are visible, you can transplant them in a pot or garden bed.
Germinating strawberry seeds in paper towel is a fun and easy method to start your strawberry garden. With patience, you'll soon be enjoying some juicy strawberries right from your own backyard!
Preparing The Strawberry Seeds For Germination
Germinating strawberry seeds is a fruitful activity for both novice and experienced gardeners and a great way to grow fresh strawberries in your garden. In this post, let's discuss how to germinate strawberry seeds using a simple method – paper towel germination.
Among the many advantages of this method is that it's an affordable way to propagate strawberry plants, allows you to choose the best seeds for planting and reduces the time it takes you to cultivate new plants.
Choosing The Right Strawberry Seeds
The first step to successful germination is selecting the right kind of seeds. Make sure the seeds you purchase are fresh and obtained from a reputable source to ensure they are not genetically modified or contaminated.
Look for certified, untreated seeds with a high germination rate, and preferably choose an open-pollinated variety suited for your growing zone.
When purchasing seeds, keep in mind that strawberry seeds come in two kinds – the compact seeds and the elongated seeds.
The compact seeds are male, while the elongated ones are female. Female strawberry seeds are the best option because they are the ones that produce the juicy, large strawberries.
Cleaning And Disinfecting The Seeds
Before transferring the strawberry seeds to a paper towel, you must clean and disinfect the seeds. This process eliminates any bacteria or fungal spores on the seeds, reducing the risk of harming the germination process.
To clean the seeds, mix a teaspoon of vinegar with a cup of water and soak the seeds in the mixture for 30 minutes. Rinse the seeds with tap water until they are clean. Remember to be gentle while washing the seeds to avoid damaging them.
Pre-Soaking The Seeds
Bottom Of Form
After washing and disinfecting the seeds, soak them before transferring them onto the paper towel. Soaking increases the chances of germination by softening the seed coat and breaking the seed dormancy.
Prepare an ideal pre-soaking solution by mixing water and 3% hydrogen peroxide. The solution ratio should be ten parts water to one-part hydrogen peroxide.
Place the seeds in the solution and let them soak for about six hours. This process will help fight against any diseases or mold problems that affect the strawberry seeds.
So those are the steps necessary to germinate strawberry seeds via paper towel germination. Hopefully, this article will guide you towards successfully growing your desired type of strawberry plants. Happy gardening!
Germination Process – Step By Step Guide
Strawberries are a delightfully sweet fruit commonly used in desserts or eaten fresh. If you're hoping to grow your own delicious strawberries, consider germinating the seeds indoors using a paper towel. This method ensures that your strawberries will grow quickly and healthily.
Step 1: Wrapping The Seeds In Damp Paper Towel
The first step in germinating your strawberry seeds is to wrap them in a damp paper towel.
This process can be done by placing the seeds on the paper towel and folding it over, making sure that the seeds are covered. The paper towel should not be soaking wet but damp instead.
Step 2: Placing The Paper Towel In A Sealed Plastic Bag
Once you have wrapped the seeds in a damp paper towel, place them in a sealable plastic bag. This bag should be airtight to ensure that the moisture stays inside. You can use a ziplock bag or any other type of sealable plastic bag.
Step 3: Storing The Bag In A Warm, Dark Place
The next step is to store the sealed plastic bag containing the paper towel and seeds in a warm, dark place. This ensures that the seeds have the right conditions to germinate. You can place the bag in a warm cupboard or a utility room.
Step 4: Checking And Watering The Seeds Regularly
While waiting for the seeds to germinate, make sure to check them regularly. Inspect the paper towel for moisture levels and ensure that it remains damp.
Spritz the paper towel with water when it becomes dry. This will prevent the seeds from drying out, allowing them to germinate correctly.
Step 5: Transferring The Germinated Seeds To A Pot Or Seed Tray
Once the seeds have germinated, transfer them to a pot or seed tray, making sure that each seed has sufficient space to grow.
Plant the seeds just below the soil's surface, and water them well. Keep the pot or tray in a sunny location and make sure to keep the soil adequately watered.
Germinating strawberry seeds using a paper towel is a great way to grow healthy and tasty strawberries indoors.
The paper towel method provides the optimal conditions for the seeds to germinate correctly without any special equipment or tools. Follow these simple steps to create the perfect environment for your strawberry seeds to grow!
Caring For Germinated Strawberry Seeds
Germinating strawberry seeds is a fun and rewarding way to grow your own delicious red-studded fruit. But once you've successfully nurtured the seeds into baby plants, it's important to take good care of them to ensure they thrive.
Here are some tips for caring for germinated strawberry seeds.
Light And Temperature Requirements For The Germinated Seeds
Germinated strawberry seeds prefer bright but indirect light, as direct sunlight can be too strong for their delicate leaves.
They also need to be kept at a temperature range of 60-75 degrees fahrenheit, which is optimal for their growth.
Fertilizer And Soil Requirements
Germinated strawberry seeds need to be planted in a well-draining soil mix that is rich in organic matter.
Once the seedlings have grown two true leaves, they can be fertilized with a diluted liquid fertilizer every two weeks.
Tips For Hardening Off And Transplanting The Seedlings
Prior to transplanting the seedlings outside, you'll need to harden them off by gradually exposing them to outdoor conditions over a period of 7-10 days.
When planting the seedlings outside, choose a sunny location with well-draining soil.
Add a layer of mulch around the base of the plants to help retain moisture in the soil and keep the fruit clean.
By following these simple care tips, you'll be able to take your germinated strawberry seeds from tiny sprouts to bountiful fruit producers.
Remember to keep an eye on their light, temperature, and fertilizer needs, and to give them plenty of tlc as they grow.
Happy planting!
FAQ About Germinating Strawberry Seeds In Paper Towel
Can All Types Of Strawberry Seeds Be Germinated Using Paper Towel Method?
Yes, the paper towel method works for all types of strawberry seeds.
How Long Does It Take For Strawberry Seeds To Germinate In A Paper Towel?
It takes around 1 to 3 weeks for strawberry seeds to germinate using the paper towel method.
Can I Use A Plastic Bag Instead Of A Ziplock Bag For The Paper Towel Germination Method?
Yes, you can use a plastic bag instead of a ziplock bag for the paper towel germination method.
What Should I Do After The Strawberry Seeds Have Germinated?
After the strawberry seeds have germinated, carefully transfer them into a pot with moist soil and provide adequate sunlight and water.
Conclusion
Growing strawberries from seed is an exciting experience that can yield a bountiful harvest. The paper towel method provides an easy and inexpensive way to germinate strawberry seeds, making it a popular choice for many gardeners.
By following the step-by-step instructions outlined in this article, you can successfully germinate your own strawberry seeds and start your very own strawberry patch. Keep in mind, however, that the success of your seeds' germination will depend on a variety of factors, including temperature, humidity, and lighting.
With time and patience, you can watch your tiny seeds transform into robust seedlings that will eventually produce juicy, delicious strawberries. So, what are you waiting for? Give the paper towel method a try and enjoy the fruits of your labor!