How to Use Less Paper Towels? 8 Tips & Tricks!
To use less paper towels, adopt sustainable alternatives, adjust your usage habits, and implement recycling programs in your daily routine.
Using less paper towels is essential for reducing waste, conserving resources, and promoting a healthier environment.
By adopting more sustainable alternatives and changing our daily habits, we can significantly cut down on paper towel usage and make a positive impact on our surroundings.
Opt for reusable, washable cloths or towels
Use the "shake and fold" method to minimize paper towel usage
Keep a small hand towel by your side for drying hands
Implement a recycling program for used paper towels
Reusable, washable cloths are a great way to cut down on paper towel usage. They can be washed and used multiple times, making them an eco-friendly and cost-effective option.
The "shake and fold" method involves shaking your hands dry after washing and folding the paper towel before use, reducing the amount needed.
Carrying a small hand towel with you can help you avoid using paper towels altogether. Lastly, implementing a recycling program for used paper towels can help minimize the environmental impact of their disposal.
8 Effective Tips for using less paper towels
| Tips for using less paper towels | Description |
| --- | --- |
| 1. Use reusable cloths instead | Keep a stock of reusable cloths, like microfiber or dish towels, in your kitchen and use them for wiping up spills, cleaning surfaces, and drying hands. |
| 2. Buy unbleached paper towels | Unbleached paper towels are not only better for the environment, but their brown color can also remind you to use them more sparingly. |
| 3. Reduce the number of paper towels per use | Try to use just one or two sheets for each task, or even tear sheets in half to use smaller portions. |
| 4. Use the "shake and fold" technique | Shake your hands vigorously over the sink to remove as much water as possible before using a paper towel, then fold the towel in half to increase its absorbency. |
| 5. Air dry when possible | Instead of using paper towels, let dishes and hands air dry or use an electric hand dryer if available. |
| 6. Compost used paper towels | Composting paper towels can keep them out of landfills and give them a second life in your garden. Not all paper towels are compostable, so be sure to check before adding them to your compost. |
| 7. Place a reminder near the dispenser | A small note or sign reminding people to use less paper towels can help reduce usage in shared spaces like offices or public restrooms. |
| 8. Opt for a smaller dispenser | A dispenser that holds fewer paper towels can encourage users to take fewer sheets at a time. Alternatively, use a dispenser that releases only one sheet at a time. |
8 Effective Tips for using less paper towels
Key Takeaway
Implementing eco-friendly habits
Saving money by using less paper towels
Creating a cleaner and more sustainable living environment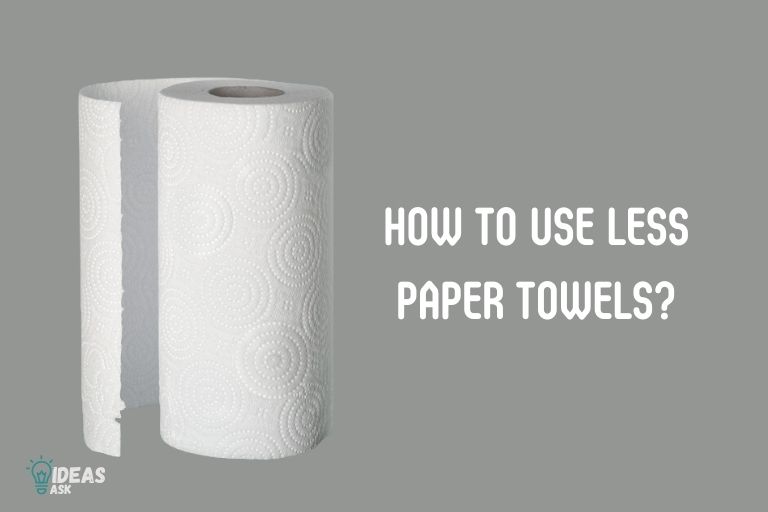 Five Facts About Using Less Paper Towels
Reusable alternatives like microfiber cloths, cotton towels, and sponge cloths are more sustainable and eco-friendly than paper towels (source: EcoWatch).
Americans use around 13 billion pounds of paper towels per year, contributing to deforestation and mass waste production (source: Environmental Protection Agency.
Using a single paper towel is enough to absorb most spills by folding it in half, maximizing its efficiency and decreasing the number of paper towels used per incident (source: Medium).
A study conducted by MIT researchers found that the best method for drying hands efficiently with minimal paper towel usage is the "shake and fold" method, which involves shaking off excess water before folding the paper towel and using it to dry hands (source: MIT).
Eliminating or reducing the use of paper towels also contributes to reducing the carbon footprint and energy consumption associated with their production and disposal (source: Green America).
Why You Should Use Less Paper Towels
The Negative Impact Of Paper Towel Production On The Environment
Paper towels have become a staple in many households, but their convenience comes at an environmental cost.
Here are some ways in which paper towel production harms the environment:
Trees are cut down to make paper towels, leading to deforestation and habitat loss for wildlife.
Producing paper towels uses a significant amount of water and energy, contributing to water scarcity and greenhouse gas emissions.
Once used, paper towels often end up in landfills where they can take years to decompose, contributing to pollution and greenhouse gas emissions.
Cost-Saving Benefits Of Reducing Paper Towel Usage
Reducing your use of paper towels doesn't just benefit the environment, it can also save you money in the long run.
Here's how:
By using cloth towels or rags instead of paper towels, you can save money on paper towel purchases.
Cloth towels are reusable, meaning you'll need to purchase fewer paper towels over time.
Decreasing your use of paper towels can also lead to lower waste disposal costs and even savings on your water and energy bills.
Health Benefits Of Using Fewer Paper Towels In Your Home
Using fewer paper towels in your home can also improve your family's health.
Here are a few reasons why:
Many paper towels contain chemicals such as chlorine and formaldehyde that can be harmful to human health.
Using reusable cloth towels reduces the amount of chemical exposure in your home.
Using cloth towels also eliminates the risk of inhaling airborne fibers produced by paper towels.
Reducing your use of paper towels is a simple and effective way to make a positive impact on the environment, save money, and improve your family's health.
So go ahead, ditch those paper towels and switch to a more sustainable option!
Practical Tips On Using Fewer Paper Towels
Let's face it, paper towels can be extremely convenient in our daily lives. However, they can also be incredibly wasteful.
Did you know that americans alone use nearly 13 billion pounds of paper towels every year? That's a lot of trees being cut down and potentially wasted.
So, how can we use less paper towels? Here are some practical tips:
Alternative Ways Of Cleaning Spills And Messes Without Using Paper Towels:
Use newspaper to absorb spills and clean glass surfaces
Utilize a squeegee for cleaning windows and mirrors
Use a dustpan and brush to sweep up dry spills
Use a washcloth or rag for cleaning up small messes
Using Cloth Towels Or Reusable Cleaning Wipes:
Swap out your paper towel habit for reusable cloth towels or cleaning wipes.
Not only will this save you money in the long run, but it's also much better for the environment. Simply toss them in the washing machine when they get dirty and reuse them again and again.
Utilizing Sponges And Dishrags:
Sponges and dishrags are perfect for cleaning up wet messes and spills. Keep a few designated ones in your kitchen for easy access and make sure to wash them frequently to prevent bacteria build-up.
Types Of Messes That Should Be Cleaned With Paper Towels:
While we may want to completely eliminate our use of paper towels, there are still certain messes that are better suited for them.
Here are a few examples:
Cleaning up raw meat juices to prevent cross-contamination
Soaking up oil spills as they can be extremely difficult to clean with just a cloth
Cleaning up pet messes as they can be unsanitary
Tips To Reduce The Amount Of Paper Towels You Use In Your Daily Life:
Keep a designated spot for reusable towels and cloths in your kitchen and bathroom
Use fewer paper towels by tearing them in half or using them only when necessary
Opt for cloth napkins instead of paper towels at mealtime
Lastly, be mindful of your paper towel use and do your best to switch to more eco-friendly alternatives.
By implementing some of these tips and tricks, you can use less paper towels and help reduce your carbon footprint. It's a small change, but it can make a big difference in the long run.
Diy Reusable Paper Towels
Are you tired of constantly buying and wasting money on paper towels? Maybe it's time to switch to reusable paper towels.
Not only is it better for the environment, but it's also cost-effective and easy to make from the comfort of your home.
Materials Needed To Make Reusable Paper Towels
To make reusable paper towels, you'll need a few materials that you might already have around your home.
Here's what you'll need:
Cotton flannel fabric
Sewing machine
Rotary cutter or scissors
Ruler
Cutting mat
Step-By-Step Instructions To Create Reusable Paper Towels At Home
Now that you have everything you need, let's get started on creating your own reusable paper towels.
Cut your cotton flannel fabric into 12″ squares using either a rotary cutter or scissors. You should aim for around 10 squares, but this can vary depending on your household needs.
Set up your sewing machine and fold each square in half with the right sides facing inward. Sew a straight stitch down the side opposite the fold, leaving the fold open.
Turn your fabric right-side-out and fold the open end inward by about half an inch. Pin it in place.
Sew a straight stitch all the way around the edge of the fabric, leaving a small gap at the end.
Turn your fabric inside out through the gap and stitch the gap closed.
Finally, top stitch around the edge and you're done!
Advantages Of Using Reusable Paper Towels
Not only are reusable paper towels better for the environment and cost-effective, but they also have several other advantages.
Durability: Reusable paper towels are much more durable than their disposable counterparts, meaning they'll last longer and save you money in the long run.
Absorbency: Cotton flannel is highly absorbent, making these towels perfect for cleaning up spills and messes.
Versatility: Reusable paper towels can be used in a variety of ways, including as napkins or even as baby wipes.
Customization: You can choose whatever fabric designs and colors you like, making these towels not only functional but also a stylish addition to your home.
Making your own reusable paper towels can be a fun and rewarding diy project, and the benefits are endless. Give it a try and see how much money and waste you can save!
FAQ On Use Of Paper Towels
How Can I Reduce My Paper Towel Usage?
You can use reusable cloths or towels instead of paper towels. Consider investing in a quality set of towels that can be washed and used numerous times.
Why Are Paper Towels Considered Wasteful?
Paper towels are single-use products that create excess waste and take time to break down in landfills, leading to environmental harm.
How Much Money Can I Save By Reducing Paper Towel Use?
The amount saved depends on usage, but a family that switches to reusable towels could save $100 or more per year.
What Are Some Alternatives To Using Paper Towels?
Consider using microfiber cloths, dish cloths, or bar mop towels. These options are reusable and can be washed and used multiple times.
How Do I Encourage My Family To Use Less Paper Towels?
Encourage your family to use reusable options, such as dish cloths or bar mop towels, and make sure they have easy access to them. Consider setting up a designated space for reusable towels.
Conclusion
As we've seen, using paper towels less frequently is a simple yet impactful lifestyle change that can help reduce waste and save money.
By implementing these few easy tips, such as using cloth towels, air-drying, and opting for reusable microfiber cloths for spills, we can significantly reduce our paper towel usage.
Additionally, we now know the staggering amount of waste caused by disposables and the environmental and economic benefits of reducing it. With a little effort, we can all make a difference in preserving our planet for future generations.
So, let's start today, make small changes and be a responsible global citizen. Remember, every effort counts, and together we can create a cleaner, greener, and healthier world.