Napkins Vs Paper Towels! Comparison
Napkins and paper towels are both essential paper products used in households and various settings for cleaning and wiping purposes.
Although they serve similar functions, they have noticeable differences in terms of size, texture, absorbency, and intended purpose.
Napkins are typically smaller and softer in texture, making them suitable for wiping faces and hands during meals. They come in a variety of materials, including paper, cloth, and linen, adding an aesthetic aspect to dining experiences.
On the other hand, paper towels have a larger size and higher absorbency, making them ideal for cleaning spills and wiping surfaces, including countertops, glass, and appliances.
Napkins are smaller and softer, while paper towels are larger and more absorbent.
Napkins are often used during meals for wiping faces and hands, while paper towels are used for cleaning spills and surfaces.
Napkins may be made from paper, cloth, or linen, while paper towels are exclusively made from paper.
Paper towels can be found in perforated rolls, whereas napkins are usually pre-cut and individually folded.
In summary, both napkins and paper towels play a vital role in maintaining cleanliness and hygiene in various settings. Napkins are designed specifically for dining and personal usage, offering a softer and more elegant touch.
In contrast, paper towels provide a higher level of absorbency and versatility, making them an indispensable tool for household cleaning tasks and managing messes.
8 Feature Comparison Between Napkins & Paper Towels
| Feature | Napkins | Paper Towels |
| --- | --- | --- |
| Material | Paper, cloth | Paper |
| Size | Smaller | Larger |
| Thickness | Thinner | Thicker |
| Absorbency | Moderate | High |
| Usage | Dining, social events | Cleaning, drying |
| Reusability | Cloth: High, Paper: Low | Low |
| Cost | Cloth: Higher, Paper: Lower | Lower |
| Environmental Impact | Cloth: Lower, Paper: Higher | Higher |
8 Feature Comparison Between Napkins & Paper Towels
Key Takeaway
Environmental impact: Napkins and paper towels differ greatly in their impacts on the environment, with one being more sustainable and eco-friendly than the other.
Usage and functionality: Napkins and paper towels each have specific use cases, making one more suitable when compared to the other based on the intended function.
Cost-effectiveness: Depending on the usage requirements, either napkins or paper towels may be more economical.
Material and production: The materials and production processes for napkins and paper towels influence their overall impact on the environment and their qualities.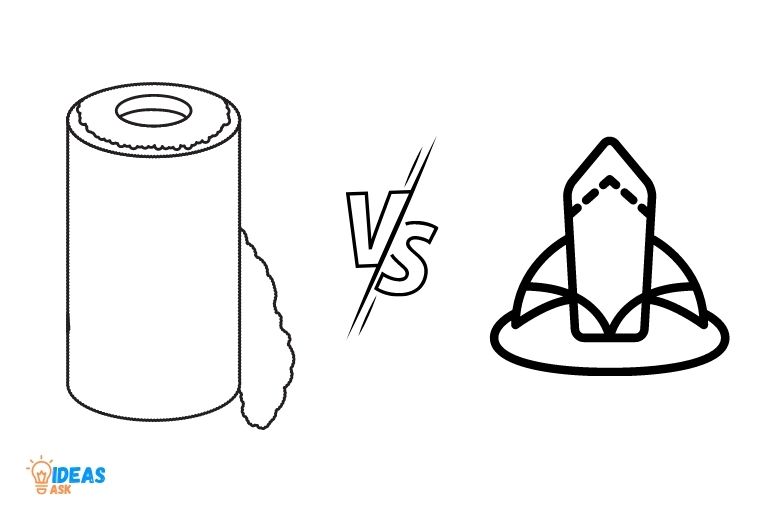 Five Facts About Comparison Between Napkins & Paper Towels
Environmental impact: Traditional paper towels are known to contribute to deforestation, whereas cloth napkins are more sustainable and can be reused many times (source: Earth911).
Disposability: Paper towels are typically single-use and disposable, adding to waste generation, while napkins (especially cloth ones) are designed to be washed and reused (source: Huffington Post).
Efficiency: In terms of liquid absorption, paper towels, especially those made of thick paper, are often more efficient due to their textured surface and higher absorbency (source: Real Simple).
Intended use: Napkins are primarily used during meal times or as decorative table linens, while paper towels are more versatile and can be used for cleaning surfaces and spills (source: Taste of Home).
Material differences: Paper towels often contain materials like virgin pulp or recycled paper products, whereas cloth napkins are made from cotton or linen (source: Paperless Kitchen).
Environmental And Social Impacts Of Paper Towels
Napkins vs paper towels: environmental and social impacts of paper towels
When we think of napkins and paper towels, our first thought is often focused on their convenience. Both quickly clean up messes, spills and stains.
However, with paper towels, there is a hidden cost that is often overlooked. This article focuses on the environmental and social impacts of paper towels in an effort to improve our perspective on the use of paper towels.
Deforestation And Its Effect On Carbon Footprint
Deforestation is one of the major concerns when it comes to paper towel production, as it contributes to the carbon footprint.
Here are some key takeaways:
Trees are the primary material used in the production of paper towels, and they are non-renewable.
Deforestation contributes to the reduction of trees that absorb carbon dioxide from the atmosphere, which is a major cause of climate change.
The process of producing paper towels releases greenhouse gases, which contribute to the carbon footprint.
To minimize the negative impact of paper towels on the environment, we need to reduce our consumption and opt for biodegradable alternatives such as cloth napkins.
Water Pollution Caused By Paper Towel Manufacturing
Another significant impact of paper towel production is the water pollution caused by the manufacturing process.
Here are some key takeaways:
The process of pulp and paper production results in dioxin production, which is highly toxic.
The pulp and paper-making process uses large amounts of water, which is subsequently treated with chemicals to remove impurities and pollutants.
These chemicals can result in water pollution and can negatively impact aquatic life.
Choosing reusable napkins and towels can significantly reduce water pollution from paper towel production.
Social Issues Related To The Production Of Paper Towels
Apart from the environmental impact, paper towel production also raises social issues.
Here are some key takeaways:
The production of paper towels often takes place in developing countries, where labor laws and regulations are lax.
The workers in these factories often work long hours with low wages, resulting in poor living conditions and minimal social protections.
The primary consumers of paper towels – developed countries like the u.s. – contribute to the exploitation of workers in developing countries.
Choosing to reduce our consumption of paper towels can help to promote good labor practices and social responsibility in the manufacturing industry.
The impacts of paper towel production are multifaceted. Increased consumption of paper towels contributes to deforestation, water pollution, and poor labor practices, which in turn negatively impact the environment and society.
To minimize our environmental and social impact, it's important to reduce our use of paper towels and consider alternative options such as reusable cloths.
Environmental And Social Benefits Of Napkins
Napkins Vs Paper Towels: Environmental And Social Benefits Of Napkins
When it comes to personal and kitchen hygiene, one of the most common products that we use are napkins and paper towels.
However, each of these products come with their own unique attributes. While paper towels offer convenience, napkins are more environmentally friendly.
In this blog post, we'll explore the sustainable harvesting methods of cotton and other napkin materials, discuss the positive impact of using cloth napkins on the environment, and consider the role of napkins in minimizing carbon footprint.
Sustainable Harvesting Methods Of Cotton And Other Napkin Materials
The world is currently facing severe climate change and environmental damage. Napkins made of sustainable materials not only reduce waste but also benefit the environment in the farming process.
Here are some sustainable harvesting methods used for cotton and other napkin materials:
Organic cotton: This type of cotton is grown without the use of harmful pesticides and fertilizers. It is also machine harvested and ginned, which is more energy-efficient than hand-picking.
Linen: Linen is derived from the flax plant and is generally grown in europe and asia. It's environmentally friendly as it requires less water and pesticides than cotton.
Bamboo: Bamboo is another eco-friendly option as it's fast-growing, requires less water, and doesn't need any pesticides.
Positive Impact Of Using Cloth Napkins On The Environment
Using cloth napkins rather than paper towels is a simple yet effective way to contribute to the environment.
Here are some environmental benefits of using cloth napkins:
Reduced waste: By using cloth napkins, you can drastically reduce waste and environmental pollution caused by paper towels.
Energy efficiency: While paper towel production requires a significant amount of energy, cloth napkins only require energy for washing and drying. This can save a lot of resources in the long run.
Reusability: Cloth napkins can be used multiple times before needing to be replaced, making them a more sustainable option.
Discussion Of The Role Of Napkins In Minimizing Carbon Footprint
When it comes to minimizing carbon footprint, napkins play an important role.
Here are some ways in which napkins can help:
Reducing waste: As mentioned earlier, using cloth napkins helps reduce waste and pollution caused by paper towels.
Energy efficiency: Using cloth napkins can help save energy as they require less energy for production than paper towels.
Encouraging sustainable practices: Using reusable products like cloth napkins can encourage a sustainable lifestyle and mindset. This, in turn, can promote environmentally friendly practices, leading to a healthier future.
Understanding the environmental and social benefits of using napkins can be a significant step in the right direction.
From harvesting to daily use, napkins offer benefits such as reduced waste, energy efficiency, and promoting sustainable practices.
By choosing to use napkins, we can all take small but impactful steps towards a cleaner, greener, and more sustainable world.
Cost-Effectiveness Of Napkins Vs Paper Towels
Explanation Of The Long-Term Savings Of Using Napkins Compared To Paper Towels
Making a switch from paper towels to napkins as a primary source of cleaning up can bring about a significant reduction in cost in the long run. Although paper towels are cheap, their disposable nature means you need to keep purchasing them frequently.
Napkins, on the other hand, may have a higher upfront cost but offer long-term savings due to their efficient and reusable nature.
Initial Cost Comparison Of Different Napkin And Paper Towel Products
Before making a switch from paper towels to napkins, it is essential to consider the different options available in the market.
The upfront cost of quality napkins may be higher than the cost of paper towels but investing in high-quality napkins can be more cost-effective in the long run.
Quality napkins are durably made with the ability to withstand several washings, making them an ideal option for regular use.
When it comes to paper towels, opting for brands that offer more sheets for the price can help in reducing overall costs.
However, using a lot of single-use paper towels in the long run can result in more expenses than investing in a reusable and washable napkin.
Highlighting The Economic Benefits Of Regular Napkin Use
Aside from the long-term cost savings, regular napkin use can offer additional economic benefits. By opting for napkins, you can minimize your carbon footprint and contribute to making the environment cleaner.
Using reusable napkins means less paper waste, which reduces the demand for products that harm the environment during the manufacturing process.
In addition, using napkins can also help you save on cleaning supplies. Unlike paper towels, napkins can be efficiently maintained using a gentle detergent and water, which is a lot less expensive than specialized cleaning supplies required for maintaining and cleaning up after paper towels.
The cost-effectiveness of napkins versus paper towels consists of both long-term and short-term factors. Investing in high-quality napkins, minimizing paper waste, reducing carbon footprint, and minimizing the use of cleaning supplies can all lead to significant savings over time.
Choosing The Right Napkin And Paper Towel Products
Napkins vs paper towels: choosing the right napkin and paper towel products
When it comes to deciding between napkins and paper towels, it can feel overwhelming with the vast array of options available on the market. Should you opt for a paper towel roll or a pack of stackable napkins? And what materials should you choose?
We'll dive into how to make informed decisions about choosing napkins and paper towels, highlighting important factors to consider before making a purchase.
Comparison Between Different Napkin And Paper Towel Materials
Many companies offer a range of napkin and paper towel materials, including recycled paper, bamboo, and cloth. But which ones are best for your needs?
Here's a quick rundown of materials to help you choose:
Paper napkins: These are lightweight and convenient, however, they're not environmentally friendly as they're often not made from sustainable materials, and cannot be reused.
Recycled napkins: These help save trees while being gentle on the environment. They're also soft and strong and can withstand spills and messes.
Bamboo: Bamboo napkins are durable, washable, and can be reused multiple times, making them a popular eco-friendly option.
Cloth: Cloth napkins are a stylish and elegant option for entertaining. They're also the most eco-friendly as they can be washed and reused time and again.
Explanation Of The Environmental Impact Of Packaging Products
The environmental impact of packaging products has become more critical than ever before. Choosing the right packaging can make a big difference, especially if you're looking for eco-friendly options.
Here are some of the factors to consider:
Plastic packaging: Plastic packaging is a common choice for napkins and paper towels, but it's not great for the environment. Plastic can take hundreds of years to decompose and is a major contributor to environmental pollution.
Recyclable packaging: Recyclable packaging is an eco-friendly option. Ensure that the products you buy come in packaging that can be recycled.
Zero-waste packaging: To maintain a sustainable environment, consider products that use minimal or no packaging.
Discussion Of How To Make Informed Decisions About Choosing Napkins And Paper Towels
Finally, let's discuss how to make an informed decision when choosing napkins and paper towels.
Sustainability: Opt for eco-friendly and sustainable materials such as recycled napkins or cloth napkins.
Cost: Consider the cost of buying napkins or paper towels in bulk to save money.
Convenience: Choose products that are easy to store and use, and won't take up too much space.
Quality: Look for strong, absorbent, and durable materials that won't disintegrate upon use.
By keeping these factors in mind, you can choose napkins and paper towels that meet your needs while also being mindful of the environment.
Making an informed decision on your napkins and paper towels can significantly reduce your carbon footprint and help you achieve a greener lifestyle.
FAQ On Comparison Between Napkins Vs Paper Towels
Are Paper Towels More Environmentally Friendly Than Napkins?
Paper towels are generally less environmentally friendly than napkins due to the manufacturing and use of single-use products.
Can Napkins Be More Cost-Effective Than Paper Towels?
Napkins can be more cost-effective than paper towels in the long run since they are reusable and cheaper to purchase.
Do Paper Towels Or Napkins Have A Higher Absorbency Rate?
Paper towels usually have a higher absorbency rate than napkins due to their thicker and more absorbent material.
Which Is Better For Hygiene: Paper Towels Or Napkins?
Both paper towels and napkins can be hygienic when used and disposed of properly. However, paper towels are more convenient for hand hygiene.
Conclusion
Based on our comparison of napkins vs. paper towels, it is clear that both have their advantages and disadvantages. While napkins are more eco-friendly and cost-effective, paper towels are more efficient and effective at cleaning up spills and messes.
Ultimately, choosing between the two will depend on your personal preferences and needs. If you are looking for a more sustainable option and don't mind the occasional mess, napkins might be the way to go. However, if you value convenience and effectiveness, paper towels may be the better choice.
Whichever option you choose, it's important to remember to dispose of them properly to minimize environmental impact. In the end, the decision is up to you, but by weighing the pros and cons of each, you can make an informed choice that works best for you and your family.