What are Blue Paper Towels Made of? Cellulose Fibers!
Blue paper towels are primarily made of cellulose fibers that come from wood pulp. The blue color is added during the manufacturing process using safe and approved food coloring or dyes.
Quick Overview
Cellulose fibers: These natural fibers come from wood pulp and form the main component of the paper towel. They provide the absorbency that makes paper towels useful.
Blue dye: During manufacturing, a blue dye is added to give the paper towel its distinctive color. This dye is typically food-grade or otherwise approved for safe use.
The construction of blue paper towels involves natural cellulose fibers which offer excellent absorbency properties, enabling the paper towel to soak up liquids efficiently. This is crucial in both domestic and industrial settings where rapid clean-up operations are necessary.
The addition of blue dye not only provides a visual distinction but also helps in certain industries like food service or healthcare where different colors can designate specific usage, helping to maintain hygiene standards.
It's important to note that these dyes are safe, often meeting food-grade requirements, ensuring they pose no harm to humans or the environment.
5 Components of Blue Paper Towels
| Component | Description |
| --- | --- |
| Cellulose Fibers | Blue paper towels are primarily composed of cellulose fibers, sourced mainly from wood pulp. |
| Synthetic Resins | To bind the cellulose fibers together and give the towels durability and absorbency, synthetic resins, such as phenol-formaldehyde and urea-formaldehyde, are added. |
| Bleaching Agents | The wood pulp is typically bleached to remove any color, though this process can be skipped for brown paper towels. |
| Dyes | Blue color in blue paper towels is achieved by adding specific types of dyes during the manufacturing process. |
| Other Additives | Other additives may be included to improve the product's properties, such as softeners for a softer feel, wet strength additives to improve durability when wet, and anti-microbial agents to prevent the growth of bacteria. |
5 Components of Blue Paper Towels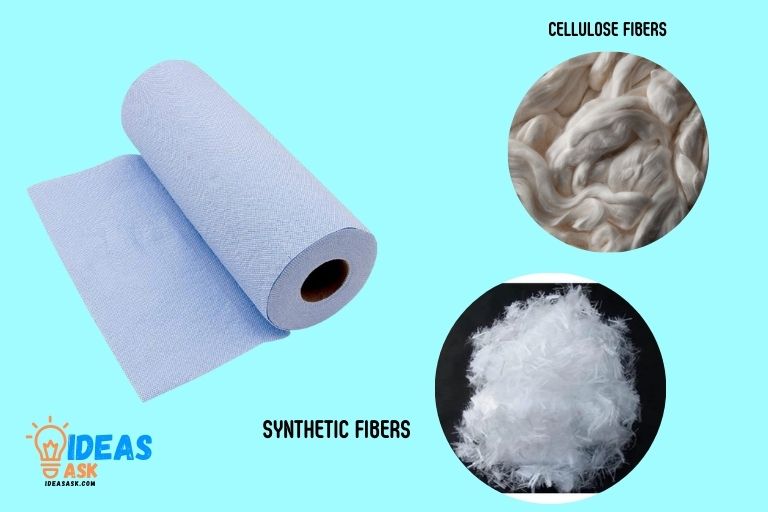 Exploring the Craftsmanship Behind Blue Paper Towels
Blue paper towels, also known as industrial paper towels, are designed to handle heavy-duty jobs that ordinary paper towels can't.
These are often made from recycled materials, thus helping in reducing ecological footprint while providing excellent absorbency.
As compared to ordinary paper towels, blue paper towels are known to have better absorbency and durability, often being called 'super absorbent'.
The blue color of these towels makes them stand out, so they don't get confused with other cleaning rags. This ensures hygiene and cleanliness in a workplace environment.
In certain places like Commercial Kitchens, it is legally required to use blue paper towels, as part of the rules of HACCP (Hazard Analysis and Critical Control Point). The blue color makes it easy to spot if accidentally fallen in food.
What Are Blue Paper Towels Made Of?
Blue paper towels are a common item in households and public restrooms. However, have you ever stopped to wonder what exactly they are made of?
We explore the components that make up blue paper towels, highlight the dyeing process, the chemicals, binders, and glues used, and touch on the use of additives.
Discuss The Base Material Of Paper Towels
Paper towels are primarily made from plant-based materials, such as cellulose fibers and wood pulp. Cellulose fibers are long chains of plant material that are converted into paper pulp.
Wood pulp, on the other hand, is mainly derived from softwood trees and bleached to create bright white pulp.
Introduce The Dyeing Process
The dyeing process is vital in making blue paper towels. It occurs after creating the base material and before turning it into paper towels.
The dyeing process involves immersing the base material in a vat of dye, often made up of an anionic dye mixed with a cationic dye to produce the desired shade of blue.
Chemicals Used In The Dyeing Process
Several chemicals are used in the dyeing process, including sodium sulfate, bicarbonate, and hydrosulfite.
These chemicals anchor dye molecules to cellulose fibers, ensuring the color adheres to the paper towels and prevents bleeding when in use.
Highlight The Role Of Binders And Glues In Making Paper Towels
Binders and glues are vital in paper towel production, boosting structural integrity and durability. They're incorporated during paper-making to ensure towels can endure daily use.
Binders and glues are often derived from natural materials such as cornstarch or soy and help improve the paper towel's overall strength.
Their Impact On The Paper Towel's Overall Strength
Extra glue and binders directly strengthen paper towels by reinforcing cellulose fibers, preventing tearing or falling apart during use.
Discuss The Use Of Additives
Finally, blue paper towels may also contain additives, such as antibacterial agents or fragrance-enhancing agents.
During manufacturing, additives enhance paper towel functionality. Antibacterial agents eliminate harmful bacteria, and fragrance-enhancing agents improve scent. Blue paper towels use plant-based materials like cellulose fibers and wood pulp.
Dyeing is crucial for achieving the desired blue shade, using specific chemicals. Glues and binders boost strength, while additives enhance functionality.
Knowing what your paper towels are made of is important, so you can make an informed decision when selecting your next roll.
Cellulose Fibers And Wood Pulp: The Foundation Of Blue Paper Towels
Explain The Importance Of Cellulose Fibers And Wood Pulp In Paper Production
Cellulose fibers and wood pulp are the backbone of paper production. Without them, paper towels, tissues, and other paper products would not exist.
The cellulose fibers give paper its strength and structure, while wood pulp provides the raw material needed to produce the fibers.
Discuss The Sources Of These Materials
The primary source of cellulose fibers is trees. Specifically, softwood trees such as pine, spruce, and fir are most commonly used for paper production.
Wood pulp, on the other hand, can be obtained from a variety of sources, including recycled paper, sawmill waste, and virgin wood.
Natural Vs Synthetic Sources
While natural sources are the most common, synthetic sources of cellulose fibers and wood pulp also exist.
These include bamboo, hemp, and cotton. However, synthetic sources are not widely used due to their higher production costs and lower yields.
Highlight The Manufacturing Process Of Cellulose Fibers And Wood Pulp
Cellulose fiber and wood pulp manufacturing starts with tree harvesting. Logs are transported to a facility, debarked, and chipped into small pieces.
The chips are cooked in a chemical solution to remove lignin, the natural adhesive binding wood fibers.
The Dyeing Process: How Blue Paper Towels Get Their Color
Ever wonder how blue paper towels get their color? Let's delve into the dyeing process, covering chemicals, dye concentration, and pH levels' impact on color.
Provide A Detailed Description Of The Dyeing Process
Dye preparation: The dye solution is prepared by dissolving specific dyes and chemicals in water while maintaining specific ph levels.
Paper towel preparation: White paper towels are cut into the required size and stacked in piles.
Immersion: The stacked paper towels are then immersed into the dye solution, allowing the solution to penetrate the paper fibers.
Squeezing excess solution: Once the paper towels have absorbed the dye solution, they go through rollers that squeeze out any excess solution.
Drying and packaging: The paper towels are then dried and packaged for sale.
Chemicals And Dyes Used
Direct blue 199: A direct dye that produces blue color shades ranging from pale blue to navy.
Acid blue 9: An acid dye used to produce bright blue and turquoise shades.
Basic blue 26: A basic dye that offers a brighter blue hue.
Most dyes are synthetic, and some may contain harmful chemicals that could be harmful to the environment.
The Impact Of Dye Concentration On The Paper Towel'S Color
Dye concentration dictates the paper towel's blue shade. More dye means a darker blue, while less dye results in a lighter shade.
Manufacturers carefully control the concentration of the dye solution to ensure consistency in color across their product lines.
Explain The Importance Of Ph Levels In The Dyeing Process
pH levels are critical in dyeing, affecting the final color. Manufacturers adjust pH to achieve the desired blue shade.
Extreme pH can disrupt dye absorption, affecting color fastness and consistency. Proper pH ensures dye stability, enhancing color durability in paper towels.
The dyeing process of blue paper towels involves careful preparation of a dye solution, followed by soaking white paper towels in the solution, squeezing out any excess, and drying them before packaging.
Dye concentration and pH levels are crucial for color consistency, and manufacturers meticulously control these factors to ensure the desired shade and vibrancy in the final product.
Binders And Glues: What Holds Blue Paper Towels Together
Discuss The Role Of Binders And Glues In Paper Towel Production:
Binders and glues are critical in paper towel production, binding paper fibers and fortifying the product. Without these additives, paper towels would not be able to withstand the weight of liquid spills or the rigors of cleaning surfaces.
Types Of Binders And Glues Used:
Latex binders: This type of binder is made from natural rubber and is commonly used in paper and textile industries.
Starch-based adhesives: These are derived from natural sources such as corn or potato starch and are commonly used in food packaging.
Polyvinyl alcohol (pva): This type of adhesive is water-soluble and widely used in paper towel production.
Explain How They Impact The Paper Towel's Strength:
Binders and glues are key to paper towel strength, preventing fiber separation during use, enhancing absorbency, and boosting durability.
Discuss The Potential Health And Environmental Risks Of Using These Chemicals In Paper Towel Production:
Toxicity: Some adhesives contain toxic compounds that can be harmful to humans and wildlife.
Environmental pollution: The production and disposal of paper towels can result in air and water pollution.
Allergic reactions: Some people may develop allergies to the chemicals used in paper towel production.
As a responsible consumer, it is important to look for eco-friendly and non-toxic paper towel options that use natural binders like starch or natural rubber latex. With the right choice, we can minimize the impact on our health and the environment.
Additives: Enhancing The Functionality Of Blue Paper Towels
Explain The Role Of Additives In Paper Towel Production
Additives are mixed into paper towel pulp during production to enhance properties, including strength, absorbency, appearance, and adaptability for various purposes.
Anti-Bacterial Agents
Anti-bacterial agents are included in paper towels to inhibit bacteria and microorganism growth.
They are especially useful in kitchen and bathroom settings, where hygiene is crucial. Commonly used anti-bacterial agents include triclosan and quaternary ammonium compounds (qacs).
Benefits:
Helps keep surfaces clean and germ-free
Reduces the risk of infection and illness
Potential risks:
Overuse of anti-bacterial agents can create antibiotic resistance in bacteria, making it harder to treat infections.
Some anti-bacterial agents may cause skin irritation or allergic reactions.
Fragrance-Enhancing Agents
Fragrance-enhancing agents like limonene and linalool are added to paper towels for a pleasant scent. They can mask odors and leave a fresh, clean fragrance.
Benefits:
Improves the user experience by creating a pleasant scent
Helps mask unpleasant odors
Potential risks:
Some added fragrances may cause respiratory irritation or allergic reactions, especially in people with sensitive respiratory systems.
While additives can enhance the functionality of paper towels, it is essential to use them wisely. As a conscious consumer, you may want to consider choosing paper towels without added fragrances or anti-bacterial agents to reduce potential risks.
Knowing the role of these additives in paper towel production can help you make informed decisions about the products you use in your home.
Conclusion
Blue paper towels are an excellent choice for cleaning up day-to-day messes. They are made of a blend of cellulose fibers and recycled fibers, which makes them environmentally friendly.
Blue towels are preferred in the food industry due to their visibility, making them stand out from food items. They are also highly absorbent, durable, versatile for cleaning, and come in various sizes with bulk purchase options.
It is a cost-effective option as they are disposable and do not require cleaning or maintenance, which is perfect for busy environments.
Overall, blue paper towels are an excellent choice for individuals and businesses alike, providing a clean and hygienic environment.
FAQ On Blue Paper Towels
What Makes Blue Paper Towels Special?
Blue paper towels have a unique dye that prevents cross-contamination in food service and healthcare environments.
Are Blue Paper Towels Recyclable?
Yes, blue paper towels can be recycled like regular paper towels.
Can Blue Paper Towels Be Used For Cleaning?
Yes, blue paper towels are great for cleaning surfaces that need to be kept sanitary, such as in hospitals or food processing plants.
Are Blue Paper Towels More Expensive Than Regular Ones?
The cost of blue paper towels can vary depending on the brand and where you buy them, but they are generally comparable in price to regular white paper towels.