How to Strain Yogurt With Paper Towels? 6 Easy Steps!
To strain yogurt with paper towels, you will need a strainer or colander, a large bowl, and paper towels. First, place the strainer over the bowl. Line the strainer with a couple of layers of paper towels.
Next, pour your yogurt onto the paper towel in the strainer. Leave it to strain for several hours or overnight in the refrigerator.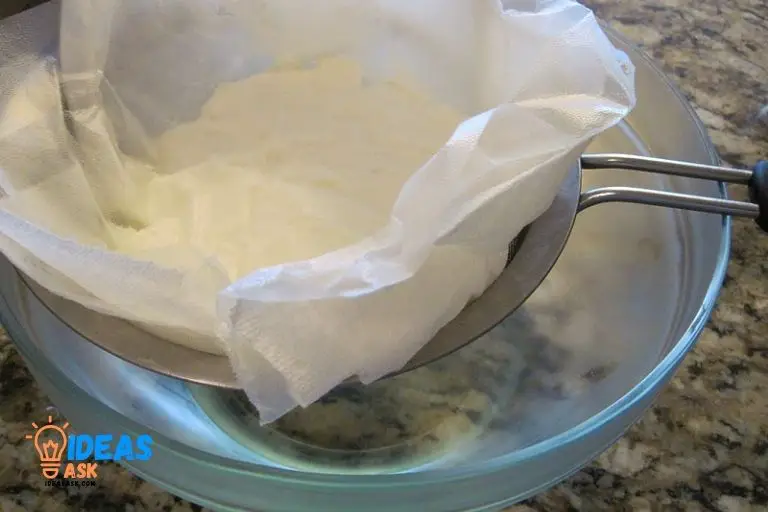 Here is a Step-by-Step Guide on How to Strain Yogurt with Paper Towels
What You Need
Plain yogurt
Paper towels
A strainer or colander
A bowl
1. Prepare the Yogurt
Start with about 2 cups of plain yogurt. Avoid using flavored or Greek yogurt, as they have already been strained to remove whey.
2. Line the Strainer
Place a strainer or colander over a bowl. Line it with 2-3 layers of paper towels. Make sure the paper towels hang over the edges to catch the whey.
3. Transfer the Yogurt
Spoon the yogurt into the lined strainer. Spread it out evenly.
4. Let It Drain
Place the entire setup in the refrigerator and let it sit for 2-8 hours. The longer it sits, the thicker the yogurt will become as more whey drains out.
5. Discard the Whey
After straining, discard the collected whey from the bowl.
6. Store and Enjoy
Transfer the thickened yogurt to an airtight container. It will keep for about a week refrigerated. Enjoy the rich, creamy strained yogurt!
Tips
For thicker yogurt, let it strain longer, up to 24 hours.
You can reuse the paper towels to strain additional batches.
Add flavors or mix-ins after straining if desired.
Straining yogurt using paper towels helps create thicker and creamier yogurt by removing excess whey.
This method is often used when making Greek-style yogurt at home but can also be used to make regular store-bought yogurts thicker and creamier.
It's an easy DIY method that requires minimal equipment and preparation time. Just remember to use good quality, absorbent paper towels for optimal results.
What Is Strained Yogurt And Why Strain With Paper Towels?
Strained yogurt, also known as greek yogurt, is a type of yogurt that has been strained to remove the whey, resulting in a thicker and creamier consistency.
It is made by straining regular yogurt through a cloth, or in this case, through paper towels. The straining process also removes some of the lactose, sugar, and liquid, making it a healthier choice compared to regular yogurt.
How To Know When The Straining Process Is Complete?
It's essential to know when to stop the straining process, so you don't end up with yogurt that is too thick or too thin.
Follow these key points to ensure you get this right every time.
The yogurt's thickness depends on your preference, but 3-4 hours is the usual time for straining plain yogurt. If you want a thicker yogurt consistency, you can strain the yogurt for up to 12 hours.
To avoid over-straining, check the yogurt's thickness during the straining process to ensure the desired consistency.
Gently press the yogurt if it's not firm enough.
If the straining process is complete, you should have creamy, thick yogurt that's perfect for dips, dressings, and desserts.
Now that you have the know-how to strain yogurt with paper towels, the possibilities are endless. So go forth and experiment with your homemade yogurt recipes and impress your family and friends with your culinary skills!
Tips And Tricks For The Best Results
Yogurt is delicious on its own, but there's something special about the thick, creamy texture of strained yogurt.
Straining your yogurt with paper towels is an affordable and easy way to achieve that desirable consistency.
Here are some tips and tricks to ensure that your yogurt straining process is successful:
Alternative Methods For A Smoother Or Tangier Yogurt Taste
For a smoother yogurt, use cheesecloth instead of paper towels. Cheesecloth is finer and will remove smaller particles from the yogurt.
If you prefer a tangier taste, use a coffee filter instead of paper towels. A coffee filter will allow more whey to drain from the yogurt, which results in a tangier taste.
How To Avoid Common Mistakes And Difficulties?
Use a good quality yogurt as a base. A high-quality yogurt will result in a better-tasting and more nutritious strained yogurt.
Don't use too many paper towels. Using too many paper towels may slow down the straining process. Two to three paper towels will suffice.
Do not overcrowd the straining container. Ensure that the straining container is large enough to accommodate the strained yogurt, and the yogurt should not be too thick to make straining difficult.
Do not press the yogurt. Pressing the yogurt will force the whey out too quickly and decrease the total amount of yogurt from the straining process.
Benefits Of Strained Yogurt
There are numerous benefits associated with consuming strained yogurt, which include:
High in protein: Strained yogurt contains more protein per serving compared to regular yogurt, making it an ideal choice for people looking to increase their protein intake.
Low in sugar: Due to the straining process, strained yogurt has a lower sugar content compared to regular yogurt, making it an excellent substitute for people watching their sugar intake.
Promotes gut health: Strained yogurt is rich in probiotics, which promote a healthy gut and digestive system.
Versatile: Strained yogurt can be used in numerous recipes, including dips, sauces, and smoothies, making it a versatile ingredient to have in your kitchen.
Overview Of Different Ways To Strain Yogurt, Why Choose Paper Towels Method
List Of Necessary Materials
To strain yogurt using paper towels, you'll need the following materials:
Yogurt
Paper towels
Colander
Bowl
Explanation Of Each Material's Use And Importance In The Process
Yogurt: This is the main ingredient you'll be straining. You can use any type of yogurt, but greek yogurt is preferred because it contains less liquid and more protein.
Paper towels: These will be used to line your colander, preventing the yogurt from sticking to the colander and allowing the liquid whey to drain through. Additionally, paper towels are biodegradable, easy to use, and can be found in most households.
Colander: This is where you'll place your paper towel-lined colander, and where your strained yogurt will sit.
Bowl: This will be placed under the colander, where it will catch the liquid whey that drains out of your yogurt.
Cost-Effective Alternatives To Costly Equipment
If you don't have some of the materials needed for this process, there are some cost-effective alternatives you can consider, including:
Cheese cloth: It's a good alternative if you don't have paper towels. Cheese cloth is made out of cotton and allows for better airflow, which means faster straining time.
Fine mesh strainer: This can be used instead of a colander, allowing you to strain your yogurt directly into a bowl.
Coffee filters: These can be used instead of paper towels for the same purpose. They don't contain any additives and will provide a similar level of filtration.
By using these cost-effective alternatives, you won't have to spend extra money on equipment you may not need or use frequently.
Overall, straining yogurt with paper towels is a cheap and easy way to achieve thick and creamy yogurt.
All you need are some basic household materials, and you're well on your way to making your own delicious yogurt at home.
Storage Options For Strained Yogurt
Once you've achieved your desired consistency, you can store the strained yogurt in the fridge. You can also freeze the yogurt if you don't plan on consuming it immediately.
Here are some tips for storing strained yogurt:
Use a clean airtight container to store strained yogurt in the fridge. The yogurt will last for up to 2 weeks.
If you plan on freezing the strained yogurt, store it in a freezer-safe container. It will last up to 3 months in the freezer.
To thaw frozen yogurt, simply let it sit in the fridge overnight. Once thawed, you can consume it just like fresh strained yogurt.
Straining yogurt with paper towels is an easy and affordable way to achieve your desired consistency. By following the tips and tricks mentioned above, you can ensure that your straining process is successful every time. Happy straining!
Conclusion
Incorporating strained yogurt into your cooking or baking is an excellent way to enhance flavors and add a unique texture to your dishes. With the use of paper towels, this process has become easier and more accessible to all home cooks.
As we've discussed, straining yogurt with paper towels is incredibly simple to do, leaving you with consistently smooth and creamy yogurt.
Not only is it a cost-effective method, but it is also convenient and requires minimal equipment. With this newfound knowledge and technique, you'll be able to elevate your meals and desserts without breaking the bank.
Take some time to experiment with different variations, such as adding fresh herbs or honey, and enjoy the endless possibilities this method can offer your cooking and baking repertoire. Happy straining!