What is Paper Towel? Disposable, Absorbent sheet
A paper towel is a disposable, absorbent sheet made from paper pulp that is used for cleaning, drying surfaces, or wiping up spills.
Paper towels were invented in the early 20th century as a more sanitary and convenient alternative to cloth towels. They are made by processing wood fibers into a pulp, which is then rolled, pressed, and dried to create the final product. Paper towels are popular in homes, offices, and public restrooms for their quick absorbency, easy disposal, and versatility in cleaning tasks.
Highly absorbent and disposable
Made from processed wood fibers
Invented in the early 20th century
Commonly used in homes, offices, and public restrooms
Paper towels are designed to be single-use, making them a more hygienic option compared to traditional cloth towels, which can harbor bacteria if not washed frequently.
They are also more efficient at absorbing liquids due to their loosely woven structure, making them a go-to choice for kitchen and bathroom cleaning tasks.
Property Analysis of Paper Towel
| Property | Description |
| --- | --- |
| Material | Paper towel is typically made of cellulose fibers derived from wood pulp. |
| Purpose | It is used to absorb liquids, clean surfaces, and dry hands. |
| Features | – Highly absorbent<br>- Disposable<br>- Often perforated<br>- Soft texture |
| Types | – Kitchen paper towels<br>- Commercial paper towels (for restrooms, etc.) |
| Environmental impact | – Contributes to deforestation<br>- Biodegradable (composts easily) |
| Alternatives | – Cloth towels<br>- Microfiber cloths<br>- Reusable cleaning wipes |
Property Analysis of Paper Towel
Key Takeaway
Paper towels are a versatile cleaning and drying tool used in various environments.
They are disposable, making them a convenient and hygienic option.
Made from cellulose fibers, paper towels have strong absorbency properties.
Recycled and sustainable materials are used as alternatives for environmentally-conscious consumers.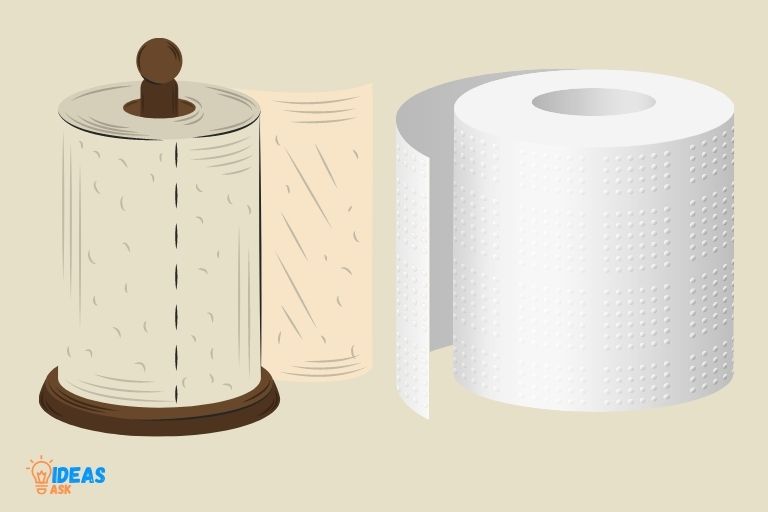 Top Five Interesting Facts about Paper Towels
Paper towels were invented by Arthur Scott in the early 20th century, initially used as toilet paper that failed to meet quality standards. (source: Zidbits)
The production process of paper towels includes pulping, forming, pressing, drying, and converting the paper into the finished product. (source: How Products are Made)
The absorbency of paper towels can be attributed to the presence of capillary action, which is when liquid moves through small spaces due to surface tension and adhesion. This allows the liquid to be efficiently absorbed by the fibers. (source: Sciencing)
The center-pull design of paper towel rolls, commonly found in public restrooms, helps to reduce overuse and limit waste by dispensing only one sheet at a time. (source: Prudential Overall Supply)
While paper towels are convenient, overuse can lead to deforestation and environmental concerns. Therefore, it's important to explore reusable alternatives such as cloth towels or use recycled paper towels to reduce our carbon footprint. (source: WWF)
What Is Paper Towel – An Overview
When it comes to household and industrial cleaning, paper towels have been one of the most commonly used materials for decades.
They have become an essential part of our daily routine, but have you ever thought of what they are made of, their history, or their different types? In this blog post, we'll provide an in-depth introduction and overview of paper towels.
Definition Of Paper Towel
Paper towels are absorbent sheets of paper used for cleaning or drying wet surfaces. They are thin and disposable, making them suitable for one-time use.
It is a common alternative to cloth towels, which can be reused but require washing to prevent bacterial growth.
Paper towels are made with high-quality pulp and are available in various sizes, thicknesses, and absorbency levels.
Types Of Paper Towel
Paper towels come in different types based on their usage, which includes:
Household paper towels: The most commonly used type, suitable for cleaning spills, wiping surfaces, and drying hands.
Industrial paper towels: Mainly used in industries, factories, and workshops for cleaning heavy machinery, oil spills, and other messes.
Recycled paper towels: Made from recycled paper, which reduces environmental impact.
Embossed paper towels: These have a raised pattern to increase absorbency.
Brief History Of Paper Towel
The idea of disposable paper towels was initially developed by arthur scott in philadelphia in 1907. Scott was the head of a paper company, which produced too much toilet paper, and he decided to repurpose it into a disposable paper towel for kitchen use.
The original paper towels were sold in rolls but gained popularity later in 1931 when perforated rolls were introduced. Since then, paper towels have become a household essential globally.
Common Uses Of Paper Towel
Paper towels are not just for drying hands or cleaning messes; there are various uses for them:
Cleaning mirrors and windows: Paper towels with a smooth surface are excellent for cleaning windows without leaving lint or streaks behind.
Removing stains: Blotting stains with a paper towel is a quick fix before the stain sets in and becomes difficult to remove.
Wiping out grease: Paper towels absorb oil spills and grease, making cleaning the kitchen counter and stove easy.
Drying fruits and vegetables: Use a paper towel to dry fruits and vegetables after washing them to prevent bacterial growth
Insect swatter: Paper towels can be used to kill insects or household spiders quickly.
Understanding what a paper towel is, its various types, its brief history, and potential uses can help you make an informed decision when choosing what will work best for your needs. Nonetheless, it's vital that you dispose of paper towels properly to prevent environmental pollution.
Absorption Capacity Of Paper Towel
Paper towel is a highly absorbent material that has become a staple in households, offices, and public restrooms worldwide.
It is incredibly versatile, and its absorption capacity is one of its most essential features. In this section, we will delve deeper into the absorption capacity of paper towel and the factors that affect it.
How Paper Towel Absorbs Liquid
Paper towel has an outstanding absorption capacity due to its unique construction.
The following are the steps involved when paper towel absorbs liquid:
When liquid comes into contact with the paper towel's surface, it spreads quickly through the paper's fibers.
The liquid is then trapped between the fibers in tiny spaces and channels, increasing the paper towel's surface area.
Capillary action then occurs, causing the liquid to move up the paper towel's fibers and distribute the liquid throughout the towel's surface.
Factors Affecting Absorption Capacity
Several factors affect paper towel's absorption capacity, including:
Fiber composition: Paper towel's fibers can be made from various materials, such as wood pulp, cotton, or a combination of both. The more natural fibers a paper towel contains, the more absorbent it will be.
Basis weight: The paper towel's basis weight, i.e., its weight per unit area, determines its thickness and affects its absorption capacity. The higher the basis weight, the more absorbent the paper towel.
Ply: The number of layers in a paper towel, or its ply, also affects its absorption capacity. A two-ply paper towel will absorb more liquid than a one-ply paper towel.
Comparison With Other Absorbent Materials
Paper towels are not the only absorbent materials available in the market.
Here's a comparison of paper towels with other absorbent materials:
Cloth towels: Cloth towels are reusable and durable, but they are more labor-intensive and can harbor bacteria if not washed regularly.
Sponges: Sponges are great for absorbing small spills, but they can be prone to bacterial growth if not cleaned frequently.
Cotton balls: Cotton balls have a lower absorption capacity than paper towels and are not as versatile.
Chamois leather: Chamois leather is highly absorbent and excellent for automotive cleaning, but it is expensive and not as widely available as paper towels.
The absorption capacity of paper towel is what makes it a highly sought-after product. Its unique construction, fiber composition, basis weight, and ply all contribute to its outstanding absorption capabilities.
When compared to other absorbent materials, paper towels offer the most convenience, versatility, and affordability.
Strength And Durability Of Paper Towel
Paper towel is a ubiquitous household item that serves a multitude of purposes. From wiping up spills to cleaning countertops and drying hands, paper towels come in handy in many situations.
However, not all paper towels are created equal, and some are stronger and more durable than others.
In this blog post, we will explore the science behind paper towel strength and durability, the types of tests used to measure strength, and the applications of highly durable paper towel.
Science Behind Paper Towel Strength
Paper towels are made from wood pulp, which is made up of long cellulose fibers. These fibers are intertwined to form a strong, cohesive material.
The strength of paper towels depends on several factors, including the length and thickness of the fibers, the percentage of hardwood and softwood pulp used in the manufacturing process, and the bonding agents used to hold the fibers together.
When a paper towel gets wet, it weakens, and the fibers become separated, which can lead to tearing.
Types Of Tests To Measure Strength
Several tests can be used to measure the strength and durability of paper towels.
These tests include the following:
Tensile strength test: This test measures a paper towel's resistance to breaking or tearing when pulled from opposite ends.
Wet strength test: This test measures a paper towel's ability to maintain its strength when wet or damp.
Absorbency test: This test measures how much liquid a paper towel can absorb before becoming saturated.
Scrub test: This test measures a paper towel's ability to scrub a surface without falling apart.
Applications Of Highly Durable Paper Towel
Highly durable paper towels have many practical applications, including the following:
Cleaning jobs that require a sturdy towel, like cleaning windows, kitchen counters, or bathrooms.
Wiping up spills and messes that require more than one pass. The more durable the paper towel, the fewer towels are needed
Precision cleaning work where a soft, lint-free surface is required, such as cleaning camera lenses or computer screens.
Heavy-duty cleaning jobs where a strong and thick towel is needed, like cleaning industrial machines, or tools.
Paper towel strength and durability are key factors to consider when choosing the right paper towel for your specific household or industrial needs.
Understanding the science behind their composition and how to measure their strength can help you make an informed decision when selecting which paper towel to use.
Highly durable paper towels can be used in a variety of applications to ensure your cleaning needs are met with ease, efficiency, and effectiveness.
Size And Convenience Of Paper Towel
Paper towels are a ubiquitous part of everyday life, present in virtually every household and public restroom. These disposable, absorbent paper products have helped us keep our surroundings clean for over a century.
While their main function is to clean spills and messes, their size and convenience have made them an essential tool in numerous everyday tasks.
Typical Dimensions Of Paper Towel
Paper towels come in a broad range of sizes and shapes, tailored to specific needs and uses.
The most common sizes are:
Full sheet: 11 by 10 inches
Half sheet: 11 by 5 inches
Double length: 11 by 20 inches
Jumbo roll: 11 by 8.8 inches
The most common shape that paper towels come in is rectangular, similar to a piece of notebook paper. However, they can also be found as squares, rolls, or even in a z-shape, making them great for tackling tight spaces.
Convenience Features Of Paper Towel
The convenience of paper towels cannot be overstated.
Here are some of the features that make them a convenient and practical choice:
One-time use: Since paper towels are disposable, they are discarded after use, reducing the need for cleaning and maintenance.
Quick drying: Paper towels absorb water much faster than cloth towels, making them ideal for wiping spills and drying surfaces.
Portable: Paper towels come in small, compact sizes, making them easy to carry around in a purse or bag.
Easy dispensing: Many paper towel brands come with dispensers, making them easy to use in public restrooms or kitchens.
Variety of uses: Paper towels can be used for a plethora of tasks, from wiping surfaces to cleaning windows and mirrors.
Innovative Shapes And Sizes Of Paper Towel
Paper towel manufacturers are always looking for ways to differentiate themselves from their competitors by creating new innovative shapes and sizes.
Some of the innovative types of paper towel available are:
Multi-fold: These are paper towels that have been folded over several times, stacked, and inserted into a dispenser. They are ideal for high-traffic areas such as restrooms and commercial kitchens.
Pop-up: These are pre-folded paper towels that pop up from the dispenser, making them easy to grab and use.
Kitchen rolls: These are large paper towels rolled up on a spindle, similar to toilet paper. They are designed to be used in the kitchen for tasks such as wiping spills and cleaning countertops.
Microfiber towels: These are reusable, washable towels made from microfiber material. They are becoming increasingly popular as a more eco-friendly alternative to disposable paper towels.
Paper towels are a versatile and convenient tool, assisting in cleaning and maintenancing for ages. Its different sizes and shapes are tailored to specific needs, making cleanups easier and quicker.
With the advent of innovative designs and novel materials, the paper towel industry is continually expanding, providing an array of options for consumers.
Raw Materials Used In Paper Towel Production
What is paper towel and raw materials used in paper towel production
Many of us might have taken paper towels for granted in our daily lives or might not have thought about how it is made.
However, paper towels are an essential product that we use frequently, especially in kitchens and bathrooms.
In this blog post, we will explore what paper towels are and how they are produced, with a particular focus on their raw materials.
Types Of Pulp Used
The primary raw material in paper towel production is pulp, a softwood or hardwood processed from trees that act as fibers, imparting strength to the paper. Generally, there are two types of pulp used in paper towels production: virgin pulp and recycled pulp.
Virgin Pulp
This pulp is made from freshly-cut trees and is sometimes called new or primary fiber. Virgin pulp is essential in making strong and high-quality paper towels and is useful in ensuring their absorbency.
However, the production process of virgin pulp can have a significant ecological impact, leading to deforestation, water usage, and chemical waste.
Recycled Pulp
Recycled pulp is made from post-consumer waste paper like old newspapers, magazines, and office papers. The recycled pulp is broken down, and impurities removed by a refining process.
Although recycled pulp requires fewer trees to be cut down, it does not produce as strong fibers as virgin pulp.
The quality of paper towels produced with recycled pulp is lower than that made with virgin pulp, and they tend to be less absorbent.
Additives And Chemicals Used
Apart from the raw materials, paper towels production requires chemicals and additives, making the paper towel softer, more absorbent, and easier to tear. Several chemicals and additives used in paper towel production are outlined below:
Wet Strength Resins
The addition of wet strength resins to the paper-making process helps to enhance the wet strength of the paper towel, making it easier to handle and use when it's wet.
Dry Strength Resins
Dry strength resins are added to increase the paper towel's strength when it's dry, which helps to provide a better balance between wet and dry resilience, reducing tearing issues.
Softening Agents
Softening agents add to the paper towel production process to make the towel softer, improving the overall experience of using it.
Bleaching Agents
Bleaching agents play a critical role in enhancing the aesthetics of the paper as they help to remove impurities and alter paper's color. They are used to brighten the paper towel's color, making it more appealing to customers.
Paper towels are made from pulp, and there are two main types of pulp used in production: virgin pulp and recycled pulp. Paper towels also require several chemical additives to enhance their absorbency, strength, and aesthetics.
Understanding the various raw materials and chemicals used in paper towel production can help us make better decisions about the products we buy, the environment, and our health.
The Paper Towel Manufacturing Process
What Is Paper Towel?
Paper towels are absorbent materials used for cleaning, wiping, and drying surfaces. They are a convenient and hygienic alternative to traditional fabric towels.
But have you ever wondered about the process behind their creation? We'll explore the paper towel manufacturing process, from pulp to finished product.
Pulping Process
The pulping process is the first step in creating paper towel. Here, wood chips are soaked in a mixture of chemicals and water to break them down into a pulp. The resulting pulp is a combination of fibers, water, and chemicals.
Some key points of the pulping process are:
Chemicals like sodium hydroxide and sodium sulfide are used to break down the wood chips.
The resulting pulp is screened to remove any impurities.
The pulp may undergo additional treatments to achieve specific characteristics, such as increased absorbency.
Paper Machine Operations
Once the pulp is created, it is time to turn it into paper. Paper machines use a series of processes to shape the pulp into flat sheets, which can later be cut into paper towels.
Here are some key points about paper machine operations:
The pulp is fed onto a machine, where it passes through a series of rollers and drying cylinders.
During this process, excess water is removed, and the fibers begin to bond together to create paper.
Specific processes may be used to give the paper towel characteristics such as added strength or texture.
Drying And Finishing
The final step in creating paper towels is drying and finishing. This process is where the paper towels are cut to size, packaged, and distributed.
Here are some key points about drying and finishing:
The flattened paper sheets are rolled into large spools.
These spools are unwound and passed through saws, which cut them to size.
Finally, the individual paper towels are packaged and shipped for use.
Paper towels go through a rigorous process before they end up in your home or office. From the pulping process to paper machine operations and drying and finishing – every step requires careful attention to create a high-quality, absorbent, and hygienic product.
Environmental Impact Of Paper Towel Manufacturing
Paper towels are a ubiquitous commodity, with usage across homes, workplaces, and public areas. Their convenience and ease of use have made them a household name, but their manufacturing process carries a severe environmental impact.
In this section, we will dive into the impact that paper towel production has on our natural resources, energy consumption, and carbon footprint.
Effects On Natural Resources
The production of paper towels requires a significant amount of natural resources, such as water, wood pulp, and energy.
Here are some key points regarding the impact of paper towel manufacturing on natural resources:
Wood pulp, the primary material used in paper towel production, is sourced from trees, leading to deforestation and loss of biodiverse habitats.
Every ton of paper towels produced requires around 20,000 gallons of water, leading to freshwater depletion and pollution.
The manufacturing of paper towels leads to the production of large volumes of waste, contributing to landfill expansion and increasing greenhouse gas emissions.
Energy Consumption
The production of paper towels has a significant energy cost, with manufacturers requiring energy for pulp processing, paper making, and transportation of final products.
Here are some key points about the energy consumption impact of paper towel manufacturing:
On average, it takes about 63,000 btus (british thermal units) of energy to produce one ton of paper towels.
This energy consumption contributes significantly to carbon emissions and the depletion of both renewable and non-renewable energy resources.
The transportation of paper towel products from the manufacturer to the consumer also consumes a considerable amount of energy, with trucks emitting fossil fuel pollutants.
Carbon Footprint Of Paper Towel Production
The production of paper towels has a considerable carbon footprint, with the industry contributing significantly to climate change.
Here are some key points about the carbon footprint of paper towel manufacturing:
The manufacturing process generates significant greenhouse gas emissions due to the energy and resources consumed.
Land use change and the manufacturing process combined account for up to 30% of global carbon emissions.
Many paper towel brands are packed in plastic, leading to further carbon emissions and plastic pollution.
The environmental impact of paper towel manufacturing is extensive, leading to the depletion of natural resources, energy consumption, and contributing to climate change.
As responsible consumers, we can switch to reusable options such as cloth towels, leading to a better future for our planet.
Eco-Friendly Alternatives To Paper Towel
Renewable And Sustainable Paper Towels
When it comes to the eco-friendliness of paper towels, not all options are equal.
Here are some factors to consider when selecting renewable and sustainable paper towels:
Look for towels made from recycled materials or sustainable sources such as bamboo or hemp.
Choose unbleached products to reduce chemical use.
Opt for products that are biodegradable or compostable.
Alternative Products For Cleaning And Drying
If you're looking to replace paper towels altogether, there are several effective options to consider:
Microfiber cloths are ideal for cleaning surfaces because they are highly absorbent and can be laundered multiple times before needing to be replaced.
Reusable cotton towels are great for drying dishes and wiping up spills, and can be washed and used again many times.
Swedish dishcloths are made from a blend of natural materials and are designed to be reusable and biodegradable.
Diy cleaning cloths can be made from old t-shirts or towels, repurposing materials to avoid waste while keeping surfaces clean.
Remember that each of these alternatives may have a unique set of care instructions, so it's important to read and follow them closely for optimal use and longevity.
Benefits Of Paper Towel
Paper towels are a common household item used for cleaning or wiping up spills. While many may overlook the importance of paper towels, there are numerous benefits to using them.
In this section, we'll discuss the convenience and cost-effectiveness, hygiene and sanitation, and versatility and durability of paper towels.
Convenience And Cost-Effectiveness
Paper towels are incredibly convenient for everyday use, especially when it comes to cleaning up spills and messes.
They are readily available in supermarkets, convenience stores, and online platforms at affordable prices.
Paper towels are disposable, which means you can use them once and throw them away. This saves time and effort compared to traditional cleaning methods like cloth towels.
They also save money in the long run by reducing the need for cleaning supplies and laundry detergent.
Hygiene And Sanitation
Paper towels are a hygienic option for cleaning, especially when it comes to cleaning up bodily fluids or other potentially harmful substances.
Using paper towels reduces the risk of cross-contamination between surfaces and can help prevent the spread of germs.
It's easy to dispose of paper towels, decreasing the risk of germs staying on cleaning cloths that can be reused.
Versatility And Durability
Paper towels are versatile tools that can be used for various cleaning purposes such as wiping counters, cleaning windows, and drying hands.
Unlike cloth towels, paper towels are disposable and do not need to be washed. This means they do not wear or tear easily, making them more durable and long-lasting.
They are also highly absorbent, which means they can clean up spills quickly and efficiently.
Paper towels are an excellent and affordable cleaning and hygiene solution with many benefits to consider. Their convenience, cost-effectiveness, hygiene and sanitation, versatility, and durability make them a wise choice in any household or workplace.
FAQ On Paper Towel
How Are Paper Towels Made?
Paper towels are made from wood pulp, water, and chemicals. The mixture is pressed, dried, and rolled into rolls.
Can I Use Paper Towels For Cleaning Other Surfaces?
Yes, paper towels are versatile and great for cleaning tasks such as wiping down surfaces, mirrors, and windows.
Are Paper Towels Biodegradable?
Some brands of paper towels are made from recycled materials, which makes them biodegradable. However, check the packaging to make sure.
How Many Times Can I Use A Paper Towel?
It depends on the quality of the paper towel and the task at hand. Generally, paper towels are for one-time use only.
Conclusion
As we conclude our discussion on paper towels, it is evident that this everyday item has undergone significant changes and improvements over the years. Gone are the days when paper towels were just pieces of paper that were only useful for wiping spills or drying hands.
Today, they are highly absorbent, strong, and come in different colors and sizes to suit various cleaning needs. The materials used to make paper towels have evolved, and many brands now promote eco-friendly options, making them more sustainable.
While paper towels may not be the most environmentally-friendly option, they remain a convenient and practical choice for many households. From cleaning up spills to drying dishes, paper towels have become a staple item in every modern home, and their evolution is ongoing, with more advancements underway.