Why are Paper Towels White? Everything You Need to Know!
Paper towels are typically white because they are bleached during the manufacturing process. The bleaching process not only gives them their white color but also removes impurities and sterilizes the paper, making it safe for use.
The primary reason for bleaching paper towels is to eliminate any bacteria, germs, or other contaminants that might be present in the raw materials used to make the towels.
Bleaching also helps to remove any remaining lignin, a natural component of wood that can cause the paper to turn yellow over time if not removed.
The white color of paper towels is simply a byproduct of this cleansing and purifying process. Most brands opt for white because it visually suggests cleanliness and hygiene.
The typical bright white color of most paper towels isn't just for aesthetics; it serves a very practical purpose.
By ensuring that all contaminants and harmful substances are removed during production, manufacturers provide consumers with a product that is safe and hygienic.
Furthermore, the fact that they are white enables users to easily see when they're dirty or soiled – ensuring you won't inadvertently spread germs or dirt around your surfaces while cleaning.
Therefore, while colored or patterned paper towels may be aesthetically pleasing, the traditional white ones provide clear visual feedback about their cleanliness status.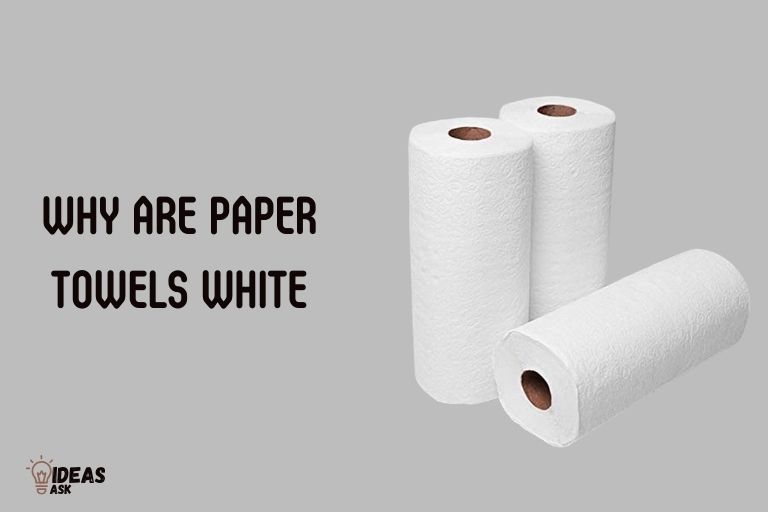 The Science Of Paper Towels Color
Explanation Of How Paper Towels Are Made
Before we delve into the science of paper towels' color, let's quickly understand how paper towels are made.
The process involves:
Extracting wood pulp from trees, which is then refined into fiber.
Adding water to this fiber to create pulp.
Putting this pulp into machines that form it into a thin sheet.
Drying this sheet, after which it is cut into individual paper towels.
The Role Of Pulp In Paper Towels
The color of paper towels depends significantly on the pulp used to make them. The pulp can be of two types: virgin pulp and recycled pulp.
Virgin pulp is made by cutting down trees and extracting wood fibers from them, and it comes in a natural brown color. However, paper towel manufacturers prefer using bleached virgin pulp, which results in a pristine white shade.
Recycled pulp is obtained from used paper products. As this pulp already has ink and dye, paper towel manufacturers have to bleach and chemically treat it to get the desired white color, making it a less eco-friendly option.
The Bleaching Process And How It Affects The Color Of Paper Towels
As mentioned earlier, manufacturers use bleached virgin pulp to get white paper towels. The bleaching process involves using a variety of chemicals, including hydrogen peroxide and chlorine. The number and type of chemicals used depend on the desired shade of white.
Moreover, paper towel manufacturers use elemental chlorine-free (ecf) or totally chlorine-free (tcf) bleaching techniques to reduce the environmental impact of this process.
The Role Of Optical Brighteners In Paper Towels
Paper towel manufacturers also use optical brighteners to enhance the brightness and whiteness of the paper. These are a type of chemical that absorbs uv light and re-emits it in the blue part of the spectrum, resulting in a more vivid white appearance.
However, these brighteners tend to fade over time or when exposed to sunlight, giving the paper a dull yellow hue.
Paper towels come in a perfect white shade due to an amalgamation of factors – from the type of pulp to the bleaching method and the addition of optical brighteners, all being carefully controlled and managed by paper towel manufacturers.
The Advantages Of White Paper Towels
More absorbent than colored paper towels due to lack of dye
Appear cleaner than colored paper towels
Can be bleached to sanitize and remove stains
Often made from 100% recycled paper
Less lint and particles left behind compared to cloth towels
Disposable and convenient for quick clean ups
Relatively inexpensive compared to cloth towels
Variety of sheet sizes for different tasks
Can be purchased in bulk for economies of scale
The Disadvantages Of White Paper Towels
Not as durable or reusable as cloth towels
Generate waste and require replenishing
Can potentially cause more environmental damage than cloth towels
Fibers can breakdown when wet and leave residue
Less effective on tougher cleaning jobs than rags or sponges
Do not clean as well once they become soiled
Can be messy with torn pieces left behind
Limited liquid absorption compared to cloth towels
Lack scrubbing power for stuck-on messes
Contain bleach and other chemicals found in recycled paper
Can be costly over time compared to cloth towels
Do not work as well for drying hands or dishes
Take up space in landfills and often are not recycled
Overall, while paper towels offer convenience, they come at an environmental cost and may not clean or dry as effectively as reusable cloth towels in many situations. Consider the trade-offs when choosing paper vs. cloth for your cleaning needs.
Cultural and Practical Factors in Paper Towel Whiteness
Historical reasons behind the preference for white paper towels:
White has long been associated with purity and cleanliness in many cultures, making white paper products like towels, napkins, and tissues attractive to consumers.
Hygiene perception and association with whiteness:
White paper towels can easily showcase dirt and spills, reinforcing the perception of cleanliness when the dirt is wiped away.
Consumer preferences and market trends:
While white remains the dominant choice, there's a growing interest in unbleached, brown paper towels due to environmental concerns and a rising preference for natural products.
Environmental Impact of Paper Towel Whiteness
Discussing the environmental consequences of bleaching:
Bleaching with chlorine compounds can produce harmful byproducts. Transitioning to alternatives like hydrogen peroxide reduces these impacts but doesn't eliminate them.
Alternative, eco-friendly options for paper towel color:
Unbleached paper towels, with their natural brownish hue, are gaining traction as they require fewer chemicals in production.
Sustainability efforts in the paper towel industry:
Some brands now use post-consumer recycled content, reducing the demand on forests. Certifications like FSC (Forest Stewardship Council) ensure sustainable forestry practices.
---
Future Trends in Paper Towel Whiteness
Emerging technologies for sustainable paper towel production:
Research is ongoing into using enzymes or other biological methods to bleach paper without harmful chemicals.
Changing consumer attitudes towards paper towel color:
As environmental awareness grows, consumers might become more accepting of non-white paper towels.
Market predictions and innovations in the industry:
Companies may lean more into marketing unbleached products, and we might see more color options that come from natural dyes or recycled sources.
Conclusion
It's amazing how something as simple as paper towels can spark curiosity about their color. After exploring the many factors that contribute to the white hue of paper towels, it's apparent that science and manufacturing play a significant role in the process.
From the bleaching agents to the fibers used, various steps are taken to ensure that paper towels retain their pristine white color. Additionally, the psychological association with cleanliness and purity makes white an ideal color choice.
While the color of paper towels may seem insignificant, it's fascinating to see how much thought and consideration go into creating an everyday item such as this.
With the knowledge gained from this article, it's easy to appreciate the effort that goes into making a simple paper towel.
Going forward, it's exciting to think about what other everyday items hold hidden processes and secrets waiting to be uncovered.